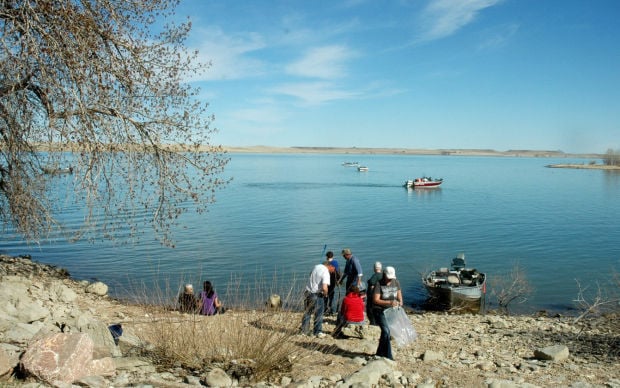 BELLE FOURCHE | The U.S. Department of the Interior, Bureau of Reclamation has released its draft Environmental Assessment for potential improvements at Belle Fourche Reservoir.
The assessment is part of a draft resource management plan which will serve as a blueprint for management and development at the reservoir, a popular fishing and recreation area located east of Belle Fourche.
"This is a good solid plan for the next 10 to 20 years of Belle Fourche Reservoir," said Bureau of Reclamation spokesman Jay Leasure of Rapid City.
The 8,000 acre reservoir dates to 1911, when Orman Dam was constructed to provide irrigation for the area.
At the time, Orman Dam was the largest earthen dam in the world. Presently the reservoir located eight miles east of Belle Fourche, provides recreation as well as irrigation.
Leasure said the proposed management plan started with an extensive user survey in 2018.
"The first step obviously was to get the public's input; things they would like to see out there, desires, improvements, enforcement issues," Leasure said in a telephone interview.
"We took that information and put together some options, did a few public meetings and put out multiple newsletters and got a lot of people involved in this," he said.
The Resource Management Plan Environment Assessment, available for download at usbr.gov/gp/dkao/index.html, lists several proposals for management at the reservoir, including:
--Requiring all campers to stay in a designated campsite.
--Installation of camper self-registration stations and the hiring of camp hosts in areas managed by the Bureau of Reclamation.
--Enforcing a requirement that boats to launched only at designated boat ramps after completion of a third boat ramp at the reservoir.
--Additionally, security cameras may be installed at certain areas to aid in law enforcement around the reservoir.
Leasure said user surveys indicated problems with vandalism, off-road vehicle use, campers unlicensed and overstaying, even keeping an unoccupied camper in a prime spot for days, or even weeks.
He said survey respondents expressed a desire for more amenities, such as shower houses, electrical campsites, fish cleaning stations, and playgrounds, similar to what is available at the reservoir's Rocky Point Recreation Area, which is managed by the South Dakota Dept. Game, Fish & Parks.
But the Bureau of Reclamation is limited by budget to provide only basics such as vault toilets, garbage dumpsters and maintenance of some gravel access.
He said Reclamation does not have law enforcement authority at the reservoir, but contracts with the Bureau of Land Management and the Butte County Sheriff for law enforcement.
He said the GF&P has been approached to take over management of the entire reservoir's, but so far the only interest shown has been from the GF&P Wildlife division offering to manage some 4,200 acres at the north end of the reservoir as a wildlife management area.
"We will continue to own the land, but they will manage it, similar to what they do at Rocky Point," Leasure said.
The draft Environment Assessment does call for the eventual addition of more amenities, but Leasure said that another state, federal or even private local management partner would need to come on board.
Leasure said the Bureau of Reclamation does plan to install six more vault toilets and add more garbage dumpsters over the next two years.
The Bureau will also begin building what will eventually be 200 designated campsites in Reclamation areas
"We don't have a huge budget. We don't have a bunch of equipment or contractors that can do this work for us, so we're going to be doing a lot of this ourselves" he said.
He said the Management Plan and Environment Assessment, if approved, won't result in overnight changes at the reservoir.
"It's going to be a work in progress," he said. "A 5- or 10-year plan to bring this all to fruition."
According to a news release, the public is encouraged to review and comment on the draft Environmental Assessment until Jan. 23, 2020.
Hard copies of the document may be obtained by calling Andrea Gue, Natural Resource Specialist, at 701-221-1223 or by requesting in writing from Area Manager, Bureau of Reclamation, PO Box 1017, Bismarck, ND, 58502.
Comments may be submitted in writing to: Andrea Gue, Dakotas Area Office, 304 E Broadway Ave, Bismarck, ND 58502, or by email to: ague@usbr.gov or by calling 701-221-1223.
"We really do want the public's input on this. We value what the public wants to see up there," Leasure said.
"We can't make everyone happy, but our goal is to try to please the majority of people who are recreating at the reservoir," he said.