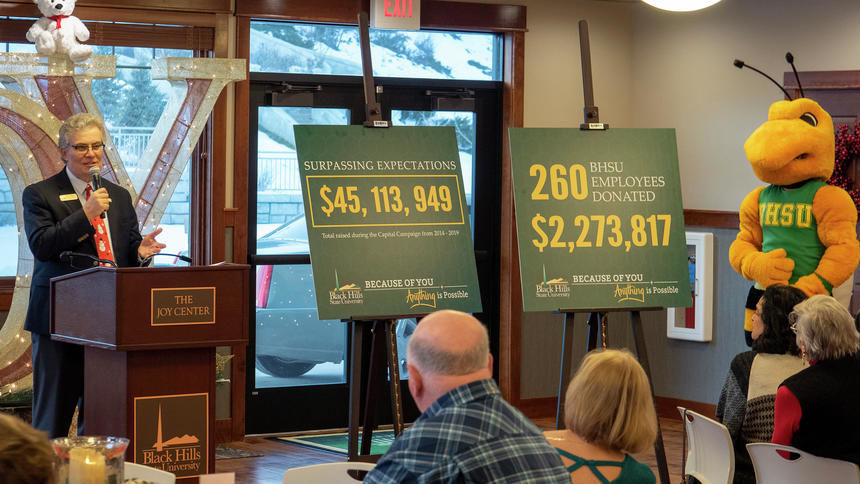 Black Hills State University celebrated the conclusion of the largest fundraising campaign in the university's 136-year history on Tuesday. Over $45 million was raised over the past five years, greatly benefiting BHSU student scholarships.
"In 2014, BHSU made a commitment to have a scholarship campaign to assist our students with the cost of their education. We are grateful to all the supporters that made this campaign successful," said Steve Meeker, vice president for University Advancement at BHSU.
Meeker announced Tuesday at the celebration that the BHSU Capital Campaign surpassed all goals set for the fundraising effort. In 2014, the goal of the five-year "Because of You, Anything is Possible" Campaign was set at $23 million with the majority of funds going towards scholarships.
"We quickly found out that anything was indeed possible as we flew by our goal," said Meeker.
By the end of 2017, BHSU had already raised $23.7 million and recommended a new goal of $32 million. The announcement Tuesday of $45 million nearly doubled the initial goal for the campaign.
The majority of funds ($32 million) will go towards endowed student scholarships, which will benefit students for generations to come. With endowed scholarships, the capital is preserved allowing additional scholarship funds to be distributed to students year after year.
The other $13 million raised will go toward the Annual Fund, which also includes scholarships along with money used for the purpose of donor's wishes.
Laurie Nichols, Interim BHSU President, said the unprecedented success of this campaign will impact BHSU for years to come.
"As a result of this campaign, current and future students will receive scholarships to help them attend BHSU, graduate sooner and with less debt," said Nichols.
This record-setting $45 million campaign has produced:
23,790 gifts from donors supporting BHSU, including,
260 BHSU employee gifts totaling $2,273,817.
The funds raised include:
Over $23 million in estate gifts,
Over $20 million in cash and/or pledges,
$690,000 in gift-in-kinds.
"Surpassing the established goal of the campaign two times is extremely encouraging to the campus and a sign of endorsement in the value of BHSU," said Nichols. "We are forever indebted to our donors for opening wide the doors to a lifetime of opportunity for our future students."