SPEARFISH | Students with the Black Hills State University Investment Club worked under guidance of the BHSU Foundation to invest $25,000 of Foundation funds in long-term stocks, bonds, and mutual funds this spring. Each year, the Foundation will donate a portion of the investment profits to deserving Investment Club students in the form of scholarships. The remainder of the profits will remain with the Foundation.
Cayley Schmitt, a business administration–economics and finance major from Tea, said the Club continually presents their portfolio's progress to the Foundation, whose mission is to provide private gift support for BHSU.
"We have crafted the portfolio to be a diversified, low-cost, long-term investment. We re-balance and update the portfolio on an ongoing basis," said Schmitt.
Ron Meeker, a financial planner and member of the BHSU Foundation Board of Directors, said providing money for the students to invest with professional guidance helps the students learn about markets' functionality.
"It's exciting to see the students give investment reports and have success," said Meeker. "They're learning from the ups and downs of the market and the importance of long-term investment."
Ty Hill, a business administration–entrepreneurial studies major from Hot Springs, said the students worked diligently to obtain all the right documentation for the club to start an account and invest funds. Meeker said the students follow the same guidelines and policies as the Foundation regarding how much risk to take and due diligence.
Hill believes many students share his same interest in gaining more knowledge in personal finance and avoiding financial mistakes.
"We want to gain more knowledge in ways we can all make, spend, and save our money in the best possible ways," said Ty. "There are many teachers, faculty, and alumni around BHSU that are willing to help students. The Investment Club has done well because of the opportunities BHSU and the Foundation members have given us."
In addition to investing with real funds, the Club meets with local financial advisers and presents their own research on investment strategies at weekly meetings. Schmitt said the Club has a group chat where they share market and portfolio updates and fun finance memes on a daily basis.
"I am excited to see what the Club can contribute to BHSU and the local community this year. We have ambitious goals for the upcoming semesters," said Schmitt. "Most of all, we will focus on effectively managing our portfolio and learning about the strategies and uses of investing. Investments are an important part of being financially healthy, so we aim to encourage our peers to get involved."
You have free articles remaining.
BHSU athlete named student president of National Intercollegiate Rodeo Association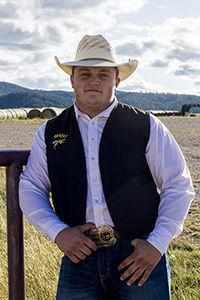 Tucker Chytka, business administration-marketing major at Black Hills State University, was elected student president of the National Intercollegiate Rodeo Association (NIRA) for the 2019-20 academic year. The NIRA represents over 3,500 student members annually and 137 member schools and universities.
A graduate of Belle Fourche High School, Chytka competed in steer wrestling during the College National Finals Rodeo this summer where his presidency was announced.
"We are extremely proud of Tucker as a rodeo student-athlete at BHSU. In this leadership role he will serve as a great asset to the National Intercollegiate Rodeo Association and will well represent his fellow rodeo student-athletes not only from our region, but those from across the nation as well," said Jhett Albers, director of athletics.
Chytka said he enjoys connecting with fellow rodeo student-athletes, hearing their opinions, and working together. Chytka served as student director for the NIRA Great Plains Region during the 2018-19 academic year. He said he took his job seriously in that role, listening to fellow students and coaches.
"As a leader I strive to be a person who pushes others to their best. Even with enforcing rules and regulations, I approach it as aspects of the sport we need to follow to accomplish our goals in the most productive way," said Chytka.
Chytka's father, Tony Chytka, was a PRCA bull rider and also attended BHSU. Tony is a fine metal artist who created a sculpture of the BHSU mascot, Sting, that is in front of the Young Center on campus.
Chytka said he enjoys attending BHSU because the university is close to home and his business program challenges him academically. He said Glen Lammers, head coach of BHSU Rodeo, encourages him to better himself every day.
"This is the sport I love. The cowboy culture is a way of life, one that only a few get to be a part of," said Chytka. "I don't want to ever take that for granted."