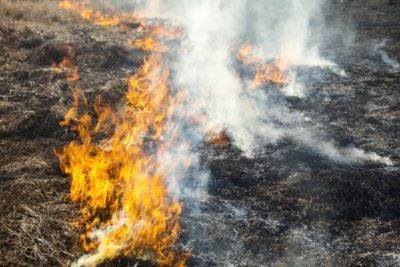 The Meade County Commission issued a burn ban for the county effective Tuesday until fire conditions improve.
The emergency resolution prohibits open burning and open fires throughout Meade County.
The resolution bans "any outdoor fire, including campfires, that is not contained within a fully enclosed fire box or structure from which the products of combustion are emitted directly to the open atmosphere without passing through a stack, duct or chimney."
The use of charcoal grills, liquid fuel grills and burn barrels are still allowed.
Additionally, Meade County Commission Assistant Jerry Derr said campgrounds with the appropriate permitting can have fires and pyrotechnics.
"We're getting into a pattern now where the projected forecast is continued drought and dry, and there is a concern with the pattern the way it's been with the Rally coming up," Derr said. "This will not apply with the campgrounds. If they have their (permits)... not that you're going to stop everything, but there have been fires in the country just set by people out haying — a hot bearing or a spark in a field."
Meade County is part of an area of western South Dakota that has seen moderate to severe drought, the U.S. Drought Mitigation Center said. Other areas of central South Dakota along the Missouri River are in extreme drought.
Adam Allgood with the National Weather Service's Climate Prediction Center issued a forecast in mid-June that shows the drought outlook across the western United States and northern Plains is going to get worse.
"Abnormally warm conditions also promoted drought expansion across the northern plains and parts of the upper Midwest in the last 30 days," Allgood said in his forecast discussion. "The forecast is more uncertain across the Great Plains and Midwest, where summer convection may ease drought locally, but is unlikely to overturn the longer term drought conditions. Drought development is possible in climatologically drier portions of the north-central High Plains."
The next U.S. Drought Mitigation Center Drought Monitor report and the Climate Prediction Center's drought forecast will both be released on Thursday.