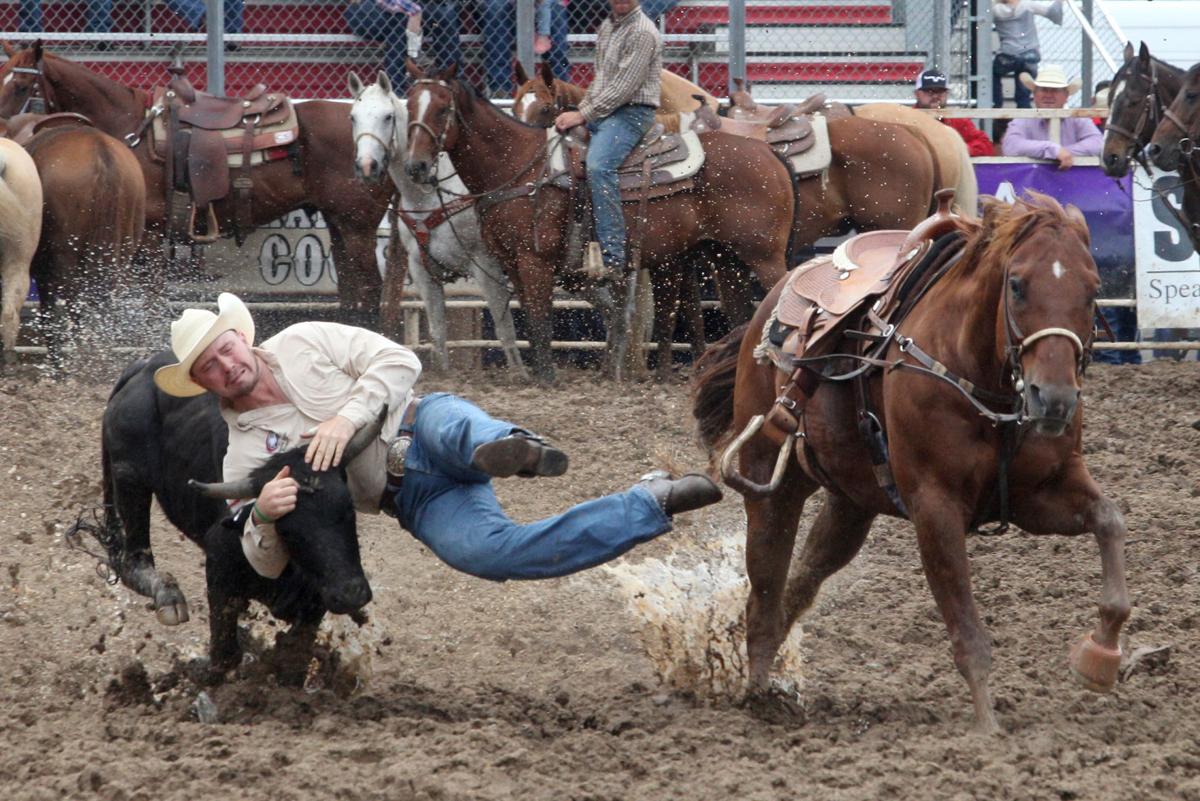 BELLE FOURCHE | The 101st annual Black Hills Roundup is on for June 30 - July 4, complete with the Ranch Rodeo and fireworks displays, but the board is in need of volunteers.
According to a press release from BHR, the board spoke with the Professional Rodeo Cowboys Association and the city of Belle Fourche and decided to move forward with the festival.
However, amidst concerns of COVID-19, a worldwide pandemic that's claimed 54 South Dakotans' lives, about 15-20 volunteers are needed in order to help keep the public safe.
"(The board is) very aware of the fact they're asking people to give up time over a holiday," said Kristi Thielen, a spokesperson for the BHR. 
Volunteers will be asked to wipe down counters, doorknobs, railings and other common-touch surface areas throughout the roundup.
"We hope people of Belle Fourche will think of volunteering with us as a way to support their community, at a time when things have been tough for everybody," BHR chairman Keith Anderson said in a May 19 press release. "Whatever time you can give us, we'd be very grateful."
According to the release, BHR was given protocols about crowd control and sanitizing by the PRCA.
The PRCA released "Coronavirus Ground Rules & Safety Guidelines" May 18, which outlines health and medical screenings, education resources, travel guidance, spectator preparation and more.
Thielen said Monument Health also weighed in on protocols for the outdoor event.
She also said she thinks vendors are going to be responsible for their own safety protocols.
Thielen said she isn't quite sure what the protocols will be for the 11th annual Ranch Rodeo, but is certain it will line up with that of the board's. She also said she wasn't certain about protocols for the 3rd annual Miss Black Hills Roundup pageant.
Applications are due June 1 with a form, waiver of liability release, 8x10 headshot, newspaper release biography, arena biography, resume, script for modeling dress, basket/purse to auction (seniors only) and entry fee. 
The queen will be crowned June 30.
According to the release, the carnival will still come to the Belle Fourche area, but with fewer rides and social distancing enforced by way of barricades that guide public movement. The carnival will be available to the public from 5 - 11:55 p.m. in downtown Belle Fourche.
All equipment will be sanitized between rides, so those attending can expect slower wait times between each ride. Ticket prices have not yet been set, but more information will be available on the BHR website.
Rodeo tickets, though, are available, and people are encouraged to purchase them online. Tickets for the ranch rodeo are $20 for general admission and $15 for those 12 and under. General admission for the PRCA rodeo are $24, $15 for those 12 and under, $29 for reserved seating and $34 for premium reserved. On family night, general admission is 4 for $48.
The PRCA rodeo will be from July 1-4 with performances at 7 p.m. each day. July 1 will be family night, July 2 Chutes for Charity, July 3 Tough Enough to wear Pink and July 4 is Military & First Responders Appreciation night.
The annual fireworks display, created by long time pyrotechnic Fritz Carlson, will start around 10 p.m. July 2 and 3.
Thielen said the display can be viewed from the grandstand and around town.
"All I know is (Carlson) is famous for excellent displays," she said. "He keeps his cards close to his chest, and I don't think he's likely to reveal anything at this time."
She said a decision has not yet been made to continue the Cattle Drive this year, but it is under discussion. She also said a decision has not yet been made regarding concerts after the rodeo.
However, entertainment for the Street Dance on State Street has been announced. According to a Facebook event, the Sun Dogs, Chelsey Dee & Company and Tris Munsick and the Innocents will perform during the free July 4 dance from 6 p.m. until 11:59 p.m.
This year's parade will have a long route than last year, which will allow more room for social distancing, according to the release. The parade will be at 10:30 a.m. July 4 and will kickoff with a B1 Bomber flyover. Entries are due June 15.
Be the first to know
Get local news delivered to your inbox!