Belle Fourche Youth Baseball enters fundraising partnership with Rapid City Rush
Belle Fourche Youth Baseball has been offered a fundraising opportunity through the Rapid City Rush, which could help more local kids participate in baseball.
The fundraising effort is to sell tickets to a specific Rush hockey game, through a dedicated ticket site. With each $20 ticket sold, Belle Fourche Youth Baseball receives $7.
Belle Fourche Youth Baseball President Jason LaFayette says he's very excited that the Rush reached out to BFYB in this way.
"As a board, the BFYB firmly believes that every child should have the opportunity to play baseball, regardless of cost. This event is capable of jump starting a Scholarship Program that we have been trying to establish for years, allowing us to offer even more for our community for the 2020 season."
The game that Belle Fourche Youth Baseball has contracted for is Saturday, Oct. 26 and seating in sections F, G, and H has been reserved.
The deadline to purchase tickets is 5 p.m. on the day of the game. If you'd like further information about this offer or require assistance to place an order, please call 605-641-4168
Lead-Deadwood student earns Civil Air Patrol promotion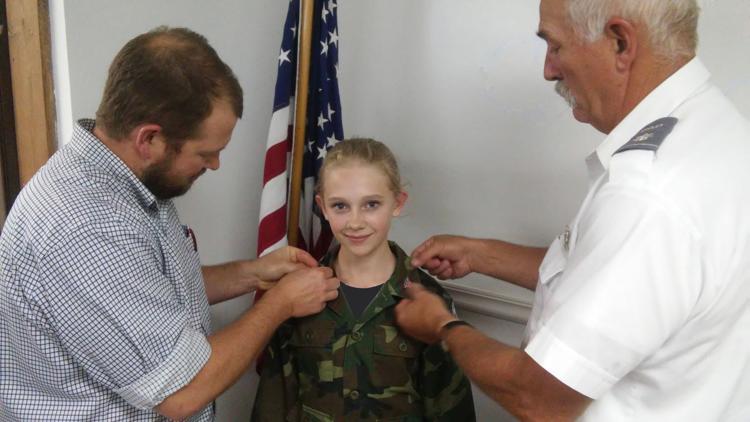 SPEARFISH | The Lookout Mountain Composite Squadron recently announced the promotion of Alexandrea Sukstorf from Cadet to Cadet Airman. She also earned the General J. F. Curry Achievement Award for her accomplishments. Sukstorf is a student at Lead-Deadwood Middle School.
Civil Air Patrol's cadet program transforms youth into dynamic Americans and aerospace leaders through a curriculum that focuses on leadership, aerospace education, fitness and character.
You have free articles remaining.
As cadets participate in these four elements, they advance through a series of achievements, earning honors and increased responsibilities along the way. Many of the nation's astronauts, pilots, engineers and scientists first explored their careers through CAP.
Last month Sukstorf also participated in two orientation flights in the Squadron's aircraft based at the Black Hills Airport. Every cadet under age 18 is eligible for five flights in a powered aircraft (usually a single-engine Cessna), five flights in a glider aircraft, and an unlimited number of backseat flights when conditions allow. Orientation flights are always free to cadets.
The Squadron will hold an open house on Saturday, Nov. 9, 2019, to showcase opportunities available through the CAP cadet program. For more information about the Civil Air Patrol, visit lookoutmountain.cap.gov. Follow the Lookout Mountain Composite Squadron on Facebook at facebook.com/caplmcs/.
Fall and Winter hours for Deadwood History, Inc., museums
Beginning Oct. 1, Deadwood History's Adams Museum, Days of '76 Museum, and Historic Adams House will be open from 10 a.m. to 4 p.m., Tuesday through Saturday through October.
The museums are closed on Sundays and Mondays. Winter hours will begin November through March with the Adams Museum and Days of '76 Museum open from 10 a.m. to 4 p.m., Tuesday through Saturday. Closed Sundays, Mondays, and winter holidays. The Historic Adams House will be closed November through March, but will open for specialty tours and group tours with advance reservations.
Admission to the Adams Museum is by donation; the Days of '76 Museum is $8 for adults, $3 for children ages 6–12, and free to children ages 5 and under; the Historic Adams House is $10 for adults, $5 for children ages 6–12, and free to children ages 5 and under. Admission tickets can be purchased in advance online at DeadwoodHistory.com or at the museum registers.
The Homestake Adams Research and Cultural Center is open from 10 a.m. to 4 p.m., Monday through Friday, and is closed on winter holidays.
Unlimited free admission is offered to the Adams Museum, Days of '76 Museum, and Historic Adams House for all Deadwood History members.
Membership allows Deadwood History to offer public educational programs for children and adults, create new exhibits, and benefit on-going conservation needs. Every form of support, whether it is an individual membership or a donation, is deeply appreciated and allows Deadwood History to continue to fulfill its mission to educate and engage our community.
For information on becoming a member call 605-722-4800.