Photographer to lecture at BHSU
The Black Hills State University Photography Dept. will host photographer Linda Connor for a lecture today at 3:30 p.m. in Jonas Hall, Room 305.
Connor is an American photographer who photographs spiritual and exotic locations including India, Mexico, Thailand, Ireland, Peru and Nepal. Connor has taught at San Francisco Art Institute since 1969. She received two grants from the National Endowment for the Arts (1976 and 1981) and a Guggenheim Fellowship in 1979.
Connor's photographs appear in a number of books, including "Spiral Journey," a catalog of her exhibition at the Museum of Contemporary Photography in 1990 and "Odyssey: Photographs by Linda Connor," published by Chronicle Books in 2008.
Her work is included in the collections of the Art Institute of Chicago, Museum of Modern Art, San Francisco Museum of Modern Art, and the Victoria & Albert Museum in London.
Geek Speak: Unconventional uses for practical tools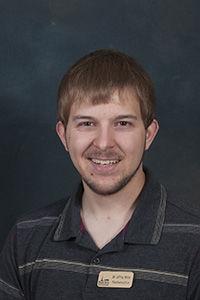 Although Microsoft Office applications like Excel provide a conventional way to crunch numbers, math instructor Jeffrey Winter aims to spark conversation on an unpredicted side of these applications — including art, videos, and games — through his Geek Speak lecture on the Black Hills State University campus.
Winter's lecture today stems from the realization that many people are unaware of how everyday tools, like the programs he uses daily in his mathematics courses at BHSU, can be used in unimaginable ways to create something completely unexpected.
"Almost everyone has either heard of or used Microsoft Office in some way or another. However, I think most people don't realize that you can do a lot more than what you might think is possible with this software. I hope to help people realize that you can create really cool things with ordinary items," Winter said.
One of the extraordinary examples Winter will discuss during his lecture is the work of Japanese artist Tatsuo Horiuchi, who has created several authentic and very detailed Japanese art pieces by using only the drawing tools available in Excel. Students and community members in attendance can also look forward to seeing how Winter himself has used Microsoft Office in unconventional ways.
This lecture is part of the weekly Geek Speak lecture series on the BHSU campus. Winter's presentation will begin at 4 p.m. today in Jonas Hall Room 110.
The Geek Speak lecture series, sponsored by the BHSU Honors program, features academic discussion and topics not normally discussed in the traditional classroom. The goal of the weekly lectures is to expose students and the community to diversity within the disciplines. All lectures are free and open to the public.
History at High Noon: Sulphur, 1908-2018
Larry Stomprud will be discussing his family and the area around the now-extinct town of Sulphur during the Feb. 15 History at High Noon presentation, hosted by the Sturgis Public Library.
The presentation will be in the Library's program room and it starts at, of course, 12 p.m.
February Family Fun Day: "Money, Money, Money"
The Tri-State Museum and Visitor Center's February Family Fun Day will take place on Sunday, Feb. 17 at 2 p.m. The day is entitled "Money, Money, Money."
Kids who attend will see a short educational film about saving, spending and investing money. There will be a "money booth," where kids can learn to count money, make change and practice money skills.
A coin collector will also be present to teach attendees about the hobby of coin collecting and show them national as well as international coins. There will be a craft activity to make a piggy bank, a drawing for the book "The Everything Kids Money Book," and a free take-home packet with puzzles, quizzes and info about money.
Refreshments will be served and attendees are encouraged to visit the museum once the Family Fun Day activities are completed.
Admission to the Family Fun Day is $2 per person or free with museum membership. Reservations are encouraged; call 605-723-1200. The Tri-State Museum and Visitor Center is located at 415 Fifth Ave., in Belle Fourche.
The City of Sturgis has scheduled a meeting on Feb. 19 at 10 a.m. with owners and operators of campgrounds located outside city limits to discuss funding for fire and ambulance services during the 2019 Sturgis Motorcycle Rally.
This meeting will be in the Meade Room of the Sturgis Community Center and is open to the public.
(Editor's note: the above story has been changed to correct the location of the Friday, Feb. 15 History at High Noon presentation.)