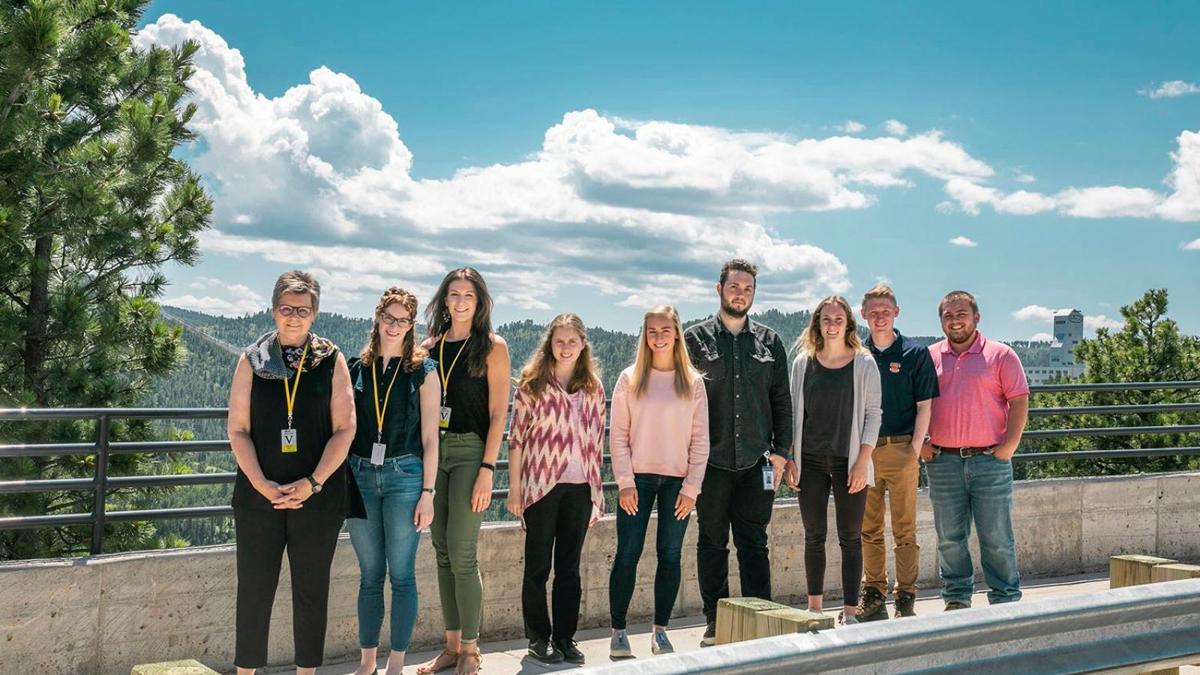 Every year, dozens of South Dakota university students apply for internships in science, engineering, operations and communications at Sanford Lab Underground Research Facility. The internships begin in May and last for 10 weeks and give students an opportunity to work with professionals. The application process for the 2020 program is open; all applications are due by January 20.
"For Sanford Lab, internships are an investment in the future," said Peggy Norris, deputy director for Education and Outreach at Sanford Lab. "A strong STEM workforce in South Dakota is crucial for the future health of the lab and its workforce. For the students, internships are an important component of their education and an opportunity to learn important life and work skills."
Learning in a unique environment
Through this competitive program, students gain real-world experience that propels them toward a career in their chosen field. Internships help students figure out what they want to do and give them the opportunity to work with people from around the world in a unique environment. All interns are required to go underground so they must be physically able to spend long days below the surface, sometimes under demanding conditions. At Sanford Lab, safety is a priority, so interns must undergo safety training and be prepared to work with careful attention to safety at all times. At the end of their 10-week program, interns give a presentation about their experience at Sanford Lab.
Internships at Sanford Lab may be available in any of the following departments: Communications, Education, Engineering, Environmental Health and Safety (EH&S), Operations, Science and Underground Access (UAG). In all departments, candidates should be comfortable working in an underground environment and following safety rules and guidelines appropriate to a laboratory and construction setting.
"The experiences I gained during my internship directly translated to my current job," said David Molash, a graduate of South Dakota School of Mines & Technology. "I have been able to use my understanding of underground operations and experiments at Sanford Lab to better prepare the radon reduction system for the LUX-ZEPLIN dark matter experiment for its installation at the 4850 Level."
Students find calling through Davis-Bahcall Scholars Program
Most university students can easily rattle off answers to the routine questions: "Where do you go to college?" and "What's your major?" These receive short, confident responses. The question that follows, however, can cause a student's confidence to unravel: "What do you plan to do with that?"
For many students, the answer is vague. They know enough about their field of interest to produce a company or organization for whom they may want to work, but the day-to-day work remains a hazy idea.
The Education and Outreach Department at Sanford Lab understands the importance of bringing together students and professionals. To help South Dakota students do just that, Sanford Lab founded the Davis-Bahcall Scholars Program in 2009.
"The wonderful thing about this program is that it gives students many opportunities to see real-world applications of science, while learning from experts," said Deb Wolf, director of Education and Outreach at Sanford Lab. "The experience helps them determine whether science is the right career for them."
This summer program accepts eight South Dakota students who are entering STEM education fields and have demonstrated leadership in their communities. The program helps rising freshmen and sophomores develop an understanding of just where their passions for science, technology, engineering and math could take them.
Students spend time at Sanford Lab learning from experts in dark matter, neutrino and biological studies. Then, they travel to two national laboratories in Chicago and to universities in Minnesota and Wisconsin, before flying to Italy to spend time at Gran Sasso National Laboratory in Italy.
In 2018, Samantha King, a pharmacology and wildlife biology major from South Dakota studying at the University of Montana, said of her experience: "This trip is a great opportunity for young students, because it shows them what research is like in the real world. Everyone here is already interested in science — but the program sheds light on what a career in science is actually about."
The deadline to apply for the Davis Bahcall Scholars Program is Jan. 27, 2020.