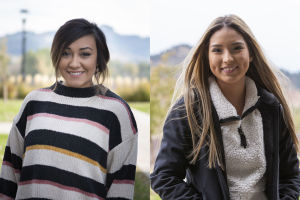 SPEARFISH | High school seniors who attend Black Hills State University may be eligible for $10,000 scholarships, thanks to a donation to the Horatio Alger Association Endowment by Association member T. Denny Sanford.
Eligible applicants include:
— critical financial need ($55,000 or less adjusted gross income per family)
— integrity and perseverance in overcoming adversity
You have free articles remaining.
Two students at BHSU who received the Denny Sanford Scholarship last year are now in their freshman semester at BHSU: Malia Fallis, applied health sciences major from Pine Ridge, and Martiza Cadenas, business administration–human resources major from Brockway, Mont.
A member of the Crow Creek Sioux Tribe, Fallis said she wanted to stay close to home for college and when she first heard she received the Denny Sanford Scholarship, she felt "a weight was lifted off her shoulders."
She plans to complete her associate's degree at BHSU and stay in South Dakota to work as a midwife or pediatric nurse after she earns her nursing license. She is involved in the Center for American Indian Studies on campus.
Cadenas chose to attend BHSU because of the university's accredited business program and reasonable tuition rates. Her family moved often while growing up, which the Denny Sanford Scholarship program recognized as an adversity factor.
Cadenas said she appreciates the one-on-one time she receives with her professors at BHSU. She is a member of the TRiO Organization on campus promoting college access and student success.
Sanford is chairman of the board for United National Corporation, the holding company for First PREMIER Bank and PREMIER Bankcard, headquartered in Sioux Falls, S.D. Sanford is a renowned philanthropist and was named one of "America's Top Donors" by the Chronicle of Philanthropy and by the Association of Fundraising Professionals. His charitable giving focuses on health care and children's causes and his contributions exceed $1 billion.
Eligibility for this special scholarship is two-fold. Students selected through the established application process for the Horatio Alger National (scholars.horatioalger.org/horatio-alger-scholarship-applications) and State Scholarship Programs who then matriculate into one of the 12 selected universities (of which BHSU is included) are eligible for this award.
In addition, students applying to any of the 12 selected universities, who are then identified by admissions counselors as meeting the Horatio Alger Scholar criteria, are also eligible. If prospective students missed the deadline for the fall application period, a spring application time is also available Jan. 15 to March 15.
For questions about eligibility, contact BHSU Admissions at Admissions@BHSU.edu or by calling 605-642-6131.