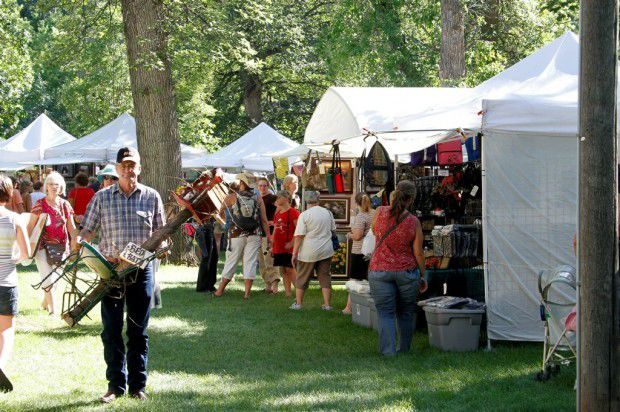 SPEARFISH | The Matthews Opera House and Arts Center has postponed the 43rd Festival in the Park until July 2021. Matthews staff and board members made the decision after considering the impact the COVID-19 pandemic would have on this year's event.
"We know that this is the best choice to ensure public safety and be respectful to all current and future health regulations put in place by local, state, or federal entities," said Darren Granaas, executive director of Matthews Opera House.
Festival in the Park is an annual arts festival that brings arts, crafts and food vendors to Spearfish from around the United States. Usually attended by more than 25,000 people, it is one of the largest outdoor arts and music festivals in the upper Midwest.
"There is obviously a lot to consider when making a decision of this magnitude," said Kyler Flock, Festival in the Park coordinator. "This festival generates a lot of revenue for our 200 plus vendors that attend annually, and it breaks our heart to not be able to offer this platform to promote their craft and small businesses. However, we also know that the health and safety of our vendors, attendees, volunteers, community, and staff has to be our first priority."
"We wanted to make this call now so that our vendors had adequate notice to change their plans. Waiting too long would have made the cancellation process even more burdensome on out-of-town vendors who had planned to spend that weekend here," Flock said.
Canceling the Festival in the Park will have a significant impact on the Matthews Opera House, because more than 25% of its annual operating budget is generated from this event.
"This is a hard hit to us financially, there's no doubt about that," Granaas said. "We are going to have to come up with creative ways to find that money somewhere else, which is only complicated even more by our inability to hold live events in our theater. However, we have some incredible donors that have been so supportive of our organization over the last few weeks and we are putting a lot of effort into looking into any and all grant opportunities. We have faith that with the help of our community and outside resources, the Matthews can weather this storm."
For more information about Festival in the Park, contact Matthews Opera House at 605-642-7973 or fip@matthewsopera.com.