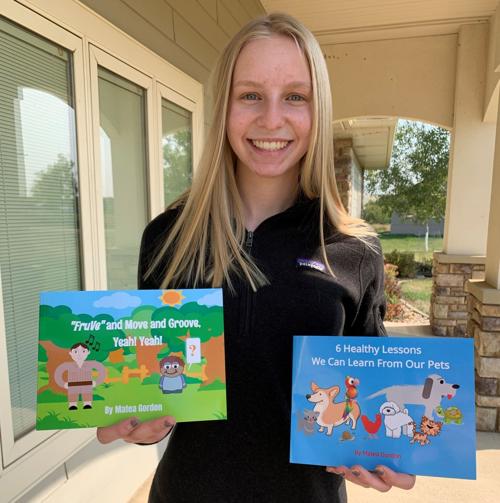 STURGIS | Matea Gordon may only be old enough to be a junior at Sturgis Brown High School, but her accomplishments reflect that of a seasoned professional author.
Gordon has authored two children's books aimed at helping young people make healthy choices in their daily lives.
Being an active participant in 4-H influenced Gordon to make healthier choices in food, snacks and exercise, she said, and she wants to share that message with kids.
"When I was the age of eight, I first joined 4-H, and both of my parents were in 4-H and my older siblings were too," Gordon said. "I wanted to get involved as well, so I started with public speaking and food and nutrition. I've always enjoyed healthy living and taking care of myself. Learning more about that in 4-H and helping others was really cool."
Gordon attended a national conference in Washington, D.C., in 2017 focused on health and wellness. That spurred Gordon to become more active in telling people about healthy living by hosting youth yoga classes in middle schools. In the summer of 2019, Gordon authored her first children's book, "'FruVe' and Move and Groove, Yeah, Yeah."
The 20-page book is a story about a boy named Jack, who learns about making healthy choices through adventures at camp. "FruVe," Gordon said, is an acronym for fruits and vegetables.
During the COVID-19 pandemic, Gordon realized that it is even more important to teach kids about healthy choices and good hygiene practices, like washing hands. Over the summer this year, she decided to write another book geared towards pre-schoolers and young children.
In the 22-page illustrated book, "6 Healthy Lessons We Can Learn Through Our Pets," Gordon uses pets to teach kids about responsible living.
"There are things like if you feed your pet healthy food, then they will do better and be more fit," Gordon said. "You have to walk your dog every day and so learning that your dog needs exercise you also need exercise. Adopting healthy habits as a child can lead to a healthy lifestyle as a teen and adult."
Gordon created her two books via StoryJumper.com, which allows readers to view the books for free. Readers can also purchase a physical book as well on the website.
The books have already garnered nearly 500 reads and scores of fans.
Gordon said she has pursued expanding her outreach to youth through developing a health-themed website at www.behealthy4life.net. She also offers Zoom presentations to youth audiences, as well as partnering with public libraries as a youth presenter sharing her books and yoga activities.
Be the first to know
Get local news delivered to your inbox!