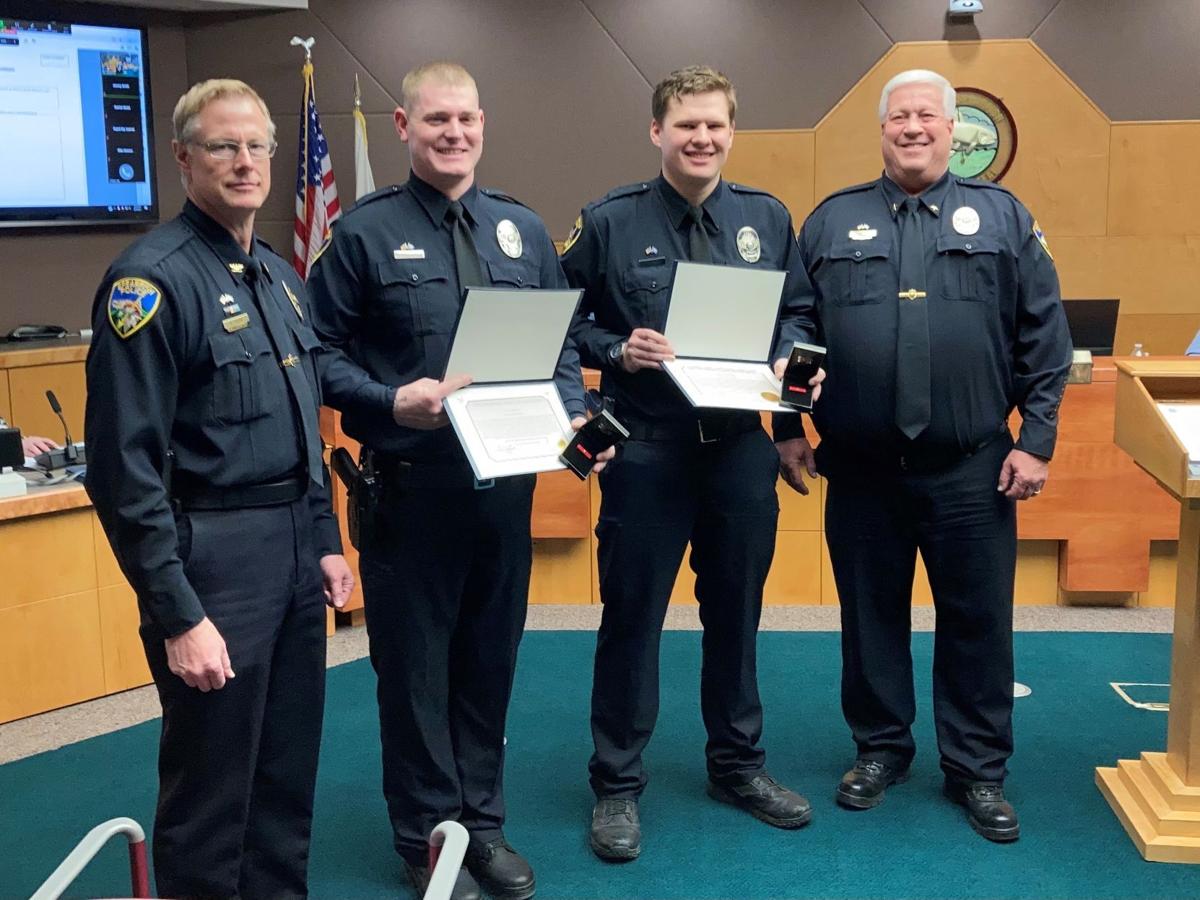 A pair of Spearfish Police Department officers were honored Monday with two Life Saver awards each for separate incidents in 2020.
Officers Austin Drapeaux and Jacob Westover were both working and dispatched to events in April 2020 and November 2020 that resulted in the life of a citizen being saved.
Spearfish Police Chief Curt Jacobs gave a quick synopsis of the two events that involved both officers during Monday's City Council meeting.
"In the early morning hours of April 19, 2020, Jan Harper called 911, advising she was having difficulty breathing," Jacobs said. "Officers Drapeaux and Westover responded to her residence, arriving on scene within minutes."
When Westover knocked on the door and entered, he made eye contact with Harper before she immediately slumped over on the sofa, the chief said.
"The officers got her on the floor, did a medical assessment, and realized she needed CPR immediately, which they started. By the time the ambulance service arrived, they had Harper's heart beating again," Jacobs said. "Once she was loaded on the ambulance, to ensure the emergency medical technicians could continue lifesaving measures, Officer Drapeaux drove the ambulance to the hospital.
"They used the training they get on a regular basis and are extremely good at what they do."
Then on the afternoon of Nov. 12, the same two officers responded to the report of a man who had collapsed in the weight room of the Donald E. Young Center, Jacobs said.
"Upon arrival, they witnessed people — including Officer Drapeaux's sister — working on the man, Rich Mulholland, who had been hooked up to an AED (Automated Emergency Defibrillator)," he said. "The officers realized the AED was malfunctioning and immediately replaced it with a new AED from their patrol vehicles.
"The AED advised to shock, which they did, followed by CPR, and again, when the ambulance service arrived, Mulholland's heart was going again."
Spearfish Mayor Dana Boke thanked Drapeaux and Westover on Monday, congratulating the officers on the awards and thanking them for their lifesaving actions.
Drapeaux and Westover were each presented with their awards and a red bar for their uniform, which shows they've had a life-saving event, and in the middle of the bar is a gold leaf, indicating they have more than one.
Jacobs congratulated the two officers Monday, presenting the awards to the both, which was met with applause from the mayor, City Council and all present at the meeting.