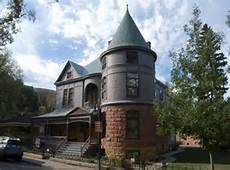 DEADWOOD | Animal lovers can immerse themselves in a little piece of Deadwood history when the Historic Adams House hosts Patsy's Day on April 27.
This annual event is held in honor of W.E. Adams' beloved dog Patsy and benefits the Twin City Animal Shelter.
"We're all animal lovers and were very supportive of our animal shelter here in Lead/Deadwood. He [Adams] loved his dog, and so we honor her by hosting this event," said Rose Speirs, communications director for Deadwood History Inc.
The Adams House has been hosting this event since 2002. Patsy lived with the last homeowners, William and Mary Adams, in the 1800s and is celebrated every April.
Visitors can donate pet food or products to the shelter and will receive free admission to tour the restored 1892 Queen-Anne style Victorian mansion. One-hundred percent of the proceeds go to the shelter.
Speirs said the event is a great way for people to help animals in need and learn about the town's rich history.
"If you haven't had an opportunity to visit the Adams House, this is the perfect day to do it. You support a good cause and get to see this beautiful home and hear the stories that surround the house. It really puts together a great story about Deadwood and why we're all here today," she said.
Tours are given on a first come, first served basis, and take place every hour on the hour from 10 a.m. to 4 p.m. For more information, call 605-578-3724. There will be displays of photos of cats and dogs available for adoption. For information about adopting a pet in need or to make a monetary contribution, call the Twin City Animal Shelter at 605-584-2480.
Be the first to know
Get local news delivered to your inbox!