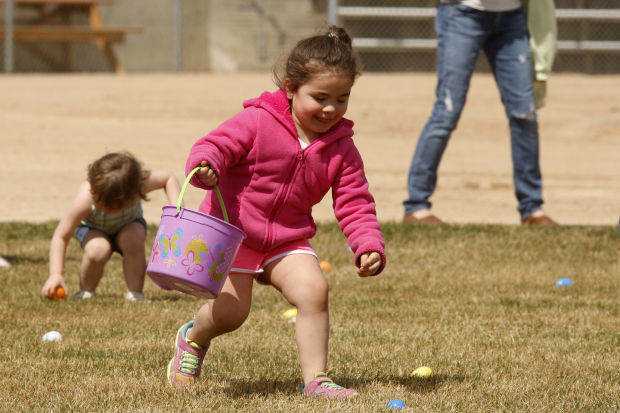 Hippity, hoppity, Easter's on its way.
Little ones in the Black Hills area will have no shortage of opportunities to collect holiday eggs during one of the many Easter egg hunts in communities across the Black Hills. Here's a guide to all of the upcoming hunts around the area.
The Rapid City Morning Optimist Club is hosting its 55th annual city-wide free Easter egg hunt at McKeague Field starting at 9 a.m. About 4,000 eggs and lots of wrapped candy will be available. Prizes will be given for each of three age groups: 1-3, 4-6 and 7-10 years old.
Antelope Ridge will have its annual hunt at the community playground at 10 a.m. and is free and open to Antelope Ridge residents. Bring your own bag or basket to collect your eggs.
The City of Belle Fourche is hosting its annual Easter egg hunt at the Roundup Sports Complex starting at 10 a.m. at the baseball diamonds near the Roundup Grounds. Age groups 0-2; 2-4; 5-6, 7-8 & 9-10 as well as special needs, which will be at the Wahlfeldt diamond.
Hill City will host its annual community Easter egg hunt at the Visitor Information Center. Pre-hunt line-up begins at 9:45 a.m. ahead of the 10 a.m. start. Prizes will be given away in three age groups: 0-3; 4-7; 8-11. The Easter Bunny, along with his helpers, will be on hand for photos and high-fives.
Little Nest Preschool in Rapid Valley is hosting its annual hunt at 3459 Jet Drive at 10 a.m. The event is open to the public.
Vale will host its eighth annual hunt at Vale Community Country Church. There will be hundreds of eggs to hunt with hundreds of prizes to win for three age groups: zero-4, 5-8 and 9-13. Cotton candy and popcorn will be available, and there will also be a bake sale.
The Rapid City Slow Pitch Softball Association is hosting its 15th annual hunt at the Star of the West Complex. Gates open at 1 p.m., with the hunt starting at 2 p.m. Tickets are $3 each and the hunt will be divided into five age groups. The Easter Bunny will also be in attendance.
Rush Mountain Adventure Park in Keystone is hosting its first annual Spring Fling Fun & Glow Egg hunt April 20-21, with each day's hunt starting at 9 a.m. both days. Face painting, games and prizes, and photos with the Easter Bunny are all included with the cave ticket, wristband or season pass. This all-ages event is especially recommended for ages 12 and younger. Count the glowing eggs and get entered into the Grand Prize drawing.
Black Hills Care and Rehabilitation Center will host their annual hunt at 1620 N. Seventh Street at 10 a.m. All ages are welcome. Attendees should bring their own baskets.
Real Life Church will host its Community Easter Festival from 10 a.m. to noon. There will be face painting, games, arts and crafts, and snacks. The Easter egg hunt begins at 11:45 a.m. This event is free and open to the public.
Rapid City Elks Lodge and Golf Course is hosting their Easter egg hunt at 10 a.m. Bring your own basket to collect eggs. This event is free and open to the public.
The Optimist Club of Sturgis will host its annual hunt at 10 a.m. at Sturgis City Park. This event is open to children up to age 9, with three age groups: zero-3, 4-6, and 7-9. A Golden Egg will be awarded in each age group and the prize is sponsored by Wells Fargo Bank of Sturgis. Parking may be limited.
The City of Spearfish will host its Community Easter Egg hunt at 10 a.m. near the Spearfish City Park band shell. This event is free for children 10 and younger.
Main Street Square is hosting Eggstravaganza 2019, featuring 10,000 eggs, at 11 a.m. at Legacy Commons Playground in Memorial Park. There will be a separate area for children up to age 3 to hunt for eggs. Take part in a number of family-friendly activities, including inflatables, the Main Street Square Fun Express train, face painting, games, and meeting the Easter Bunny.
Knollwood Heights United Methodist Church is hosting their annual Easter egg hunt from 12:30 p.m. to 1:30 p.m. Hot dogs and chips will be served to the first 100 people, followed by an egg hunt for children ages 3-13 years. This event is free and open to the public.
Prairie Hills Care & Rehabilitation Center is hosting its hunt at 916 Mountain View Road at 2 p.m. Residents will hand out eggs; children are encouraged to bring their favorite Easter baskets.
Be the first to know
Get local news delivered to your inbox!