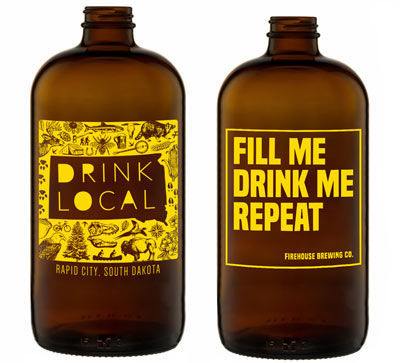 Good news craft beer lovers: Next week is all for you. 
American Craft Beer Week is May 14-20, and several pubs and breweries in Rapid City and beyond are getting into the spirit of the "season." 
On May 18, several downtown Rapid City pubs and breweries will join in a craft beer pub crawl. 
To participate, visit any participating pub from 6:30 p.m. to 10 p.m. that day to pick up a card and start crawling. To earn a stamp on your card, participants must buy something (food or drink) at each location. 
Then, meet at the final stop (Firehouse Brewing Co.) at 10 p.m. to redeem prizes. There will also be live bluegrass music by The River Liffey Boys.
The first 300 participants who complete the crawl will receive a free 32-ounce commemorative growler.
Participating locations in Rapid City are Lost Cabin Beer Co., Wobbly Bobby, Independent Ale House, Thirsty's, Hay Camp Brewing Company and Firehouse Brewing Company. 
In addition to participating in the pub crawl, Lost Cabin Beer Co. has several events planned for the week. On Tuesday, May 15, its Geeks Who Drink pub quiz theme will be themed for Craft Beer Week.
Dubbed Quiz for a Cause, there's a $5 suggested donation to play. The money raised will go to Hanson-Larsen Memorial Park. The trivia event starts at 6 p.m.
On Tuesday, Buy a Beer - Steal the Glass will last from 3 p.m. to 10 p.m.; Thursday is Pair the Pint, which will feature the Nosh food truck and pair four food items with eight different Lost Cabin beers; Friday and Saturday the brewery will host events commemorating its second anniversary in business.  
At Hay Camp, there will be a beer and cheese event featuring Chef Roth from 6 p.m. to 9 p.m. Wednesday, May 16, which will feature a five-course beer and cheese pairing. Friday, country singer Corb Lund will perform at 7 p.m. in the venue. 
In Hill City, Miner Brewing Company is celebrating the whole week with featured events and special drinks each day of the week, Monday through Saturday. 
Among the lineup includes Open Vinyl Day on Tuesday, Stout Float Day on Wednesday, Craft Beer & Bingo on Thursday, and Pints & Paws on Friday, where guests are encouraged to bring their dogs with them to the brewery.