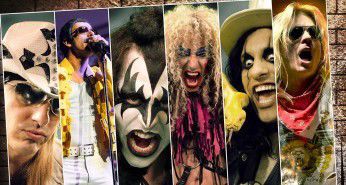 Oct. 29: Joseph O'Rourke, piano, 6-8 p.m., Firehouse Wine Cellars
Mississippi Jake, 6-8 p.m., Firehouse Wine Cellars
Goo Goo Dolls, 8 p.m., Rushmore Plaza Civic Center, $39.50-$89.50
Sophia Beatty, 9 p.m., Tinder Box
Mississippi Jake, 6-8 p.m., Firehouse Wine Cellars
Midnight Sun Band, 7:30 p.m., Canyon Lake Activity Center
Sophia Beatty, 9 p.m., Tinder Box
Nov. 8: Hairball, 8 p.m., Deadwood Mountain Grand, $29
Nov. 9: Charley Pride, 8 p.m., Deadwood Mountain Grand, $49-$79
Nov. 16: The Oak Ridge Boys Christmas Show, 8 p.m., Deadwood Mountain Grand, $29-$49
Nov. 17: Aaron Lewis, 8 p.m., Deadwood Mountain Grand, $45
Nov. 22: Cheech & Chong, 8 p.m., Deadwood Mountain Grand, $49-$69
Oct. 29: 9 a.m. to 1 p.m., The Homestead at Prairie Berry Winery, 23835 Hwy. 385, Hill City
Oct. 30: 8 a.m. to 2 p.m., Market Park, 145 E. Omaha, Rapid City
Nov. 2: 8 a.m. to 2 p.m., Market Park, 145 E. Omaha, Rapid City
Trunk or Treat, 5:30-7 p.m., Regional Health Medical Office Bldg., 677 Cathedral Drive, Rapid City
Decory's Haunt, 7-10 p.m., Rushmore Mall, Rapid City, $20
Chili Buffet, 11 a.m. to 1 p.m., TREA, Rapid City, $7
Decory's Haunt, 7-10 p.m., Rushmore Mall, Rapid City, $20
Sturgis Chamber's Crypt Haunted House, 5-8 p.m., Sturgis Armory, $5
Trick 'n' Treat, 5:30-9 p.m., The Pines, 4924 Shelby Ave., Rapid City
Trunk or Treat, 5:30-7 p.m., Regional Health Medical Clinic, 1445 North Ave., Spearfish
Decory's Haunt, 7-11 p.m., Rushmore Mall, Rapid City, $20
Sturgis Chamber's Crypt Haunted House, 5-8 p.m., Sturgis Armory, $5
Turkey Dinner, 4:30-7 p.m., Grace United Methodist Church, Piedmont, $10 adults, $5 children
Hunter's Soup Supper, 5 p.m., Rochford Community Hall, $6
City Wide Talent Show Auditions, 6-8 p.m., First Assembly of God, Rapid City, $10
Cheesecake Sampler & Battle of the Hors D'Oeuvres, 6-8 p.m., Martin and Mason Building, Deadwood, $20
Decory's Haunt, 7 p.m. to midnight, Rushmore Mall, Rapid City, $20
Rummage Sale, 8 a.m. to 1 p.m., Minneluzahan Senior Center, Rapid City
Bazaar and Pie Sale, 8:30 a.m. to 3 p.m., Pinedale Elementary School, Rapid City
Farmers Market, 9 a.m. to 1 p.m., Western Dakota Technical Institute Commons, Rapid City
Bazaar and Bake Sale, 9 a.m. to 3 p.m., Atonement Lutheran Church, Rapid City
Show N' Sell, 9 a.m. to 3 p.m., Naja Shriners, Rapid City
Nancy Ashley's Creative Arts Open House, 2-5 p.m., 4022 Calle Baja, Rapid City
Allied Arts' Fall Art & Wine Walk, 3-6:30 p.m., downtown Rapid City, $25
Turkey Dinner and Silent Auction, 4-6:30 p.m., South Park United Church of Christ, Rapid City
Turkey Supper, 4-7 p.m., Atonement Lutheran Church, Rapid City, $9 adults, $5 children
Soup Supper, 5-7:30 p.m., First Presbyterian Church, Rapid City, $7 adults, $5 children
Hunter's Soup Supper, 5 p.m., Rochford Community Hall, $6
Decory's Haunt, 7 p.m. to midnight, Rushmore Mall, Rapid City, $20
Pancake Feed Fundraiser, 7 a.m. to 1 p.m., Black Hawk Fire Department
Turkey Dinner, 11 a.m. to 1:30 p.m., Masonic Center, Hermosa, $10 adults, $7 children
Fall Festival, 11 a.m. to 4 p.m., Kadoka City Auditorium
Turkey Dinner and Silent Auction, 11:45 a.m. to 1:30 p.m., Rapid Valley United Methodist Church, Rapid City, $11 adults, $6 children
Oct. 31: "Searchers of the Black Death," 7:30 p.m., Seraphim Theatre, Rushmore Mall, Rapid City, $15
"Green Day's American Idiot," 7 p.m., Firehouse Brewing Theatre, Rapid City, $20
"Searchers of the Black Death," 7:30 p.m., Seraphim Theatre, Rushmore Mall, Rapid City, $15
"Green Day's American Idiot," 7 p.m., Firehouse Brewing Theatre, Rapid City, $20
"Searchers of the Black Death," 7:30 p.m., Seraphim Theatre, Rushmore Mall, Rapid City, $15
Until Nov. 30: Artists of the Black Hills 14th Annual Exhibition, Sen. Stan Adelstein & Lynda K. Clark Gallery at the Dahl Arts Center, downtown Rapid City. The exhibition will showcase more than 30 members, whose artwork includes different mediums and styles of painting, sculpting, pastels, photography, printmaking, jewelry, collage and assemblage. For more information, visit www.artistsoftheblackhills.com.
Until Jan. 1: "A World of Dolls," exhibit featuring photos, storyboards, a touchscreen quiz, children's table and a wide display of dolls from the 20th century. The Tri-State Museum and Visitor Center, 415 Fifth Ave. in Belle Fourche.
Oct. 25-Jan. 20: "Song of the Sea: Carvings of St. Lawrence Island" featuring the artwork of Alaska Native carvers Edwin Noongwook, Ike Kulowiyi, and Ben Pungowiyi, The Journey Museum, 222 New York St., Rapid City. 
Until Jan. 25: Black Hills Collects Exhibition. The show will be located in the Ruth Brennan Gallery at the Dahl Arts Center in downtown Rapid City. Black Hills Collects showcases the artwork collected by families and individuals throughout the Black Hills. The exhibition will include paintings, photography, lithography, watercolor, drawing, glasswork, ceramics, fiber arts, turkey calls, beaded moccasins and Alebrijes (carved Mexican figures of mythical or fantastical creatures brightly painted).
CALL FOR PROPOSALS: Arts South Dakota and the South Dakota Arts Council invite you to submit a proposal for the 2020 State Arts Conference, which is May 14-16 in Rapid City. During the conference, there will be seminars, workshops and panel discussions. Submissions regarding anything about the arts in South Dakota are welcome. The call is open until Nov. 1. You can submit a proposal on behalf of yourself, or suggest a topic, session or speaker to be presented by someone else. To make a proposal, visit artssouthdakota.org or call 252-5979.
Be the first to know
Get local news delivered to your inbox!