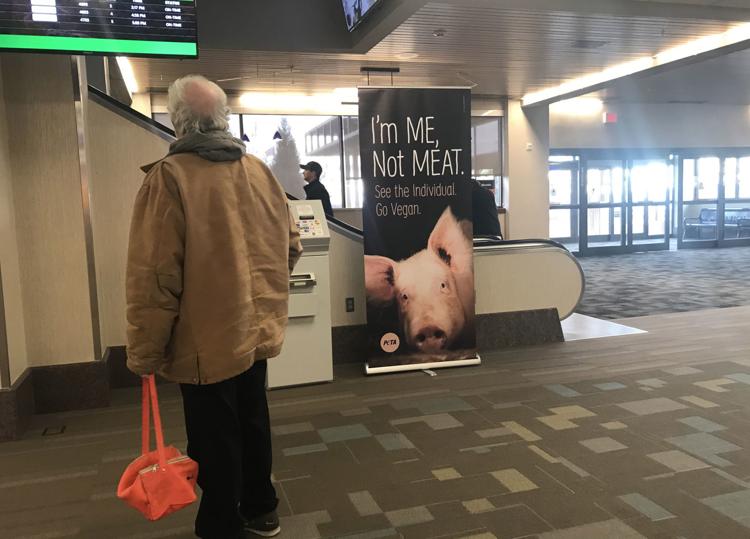 A PETA advertising campaign is ruffling feathers at Rapid City Regional Airport.
Six banners featuring a pig or turkey with the phrase "I'm me, not meat" arrived Friday at the airport, dotting arrivals and baggage areas. On Monday, the airport sent out a press release — and has posted disclaimers on closed-circuit television screens at the airport — standing by the equal opportunity policy of the ad campaigns.
"We just want a level playing field," Rapid City Regional Airport Executive Director Patrick Dame, who confirmed Monday the airport has received criticism for the ads on its Facebook page.
One critic that contacted the airport and the city is the South Dakota Stock Growers Association. On Monday, the organization that has its headquarters in Rapid City sent out a press release of its own with the headline, "Disappointing Sign!" It  criticized the airport's management for accepting the advertising.
"We thought it unfortunate that the Rapid City airport would bow down to this kind of advertising," said James Halverson, executive director of the SDSA. He said the cattle industry is a $4 billion concern in the state.
"And that's not including sheep, pigs and turkey," he said. "Animal agriculture is the backbone of our state's economy."
The airport confirmed PETA's advertisements — which also say "See the Individual. Go Vegan." — were purchased for a month. A spokesperson for PETA (People for the Ethical Treatment of Animals) said they chose the holiday travel season for higher visibility. 
"We often see an uptick in interest in vegan and plant-based items, such as a vegan Tofurky, after we run these campaigns," said Ashley Byrne, associate director with PETA. 
PETA says similar ads have been placed up around the country leading up to Thanksgiving, including in Minneapolis, Boston, Las Vegas, Houston and Denver.
On Monday afternoon, the Brunners of Newell waited by the departure gate to see off their daughter. 
"We were wondering what we could put between us and the banner," said Bruce Brunner, who later referenced bringing animals out of the cold by putting them on his plate as a beef steak.
"We're not against vegetarians or anything," Colleen Brunner said. "We just don't think the ad campaign is going to do much out here."
South Dakota's ag products industry is on display this week as two turkeys — named Peas and Carrots from Huron — are to be pardoned by President Donald Trump at the White House.
Waiting for his daughter to return from Florida, Eric Remboldt, of Rapid City, sat with his wife and younger daughter near one of the pig advertisements.
"At least it's not one of those graphic depictions with blood on it," he said. "It could be worse."
The airport has an approval process for advertisements and reserves the right to reject advertising that violates advertising policies adopted last year by the Airport Board. Nudity, tobacco products, political and violent images are prohibited, among other strictures, the airport said in a press release. Moreover, as a recipient of $2.1 million in federal grants, the airport cannot discriminate against potential advertisers based on a number of categories.
"We consulted with city legal to make sure we're trying to make the best decisions in terms of free speech," Dame said.
A spokesperson for the airport said Monday the airport receives around 1 percent of its annual budget from advertisements. This year, the airport has taken in approximately $76,500 in advertising dollars, which is a boost of nearly $20,000 from last year. Currently, ad campaigns at the airport feature everything from roulette wheels to reptiles, according to the airport.
By Monday afternoon, disclaimers on screens at the airport near PETA's banners read: "Advertising sold in the airport is not a reflection of the views or opinions of the airport. Equal opportunity is applied to all of our advertisers."