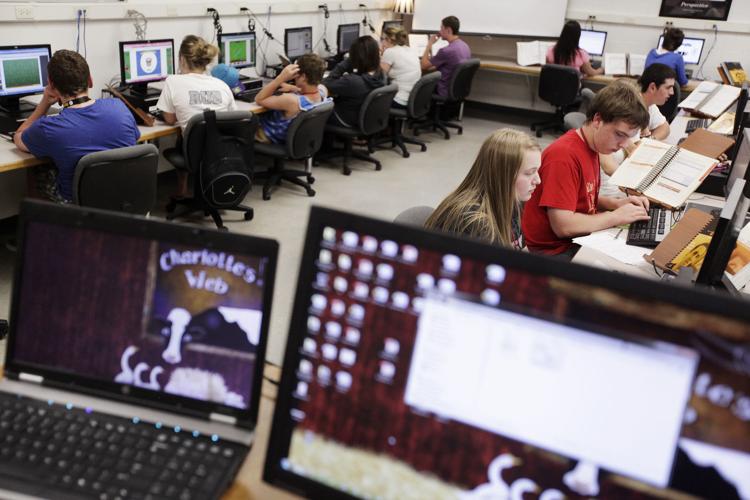 Editor's note: School Crossings is an occasional digest of news and happenings within the K-12 schools within Rapid City and the greater Black Hills.
On Nov. 12, the Hill City School District school board voted 3-0 with one abstention and one absence to impose a teacher contract objected to, in part, by the district's teachers. The school board and district's teachers had reached an impasse after negotiations and received a non-binding ruling from an administrative law judge in Pierre on over 20 contested issues. 
One item teachers had objected to — an edit to a policy that, teachers say, would've heightened the scrutiny of their personal lives — was stricken from the final contract. The 2018-19 contract will remove the district's contribution to teachers' dental insurance, among other budget-tightening measures. Board member Dennis Krull told the Journal the board is doing its best to honor its teachers within a small budget. 
"When we go through negotiations, we bargain in good faith," said Krull. "We need to be able to take care of our teachers because without our teachers, where would we be?"
Hill City is just one school district in the Black Hills this year where teachers and the education boards have reached impasse. Teachers in Meade County earlier this fall declined to go to "fact-finding," the final step in negotiations, because the Meade Education Association said they did not have faith the process would help them receive a better contract.
Teachers in Rapid City Area Schools will present sides to an administrative law judge this winter. However, the districts are able to impose their last, best offer. It is prohibited for teachers to walkout under South Dakota law.
A New Addition to the CTE Offerings at Lead-Deadwood School District 
A science teacher at Lead-Deadwood High School has secured grant funding for the school to purchase a "sim-patient" for students taking a CTE health careers course.
"It'll be a lot of taking vitals, addressing wound care, disease identification," said Bree Oatman, chemistry and CTE Health Science for Lead-Deadwood. "I think this will give students a better taste of this profession." 
The sim-patient, a mannequin from hands-on healthcare training company Realityworks, was purchased through a $30,000 grant Oatman won from the state of South Dakota's EPSCoR funding, a $175,000 pot of money from the National Science Foundation. Oatman said this money is earmarked to help rural states be more competitive in research and innovation.
"I typically have sophomores and juniors in my classroom, where we get them exploring health careers," said Oatman. "Most of this curriculum is targeted toward an older patient, and the mannequin will allow students to practice putting in an IV, a catheter, doing wound care, helping the bed ridden in wheel chairs and managing pressure sores.
The simulated patient will require minimum upkeep each year down the road from the district, such as replacing fake blood and fake skin, Oatman said. But the grant helped secure upfront costs. Students will also be able to work with what Oatman calls a "geriatic empathy kit" that contains a vest and ankle weights and vision impairment devices students can wear to help understand challenges unique to older adults.
Oatman said her students also learn from a nurse as part of a partnership with Regional Health Lead-Deadwood Hospital. She anticipates the sim-patient to be in use by the spring. 
Custer School District Has New Mentor Program
Custer School District has started using a mentoring system championed by former University of Nebraska Head Football Coach Tom Osborne.
"We trained our teammates the last week," said Custer Superintendent Mark Naugle.
Called TeamMates, the mentoring program brings together students with trained adults once-a-week for 30 to 45 minutes during school hours on school property. The program was started by Coach Osborne and his wife in 1991 and operates in 180 school districts from Kansas to Wyoming. So far, nearly 40 students have brought in parent-signed releases and 25 adults have gone through mentor training in the Custer School District.
"We're looking for more adults who want to work with kids," said Naugle, who also serves as the district's liaison for Teammates.
Mentors are encouraged to start by finding something they like to do together, playing board games, to build trust 
"It's really based upon what the kids want to talk about," said Naugle, "There have been stories of mentors teaching kids how to play chess or fly a kite. Just whatever it takes to build a relationship with that kid." 
Custer will recruit students in the 3rd through 7th grades with the goal that mentors follow students through graduation.
Students at RCAS off for the Week
Rapid City Area Schools took a survey of families last year and heard support for an entire week off for Thanksgiving. So the district, said spokeswoman Katy Urban, observed Veteran's Day on the Tuesday of Thanksgiving and gave employees a professional work day on Monday. The result? No class for RCAS students this entire week.
In response, the Rapid City Swim Center is open daily (with the exception of Thanksgiving) from 1 to 8:45 p.m.
"With the entire week off from school, families may be looking for some entertainment options," said Emily Carstensen, Aquatic Specialist at the Rapid City Swim Center, in a press release from the city. "For many, it's been since Labor Day since they've thought about the pool so the Swim Center is a convenient option for fending off boredom during the extended school break."