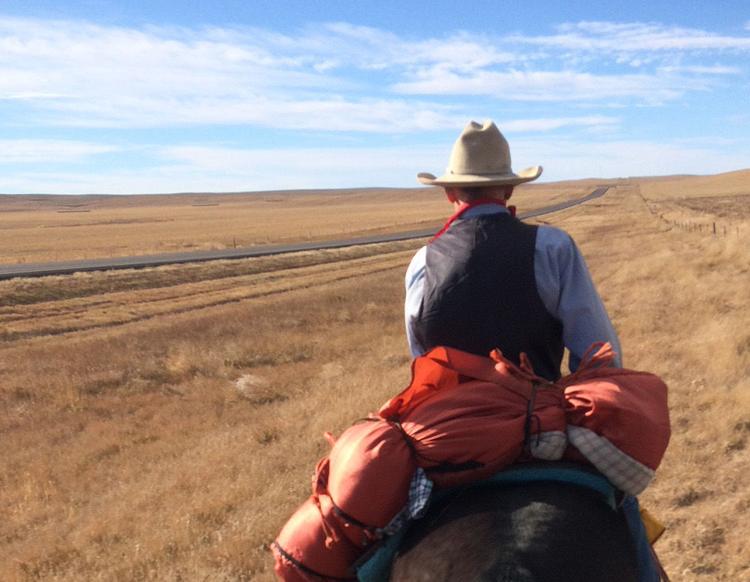 Tony Jones reckons he and Steven Garrigan could put up with sleeping under a bridge for one biting cold night on the South Dakota prairie.
That's nothing, Jones said, compared with the continuing plight of America's 300,000 homeless veterans.
"They're sleeping under a bridge, and they don't have any choice. We had a choice," Jones said.
A numbing western Dakota wind and the comparably chilling howls of threatening critters is what Jones, 55, and Garrigan, 13, and their sturdy horses endured after the first 24 miles of their 140-mile Cowboys Ride for Veteran's Awareness this week from Hayes, west of Pierre, to Fort Meade, near Sturgis.
That Thanksgiving night most other West River South Dakotans slept off the tryptophan effects from platefuls of roast turkey, watched football games or plotted Black Friday shopping strategies.
Garrigan, meanwhile, slept with one eye open, he said, all but convinced he and Jones were the ones being shopped by packs of prairie predators.
"Oh gosh, our horses were spooked," Garrigan said. "The wind was hitting us pretty hard, and the coyotes sounded like they were right underneath our feet."
Not that Garrigan didn't know what he was in for, choosing — with parental permission — to accompany Jones for most of this week's ride, an extension of a 1,400-mile horseback pilgrimage Jones made last year from Fort Pierre to Washington, D.C., to raise awareness of the plight of America's military veterans.
Jones arrived in the nation's capitol in October after saddling up in Fort Pierre in June, visiting with the state's congressional delegation about the issues of veterans, 22 of whom commit suicide daily, he said, while others remain mired in homelessness, or dying while on waiting lists to receive health care.
"I told them exactly what the veterans told me, what they needed to survive and to stop the things that are going on. I told them, but they haven't done a lot about it," Jones said.
This week's much shorter ride, Jones said, is a result of what he calls continued inaction on the part of Congress to address the needs of heroes he considers "more of a national treasure than Mount Rushmore. This time I'll go raise a stink about it and see what we can do."
Garrigan rode the first two days with longtime family friend Jones, then returned home to keep up with his eighth-grade studies in Philip. He'll rejoin Jones for today's final ride from a ranch near Rapid City to Sturgis.
Jones has been staying with rancher friends along the way, but he endured yet another frigid, "terrible windy" Monday night, sheltering in a culvert.
Recuperated now and ready for today's last leg, Jones plans to pay his respects at Black Hills National Cemetery and also hopes to visit with veterans at Fort Meade VA Hospital east of Sturgis.
Garrigan, son of Keith and Amy Garrigan of Midland, hasn't been on the entire ride, but he hasn't been immune to his share of challenges.
He had to change horses on the second day because of the animal's extreme fatigue.
He'll finish the ride on that first horse Saturday, and he'll remember support from people the two cowboys have met along the way.
"People talked to us and said they appreciate what we did. They shouldn't be thanking us. They should be thanking the veterans. They fought for us," Garrigan said.
Speaking with a typical western tendency for understatement, Jones voiced his nevertheless sincere appreciation for his young companion's sacrifice.
"I'm pretty proud of that kid, really, to forego his Thanksgiving and come out with me. I thought that was pretty good," Jones said.