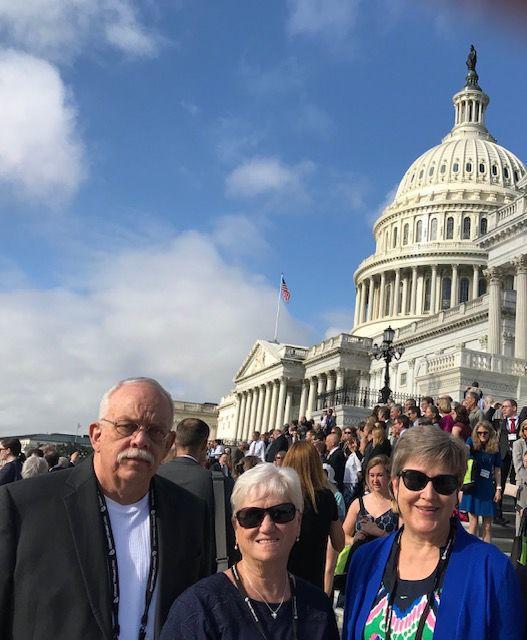 Congressional legislation to address climate change was introduced this week with support from Rapid Citians who are among citizen activists lobbying for the bill's passage.
The bill is the Energy Innovation and Carbon Dividend Act. It was introduced Tuesday in the U.S. House by three Democrats and two Republicans from Florida, Maryland and Pennsylvania.
The legislation seeks to make cleaner fuels more economically competitive by imposing fees on fossil fuels, while protecting American consumers from rising energy prices by paying them dividends from the fees. The bill seeks to lower carbon dioxide and other greenhouse gas emissions by at least 33 percent in 10 years.
The plan is backed by Citizens' Climate Lobby, a nonprofit with hundreds of local chapters around the world. For the past several years, Mary Deibert, Karla Deuter and Alan Anderson, all of Rapid City, have been among thousands of activists associated with the organization who have traveled annually to Washington, D.C., to lobby for the introduction and passage of the legislation. 
The trio recently returned from their most recent lobbying trip and said the improving reception they've been receiving from members of Congress and congressional staffers was especially noticeable this year.
"This was the first time I came away with a little bit of hope," Anderson said.
Deibert said when she began making the lobbying trips in 2012, the reception was cold. She remembers one congressional staffer who didn't bother to take notes during a meeting.
"We were still at that time arguing whether climate change was real," Deibert said. "That was what we spent a lot of our meetings on.
"Now, we don't even have that conversation."
Deibert said the conversations now focus on the legislation supported by Citizens' Climate Lobby. 
The plan would impose a fee of $15 per metric ton of carbon on fuels at their first point of sale. The fee would then rise by $10 per metric ton, per year.
The fee revenue would be distributed in equal shares to every American adult with a Social Security or individual taxpayer identification number, with half-shares allocated to the first two minors in each household. In the first year, according to Citizens' Climate Lobby, the payout would be about $16-$24 per month, per adult. 
Imported goods from countries that lack a similar carbon policy would be subjected to a "border carbon adjustment" — basically a tariff — to discourage U.S. companies from moving production to those countries. 
Additional regulations on covered carbon dioxide emissions would be prohibited, as long as emission targets are met. If emission targets are not met after 10 years, Environmental Protection Agency regulatory authority over the emissions would be restored.
Congressional adoption of the plan is what Deibert, Deuter, Anderson and other volunteer activists lobby for when they descend on Washington each year. Although President Donald Trump recently rejected findings from the annual National Climate Assessment that were released Friday, the Rapid Citians said members of Congress have been increasingly willing to discuss climate change and climate-change legislation.
Changing attitudes in Congress were reflected as early as 2014 in a comment by Sen. John Thune, R-S.D., who said in a Fox News interview that climate change is occurring. He also said, "There are a number of factors that contribute to that, including human activity. The question is, what are we going to do about it and at what cost?"
Thune now brings that perspective to the highest levels of the Senate Republican caucus with his promotion earlier this month to majority whip, which ranks behind only the majority leader among the leadership group elected by senators.
Deuter said Citizens' Climate Lobby has positive working relationships with the offices of Thune and Sen. Mike Rounds, R-S.D. She hopes to strike up a similar relationship with Rep.-elect Dusty Johnson, R-S.D. Prior to the Nov. 6 election, Johnson was endorsed by Citizens for Responsible Energy Solutions, a national group that was formed to build support among Republicans for clean-energy policies.
The Black Hills chapter of Citizens' Climate Lobby has about 100 members. Deibert, a retired teacher, is a state coordinator. Deuter, a retired medical technologist, and Anderson, a retired engineer, are group leaders along with Barb Cromwell.
Volunteers for Citizens' Climate Lobby are encouraged to build relationships with members of Congress by being nonpartisan and focusing on respectful communication. As Anderson said, "We don't yell at them."
Deuter said that approach has paid off.
"We always get a meeting," she said. "And it's a back and forth. It's a dialogue."
Deibert, Deuter and Anderson said they realize that the politics of climate change are difficult for members of Congress, whose constituents are spread along a spectrum from climate-change deniers to environmentalists. The partner organization of Citizens' Climate Lobby, known as Citizens' Climate Education, is working to inform public opinion about climate change.
Deibert said she wishes the newly introduced legislation would have been adopted years ago, but her anxiety about climate change has been soothed by the progress she thinks Citizens' Climate Lobby is making.
"What keeps me sane is this group," Deibert said.