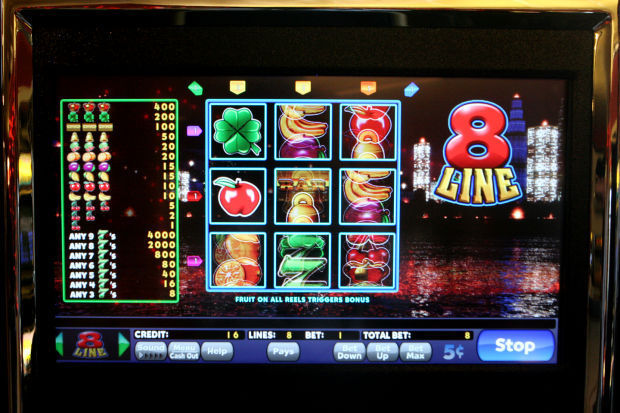 PIERRE | Officials said Thursday that South Dakota's video lottery revenue is nearly back to the peak reached in 2008, before voters approved the statewide ban in 2010 against smoking in bars and restaurants that drove a big decline in gambling play.
The state takes 50 percent of the money lost or left behind in the privately owned gambling machines. Based on results so far for the state's budget year that began July 1, video lottery is on track in fiscal 2018 to produce nearly $221 million that owners, operators, establishments and state government will share.
The record amount was nearly $224.7 million in fiscal 2008. Revenue stair-stepped all the way down to $176.6 million for fiscal 2012. It hovered at about $185 million for fiscal 2013 and 2014, then slowly began climbing back to nearly $212.4 million for fiscal 2017.
Video lottery currently ranks as the second-largest source of revenue for the state's budget. South Dakota's sales and use tax is first. But a sluggish economy led Gov. Dennis Daugaard earlier this month to propose zero for increases to state aid to K-12 schools and state government employees for the coming year.
Revenues from instant scratch tickets and online lotto games also were up so far this budget year. Together they are expected to produce about $122.75 million for state government when the 2018 budget year ends June 30. That would be an increase of about $5.3 million from 2017.
Meanwhile South Dakota Lottery officials are drafting a request for proposals that would include video lottery's central administrative system. The current contract runs into 2019 with five one-year extensions available.
South Dakota Lottery Executive Director Norm Lingle told lottery commissioners Thursday he wants to issue the RFP by the end of January.
Much of the meeting discussion focused on the future of VLC 8700 video terminals that still remain in use since the Legislature allowed video lottery to start in 1989. Lottery business analyst Sam Stanforth said net machine income continues at $45 to $50 per day for the legacy terminals and is $90 to $95 per day for modern line games.
Video lottery revenue has been growing twice the rate of inflation, according to Stanforth. "I think it's been looking pretty good for the past six years," he said.
"That was good news, and I hope we can continue on with that," commission chairman Jim Putnam of Armour said.
The meeting drew more people than usual to room 412 in the Capitol because of the topic of the legacy machines. "I'm glad to see such a large crowd. It shows we have great interest in the subject matter," lottery deputy director Clark Hepper said. He commented that legacy machines have been solid producers for the lottery but noted that change is constant.
Hepper recalled that the commission in 2008 decided to declare the original VLC 8700s obsolete. Nearly 10 years later, thousands remain in use among the approximately 9,100 terminals in play.
Line games debuted in 2011, he said, and now produce "very solid" revenue. Based on the rate of replacements during the past few years, Hepper estimated 12 years would be needed to move all of the legacy terminals out of the establishments.
"They're still earning good coin for us and our operators," Hepper said. He called for a plan to be developed that would cover every part of the video lottery industry.
"Well, that's a lot of meat — and we all want to know where the beef is," chairman Putnam said.
Bob Riter Jr., a Pierre lawyer who has represented the Music and Vending Association of South Dakota since video lottery's 1989 start, stressed the need for machine owners to be part of the conversation with lottery staff and later with the commission when the discussion reaches that point.
Riter said they stand "ready, willing and able" to meet as needed. He said Hepper's presentation reminded him the commission originally set the state's share between 15 and 35 percent. The move to 50 percent that the Legislature adopted created issues inside the industry, he said.
Legacy machines are being used by "lots" of people as an income base to pay for new machines, according to Riter. He argued the legacy machines have made the system successful and reminded the commission that the smoking ban made a difference.
"Yeah, it has come back, but in the meantime, it's been a struggle for the people in the audience as well as a reduction in state revenue," Riter said.
"We're not looking for a debate. We're looking for a remedy," Putnam told Riter.
Also speaking to the commission were Matt Krogman, a Brookings lobbyist for the South Dakota Licensed Beverage Dealers and Gaming Association, and Troy Erickson, president for M.G. Oil Co. based in Rapid City.
Erickson said people in the room represented probably 8,000 machines. He said legacy terminals are "an anchor" that still make money for the owners and state government.
The timetable for the current video-lottery administrative contract indicates seven years remain for the legacy machines to be replaced, according to Erickson. That would mean some 3,500 of them could be moved out through natural attrition, he said.
Shutting off the legacy machines in 2019 would be a mistake, Erickson said. He suggested the commission consider as future steps adding progressive-style terminals that set aside a small fraction from each bet for big jackpots, making state government a partner in machine ownership and offering higher limits than the $2 maximum that's been in place for nearly 30 years.
"With the right planning, we can all make a lot more money," Erickson said said. "I think we've got some time where we can create a heck of a system."