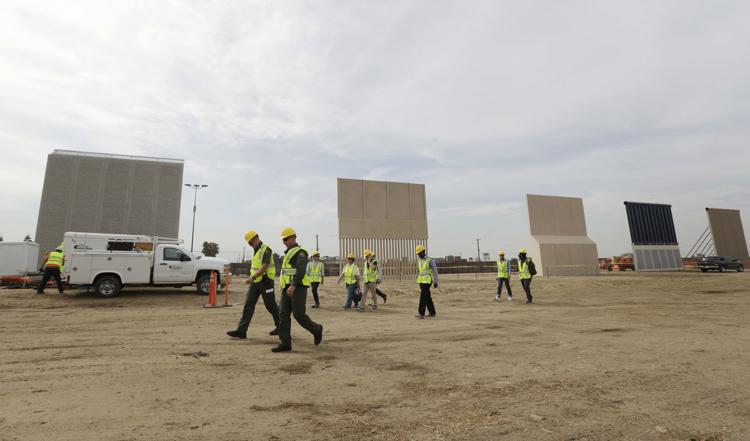 PIERRE | Two days after Gov. Kristi Noem said in her State of the State address that the federal government has failed "to adequately secure our southern border," state senators passed a resolution voicing support for the construction of a wall along the U.S.-Mexico border.
Lawmakers voted 28-5 Thursday to pass Senate Concurrent Resolution 4, urging Congress and President Donald Trump to fund the border wall.
Sen. Stace Nelson, R-Fulton, said the resolution is "an opportunity to in a timely fashion have an impact on what happens nationally in the United States" and to "tell the president what we want."
"We have the ability, we have the authority and we have the responsibility as a state Legislature to make an impact on the federal government," he said in the resolution's floor debate.
Assistant Minority Leader Sen. Craig Kennedy, D-Yankton, who voted no, cautioned the Senate about the message he said the resolution sends "about how we view people who just like our ancestors just want a chance."
"What this body is being asked to do is wrong," Kennedy said. "This is pure politics, and we've seen what this kind of political posturing has resulted in in Washington, D.C."
The vote comes on the heels of Noem's State of the State address on Tuesday when she called for tougher border security and announced that she had approved the deployment of four South Dakota national guardsmen to the Southwest border via UH-72 helicopter.
"We must do what we can to help secure the southern border," Noem said.
Trump promised during his 2016 presidential campaign that the wall's construction would be paid for by Mexico, but he is now refusing to sign any federal budget omnibus passed by Congress that wouldn't allocate money to build the wall. Democratic House Speaker Nancy Pelosi has stood firm that the Democratic-controlled House will not pass a budget that includes money for the wall.
Because of Washington's failure to negotiate a budget on time, the federal government has been shut down since Dec. 22, impacting approximately 30 government agencies and thousands of workers.
During Thursday's debate, Kennedy said, "We have a government that's shut down and we have people working without pay and for what reason? To make a political point."
Sen. Mike Rounds in a Thursday media call said the blame for the government shutdown is on Trump and Pelosi for not finding a compromise and that the Senate "stands ready" to approve a budget.
When asked if he would support a bill that does not include an allocation for a border wall, Rounds said, "Yeah, I can move forward."
Rounds and fellow Republican senators recently reintroduced a bill separate from the budget that would fully fund the wall's construction at $25 billion through increases in minimum fines for those who overstay their visas or enter the United States without proper documentation.
The bill, titled the WALL Act, would also establish a requirement for a work-authorized Social Security number in order to claim certain refundable tax credits, like the Earned Income Tax Credit or the Child Tax Credit. It would also require welfare applicants to verify their citizenship.