Inmates, loved ones describe fear in prison where woman tested positive for COVID-19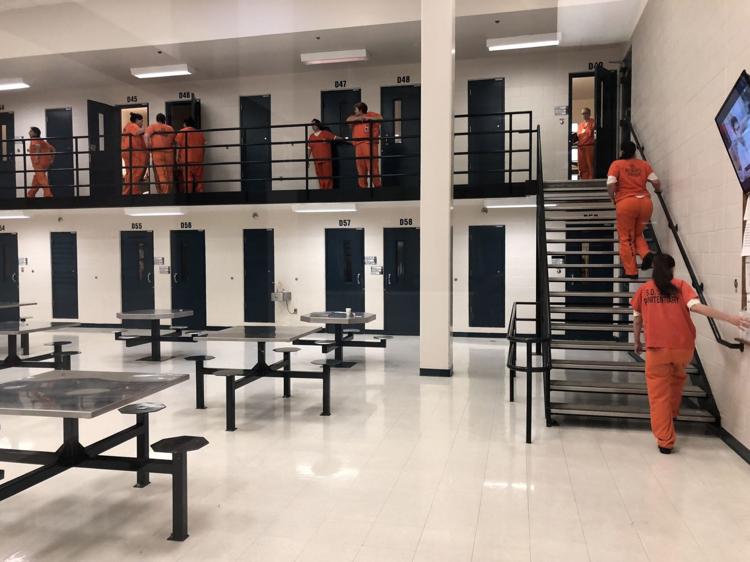 Inmates at the women's prison in Pierre and their loved ones say prisoners fear for their safety after a fellow inmate tested positive for the coronavirus.
They also said the inmate who tested positive recently cleaned the Capitol building and is now isolated in a solitary confinement cell. 
"They're telling us to stay away from each other, but it's not possible," said a woman housed in the minimum-security unit where the woman who tested positive lived. The nine women who walked away Monday evening did so "because they were scared of COVID-19."
We're "really panicking" in here, said Glenabah Tulley, an inmate in the main unit. People feel like "it's not if we get it, it's when we get it."
"They're all watching the news too, they're all as freaked out" as the rest of us, said the mother of an inmate in the main unit. 
The Journal spoke with two inmates directly and five mothers who've recently spoken with their incarcerated daughters. The Journal has confirmed the identifies of all inmates by looking them up on the Department of Corrections website, but is not naming those who fear they will be punished for speaking out. 
Held in solitary 
Roberta Zens said her daughter, Amanda Watts, and the woman who got COVID-19 had been cleaning the empty Capitol building after March 17, when the DOC said they halted all outside jobs. Lawmakers last met at the Capitol on March 12, according to the session calendar. 
Tulley said inmates who collect laundry have been able to speak with the woman, who said she is feeling OK and shared that she had been working in the Capitol. She said she knows the woman is in solitary confinement because she works in the kitchen where there is a list of inmates and where they are housed. 
A mother of an inmate housed in the main unit said her daughter called last Friday after she was released from solitary confinement. The daughter said that an inmate was moved into solitary the same day she was released and was talking about awaiting COVID-19 test results.
The positive test result was announced Monday.
Women who feel sick are scared to tell staff because they're "afraid of being thrown in the hole," the minimum security inmate said. Zens said her daughter isn't feeling well "but doesn't want to say anything," because if she's put in solitary, she won't be able to call her.
Multiple sources said that other inmates are having symptoms of COVID-19, awaiting test results and/or being isolated in solitary confinement. 
Maggie Seidel, spokeswoman for Gov. Noem, said the DOC and Department of Health are following guidelines from the Centers for Disease Control in order to prevent and treat any coronavirus cases in the prisons.
She said she can't comment on where the inmate who tested positive is being isolated, or if she worked in the Capitol building.
Seidel said the DOH notifies everyone who comes into close contact with someone who tests positive for COVID-19, and that if the DOH was concerned about a possible mass exposure to the public, it would issue a news release.
Minimum-security unit 
The minimum-security inmate and a former foster mother of a woman housed there both say that the women share rooms with each other. The inmate said there are nine women in each room, which have three triple-layer bunk beds. The woman said her former foster daughter is in a room with five other women. 
But the inmate, Zens and another mother said that for the past several days, more than 200 minimum-security inmates have had to spend part of the day in a visitor's room while outside workers do construction work. Some mentioned that heaters were being taken out and replaced. They said the women go into the room at 7 a.m. before leaving around 3 or 3:30 p.m. 
"It's like elbow to elbow for eight hours," Zens said. They're "crammed together like bunch of sardines," the other mother said.
Zens said she's not sure if the women still have to go in that room since they protested Monday after learning that their fellow inmate contracted COVID-19. She said a corrections officer began crying and saying they were scared, too. 
"They're not being protected either, their lives are in danger as well," Zens said of the prison staff.
Seidel said there are about 180 women in the minimum-security unit but can't comment if it's been overcapacity in the past or if they've had to spend part of the day in a visitor's room. 
The former foster mother said that her former foster daughter recently called her with "a zillion" questions because the inmates are afraid and have some wrong information about COVID-19. 
She said her former foster daughter explained that inmates have no hand sanitizer or masks for those who feel sick, but are frequently cleaning their rooms with wipes. She looked up the ingredient on the wipes and told her former foster daughter that wipes will indeed help kill bacteria and viruses. 
The woman said she doesn't condone the escape but hopes it's "recognized as an early warning of the volume of emotions that have been stirred and the level of fear that exists."
"I hope the state takes a close look at and gets an early and stronger method of educating these women to avoid more attempts at escaping," she said.
A mother of a minimum-security inmate who spoke with her daughter Wednesday morning said she is afraid her daughter has the virus because she had a fever that morning and has had diarrhea for the past two days. And she said her daughter has a week immune system after surviving a serious staph infection several years ago.
Fever is a common COVID-19 symptom and some patients have diarrhea, according to the World Health Organization. And people with weak immune systems are more likely to be harmed by the virus, according to the CDC. 
The woman said her daughter shared that inmates feel panicked, they are running low on toilet paper, and are being served spoiled food.
"I can see why the nine of them busted out and escaped," the mother said.
Zens said her daughter has been calling multiple times a day and shared that the prison added a portable hand-washing station to their unit. But she said she still fears for her daughter's safety and "can't do anything about it" since she's in prison.
Zens said she's been reading about how other states are releasing low-level offenders or those who are near the end of their sentence and wishes South Dakota would do the same.
Some South Dakota jails are releasing pre-trial detainees but Gov. Noem and the DOC said they have no plans for special coronavirus-related releases in the state prisons. 
The minimum security inmate said she knows that President Donald Trump and others are advising Americans to stay away from others.
"That is not feasible for us. So what does that mean for us women here" in prison, she asked. "What are we supposed to do?"
Main prison 
I'm "just trying to keep her calm," said the mother of the woman who was recently released from solitary confinement.
She said the prisoners still have to do their jobs cleaning the prison and working in the kitchen. She said an inmate was given gloves and a mask to wear while cleaning out the solitary confinement cells. The woman said the inmates have free soap in common areas, but if they want soap in their cells, they need to buy it.
The mother said she's afraid if her daughter gets sick because she's had trouble obtaining proper health care in the prison in the past. 
Tulley said that she's afraid for a fellow inmate who had a temperature two nights ago and is short of breath — both symptoms of COVID-19. 
"She can barely breathe" and feels like she needs an inhaler, Tulley said. 
Tulley said inmates are given masks and gloves while doing laundry but she only has gloves when she works in the kitchen. She said she's worried corrections officers aren't changing their gloves enough and is concerned that inmates still have to swipe a finger through their mouth when taking medicine to prove that they've swallowed it.
"I'm really concerned for my daughter," said Tulley's mother Jean Roach. 
Roach said her daughter has diabetes (a risk factor for COVID-19) and high-blood pressure, so she sent a letter to Gov. Noem asking for a compassionate release.