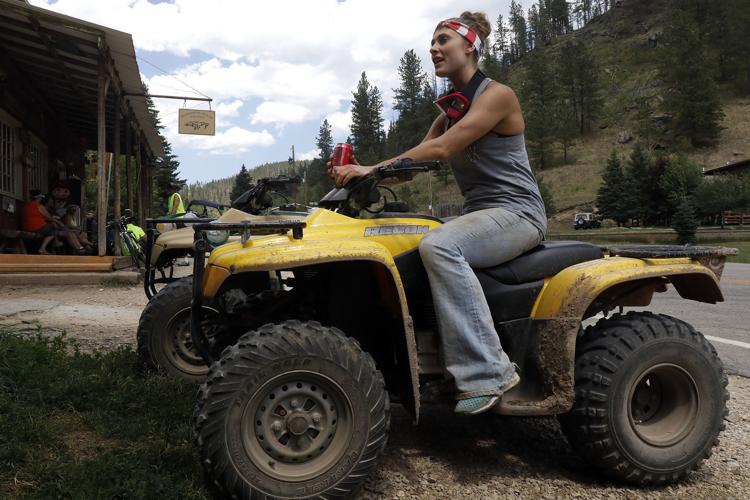 The growing popularity of recreational all-terrain vehicle use in the Black Hills has prompted forest officials to try something new: trail rangers.
Five trail-ranger jobs are being created in the Black Hills National Forest. Deputy Forest Supervisor Jerry Krueger said applications will be accepted soon, and the rangers are expected to be on patrol in 2019.
"I think it's a function of increased use, and a realization that we need to do a better job of engagement with the public, both in terms of public education and compliance," Krueger said.
Motorized recreation in the forest was only loosely regulated until 2010, when forest officials adopted a travel-management plan. The plan restricts motorized travel to approved trails and requires users of certain motorized trails to buy permits. Today, 688 miles of motorized trails are covered by the permit requirement.
Permit sales from the past five years reflect the growing popularity of the motorized trail system among users of vehicles such as ATVs, UTVs and motorcycles. Permit sales have grown from 11,170 permits in 2013 to 21,508 last year. Seven-day permits are $20, and annual permits are $25.
The increased usage has been accompanied by complaints about motorized users who fail to buy permits, or cause damage to sensitive areas of the forest, or drive on trails designated only for hiking, biking or horseback riding.
The trail rangers will be tasked with responding to complaints and proactively working with the public to encourage appropriate use of the motorized trail system. They will use ATVs to patrol motorized trails.
Krueger said two of the rangers will be stationed in Spearfish, two in Rapid City, and one in Custer. Wyoming has a similar program managed by that state, which will cover the Wyoming portion of the Black Hills.
The rangers will work 18 of the 26 pay periods in a year, with a break during the coldest winter months. Pay will be at the GS-5 and GS-6 grades, which is toward the lower end of the 15-grade general schedule for federal civil-service employees.
"These are essentially early career types of employees," Krueger said.
The forest's commitment to the rangers will be only year-to-year for now, Krueger said, and their pay will be funded by revenue from motorized-trail permit fees.
The rangers will be classified as forest-protection officers rather than law-enforcement officers, Krueger said. They will not carry weapons but will be empowered to issue citations.
The hiring of the rangers is part of a broader effort to update the forest's overall strategy for non-motorized trails. In the coming months, Krueger said, he expects that effort to include an assessment of the existing trail system, examination of potential new trails and connector routes, discussions of user compliance with rules and permitting, and other aspects of motorized travel.