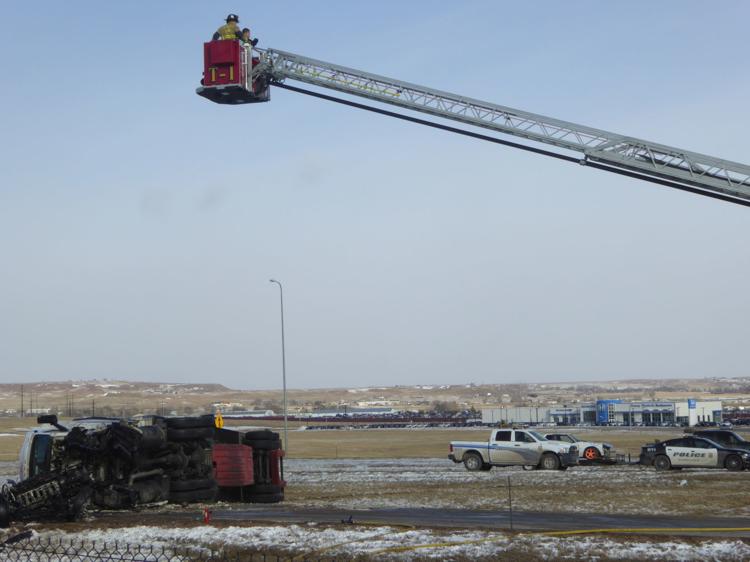 One person died Friday morning in a semi versus car crash on Interstate 90 in eastern Rapid City after the semi-truck crossed the median and hit a car traveling the opposite direction. 
The crash that occurred near Exit 60 on eastbound I-90 was reported around 9:30 a.m., Jim Bussell, spokesman for the Rapid City Fire Department, said at a press conference. 
At the scene, a white semi-truck was laying sideways across the grassy gap between the highway and exit while blocking the exit. There appeared to be skid marks on the highway leading across the gap. An extensively damaged car and vehicle parts were in the grass south of the exit. 
The South Dakota Highway Patrol said the semi-truck was traveling westbound on the interstate when it left the roadway and crossed into eastbound traffic. The semi then collided with an SUV driven by a 64-year-old woman. The woman was pronounced dead at the scene. 
The 53-year-old male driver of the semi-truck is facing charges according to the South Dakota Highway Patrol. He suffered minor injuries.
The names of both the individuals involved were not immediately released. 
While the fire department was initially told a vehicle was on fire and the semi-truck appeared burnt, neither car was on fire when the department arrived, Bussell said. 
One man wrote on the Journal's Facebook page that two fires were seen under the car. He said he helped put them out with his hands before a woman brought a small extinguisher and then a first responder brought a larger one.
There were multiple eyewitnesses before the fire department arrived, and some claimed there was a fire while others didn't, Bussell wrote in an email. He confirmed that a fire extinguisher had been used before the department arrived. 
Bussell said it's possible there was a fire but "there are lots and lots of occasions where smoke and steam from fluids (oil, anti-freeze, etc.) coming in contact with hot motor components will be mistaken for the vehicle being on fire. The same holds true for airbag powder."
"Some of (the burn-like patterns on the truck) has to do with debris from motor components, some of that has to do with debris from airbags, some of that has to do with just pulverized debris from vehicles, but there was no fire," he said at the press conference. 
Meanwhile, the I-90 Exit 60 eastbound off-ramp was closed "for an appreciable amount of time" as authorities investigated and cleaned up the scene, he said. 
Exit 60 is on the eastern side of Rapid City near Rushmore Crossing, a popular shopping area. After the fatal accident, Bussell asked the public to refrain from parking behind the interstate-facing businesses to watch the scene and take photos. 
"This is someone's personal tragedy and not worth your Facebook posts," he said.