Interstate 90 west of Rapid City closed at 10 p.m. Tuesday until further notice as conditions continued to worsen from a strong winter storm in the Black Hills.
The South Dakota Department of Transportation announced the enforced closure will impact Interstate 90 in both directions from the Wyoming border to Exit 55/Deadwood Avenue in Rapid City. There was no expectation when the highway will reopen as of Tuesday night.
The winter storm is associated with a low pressure system in Colorado and began earlier than originally anticipated for Rapid City and the Black Hills, transitioning from rain to snow during the late morning and early afternoon hours on Tuesday.
As conditions changed Tuesday, the Sturgis Police Department issued a no travel advisory for the rest of the evening into Wednesday for all city streets. Reports indicate more than 6 to 8 inches of snow in Sturgis and Belle Fourche. Higher totals are expected in Spearfish.
Additionally, the Meade School District cancelled classes for Wednesday due to the winter weather.
In the Lead-Deadwood area, the National Weather Service in Rapid City forecasts more than two feet of snow.
Large snowflakes equivalent to 1-2 inches of snowfall per hour were observed in Rapid City around noon Tuesday. However, with temperatures above freezing the snow quickly turned into a slushy mess on roads and some accumulation in grassy areas.
As of 1:15 p.m. Tuesday, the city's Communication Coordinator Darrell Shoemaker said Street Department crews were treating hills and bridge decks and patrolling road conditions along Rapid City's 19 snow routes.
"Drivers are advised to use caution as snow conditions persist," Shoemaker said. "In addition, drivers are advised to watch for fallen tree branches in roadways due to the heavy, wet snow."
Melissa Smith, a meteorologist with the National Weather Service in Rapid City, said the snow accumulation dwindled in the late afternoon Tuesday but was expected to pick back up later Tuesday night and through Wednesday.
"We are expecting the intensity of the snow to go down some this afternoon, then pick back up," Smith said.
Smith said the surface temperatures in Rapid City are warm, causing the snow to melt in the daytime hours, but it could cause icy patches and slushy roads throughout Tuesday evening and into Wednesday, especially during the overnight hours with more snow accumulation expected.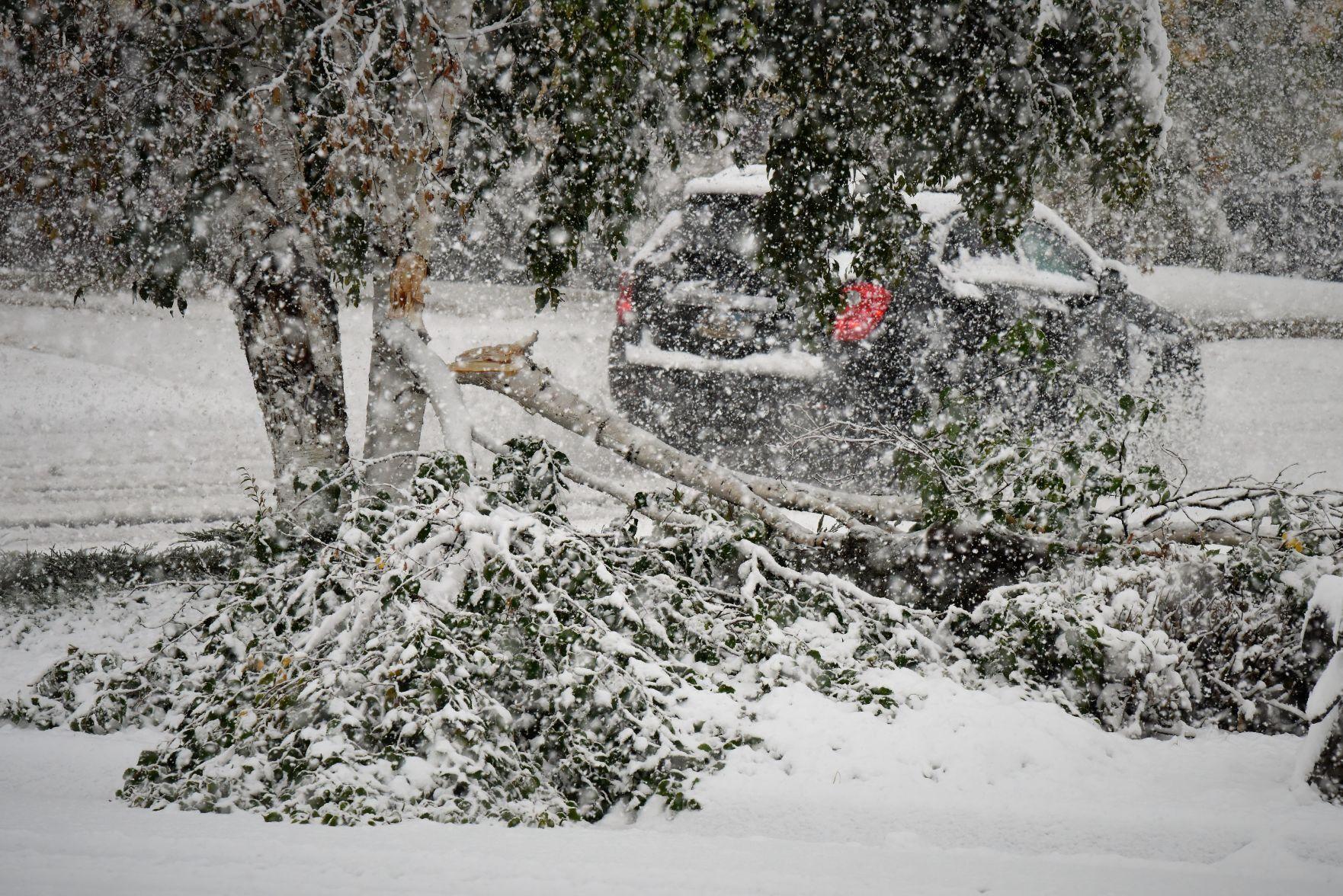 Farther into the Northern Black Hills, areas from Hill City to Lead-Deadwood saw significant snow beginning to accumulate Tuesday in grassy areas and along some roadways.
Tuesday's wintry weather also caused power outages affecting thousands of customers, according to Black Hills Energy.
The largest reported outage was in Sturgis where 3,072 customers lost power at around 3:45 p.m. Tuesday. Earlier in the day, 1,000 Black Hills Energy customers in southwest Rapid City lost their power for three hours. It was reported that all but 31 had power restored by 4:45 p.m.
Information on Black Hills Energy power outages and a map of the affected area can be found at https://www.blackhillsenergy.com/outages.
According to the National Weather Service in Rapid City, steady daytime temperatures Tuesday in Lead were at 32 degrees, with conditions expected to continue deteriorating throughout Tuesday afternoon, evening and into Wednesday. The weather service called for 4 to 8 inches of Tuesday daytime snow accumulation in Lead, 10 to 14 inches during the overnight hours, and an additional 4 to 8 inches on Wednesday.
In Rapid City, precipitation transitioned to a rain/snow mix with some sleet after 4 p.m. Tuesday. The National Weather Service said additional snow was expected during the overnight hours and into Wednesday, with an additional 3 to 7 inches of snow ending by 11 a.m. The rest of Wednesday is expected to transition to a rain/snow mix Wednesday evening.
Daytime temperatures in Rapid City are expected to be in the low- to mid- 40s through Wednesday, with overnight temperatures below freezing. A warm-up is expected by the weekend, with Sunday's high temperature forecast to be in the high 60s.
— Journal reporter Shannon Marvel contributed to this report.