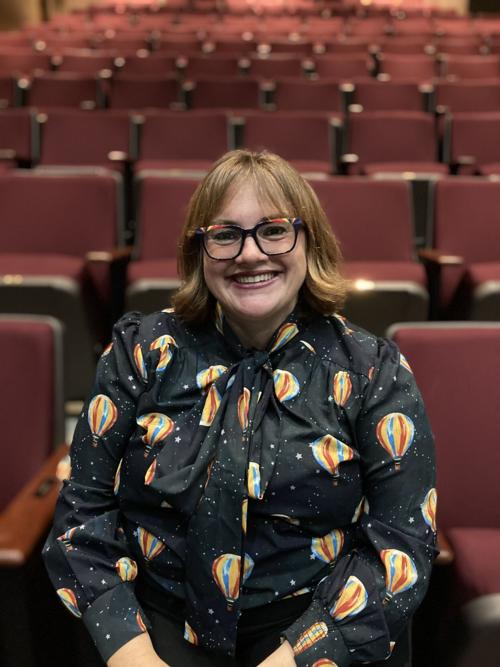 Black Hills Community Theatre's new artistic director, Jayme Kilburn, is excited about finding fresh ways for local theater to bring people together.
After a nationwide search, BHCT announced in June that Kilburn would be the new artistic director. She arrived in Rapid City three weeks ago and is looking forward to getting to know the community. She's hoping to introduce new small-group events that will encourage more people to try community theater.
"The emphasis (of the job) was being a strong part of the community and serving the people of Rapid City and that was a huge attraction for me," Kilburn said. "When I came to Rapid City for the final interview, it was really exciting how much the theater meant, not only to people who work here and the (BHCT) board members but also the community at large."
Kilburn likes BHCT's variety of current programs, ranging from its big main stage productions to its education and outreach events. She's hoping to expand BHCT's offerings with free programs that are "fun, low-stakes ways to do something theater-related," she said.
She and BHCT's Education and Outreach Director, Dave DeChristopher, hope to offer two free community-based programs this year; dates and details will be announced at bhct.org. DeChristopher will lead "Eat, Drink and Be Merry," where people can gather for pizza and reading a play together.
Kilburn also hopes to introduce free "play days" for adults. Participants can write their own performances, play theater-related games, and try improv and movement exercises.
"It's about saying, 'How can we create programming anyone can do? How can we break down barriers to inclusion? What are ways we can sort of push the needle forward and see what the community is interested in doing?'" Kilburn said.
As COVID-19 continues to spread, Kilburn said people will be asked to wear masks at the smaller events. The events will be in bigger rooms to allow for social distancing, and there will be PPE stations on site with hand sanitizer, disposable masks, wipes and face shields.
Kilburn is putting a distinctly local twist on BHCT's annual holiday season fundraiser. This year, the show is titled "Black Hills Community Theater Holiday Show Extravaganza: How Krampus Almost Stole Christmas."
Borrowing elements from modern classics including Peanuts, "Home Alone" and "How The Grinch Stole Christmas," the general plot will tell of the "Pistachios" Chuck, Ethel and Schubert. The story will follow their journey to Rapid City and the holiday spirit they find along the way. Kilburn ultimately hopes to create an interactive production that invites audiences to sing along and even become actors in the show.
"We're going to do a community-collaborated show written with playwrights in town so we can tailor it to the community and have fun with it. … We're going to try and chock it full of all these holiday and Rapid City references," Kilburn said. "When we bring actors in, they can bring their ideas as well. It's really exciting and a fun way to approach this holiday show."
The Holiday Show writing group's first meeting will be from 3-5 p.m. Sunday in the fourth floor rehearsal room at Rapid City High School. The group will map out the plot and start writing the script, Kilburn said. For more information, contact her at 394-1787 or email artistic@bhct.org.
"I'm really excited to be here and one of the things I hope to foster is an open-door policy, so if anyone in the community wants to talk to me, they should feel free to call me or email me so we can continue to tailor our programming to the different needs and diversity and be as inclusive as possible," Kilburn said.
Kilburn relocated to Rapid City after finishing her doctorate degree in theater from Cornell University in Ithaca, N.Y. She is a graduate of the University of California, Santa Barbara and New York University. Kilburn has directed more than 30 plays and has won two Best Production Awards for directing projects in the Baltimore Playwrights Festival. She was named one of broadwayworld.com's 2006 Up and Comers, broadwayworld.com's 2007 Best of Baltimore Community Theater for Best Direction, and received recognition for the Strand as one of the "top five theaters in Baltimore 2011" from Baltimore Magazine.
Highlights of her professional career include five years as the founding artistic director of the Strand Theater Company in Baltimore. She curated an interactive theater piece, "The Artist Peep Show," for the FAB Festival in New York City, and she directed traditional plays and musicals such as "The Drowsy Chaperone," for Johns Hopkins University. Kilburn has collaborated with Sue Perlgut, founder of the famed second wave theater collective, It's All Right to Be Woman, in creating the Women's Wisdom Project, and Kilburn devised a performance with the Mohawk Nation at Akwesasne for their annual international festival.