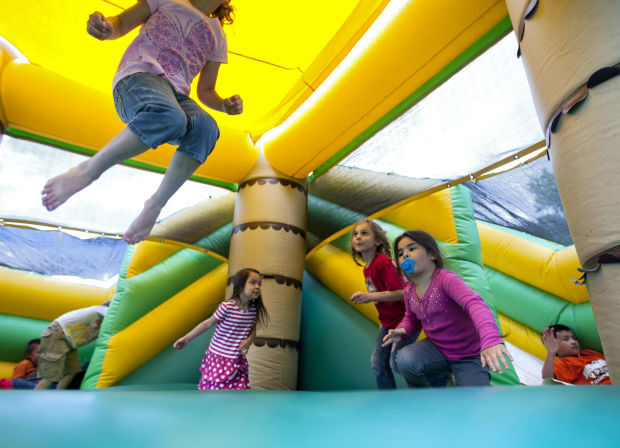 Summer's off to a fun-filled start in the Black Hills. June is packed with music, theater and festivals, including these.
The Black Hills Blues Stomp and Swamp Romp Blues Festival will make its debut at Rush No More RV Resort and Campground near Sturgis. This event will showcase classic, modern, zydeco, soul and blues music from national touring acts from Louisiana, Kansas City and Texas, plus local performers. Headliners include Gerard Delafose and Zydeco Gators, Randy McAllister and the Scrappiest Band in the Land, Mahan The Band, Heather Newman Band, James Van Nuys and Bodhe Linde, and Walt Keys and Unfinished Business. The festival opens at 6 p.m. June 4, and continues June 5 starting at 2 p.m. and Sunday at noon. For admission prices and more information, go to rushnomore.com
Fan favorites Orion and Stacey Potter and friends will present a gospel music show at 2 p.m. in the Bruce Miller Theater at High Plains Western Heritage Center in Spearfish. Admission is free; donations for the artists welcome. For information, go to westernheritagecenter.com/events/.
The music continues at Rush No More RV Resort and Campground near Sturgis when the Black Hills Bluegrass Association's Black Hills Bluegrass Festival celebrates its 40th anniversary. The weekend's music comes from a mix of national, regional and local bands. Headliners will be Grammy-nominated band The Special Consensus, plus That Dalton Gang, The Waddington Brothers, Montana Standard, and the Black Hills Bluegrass Band. The festival opens Friday at 6:30 p.m. June 25, with shows at 1:30 p.m. and 6:30 p.m. June 26, and a gospel music show at 10 a.m. June 27. In addition to performances, there will be a kids' fiddle workshop, instrumental workshops, jam sessions, kids' activities and craft vendors. For admission prices and information, go to blackhillsbluegrass.com or rushnomore.com.
The 10th annual Kids' Carnival promises to be a fun-filled day of midway games, the Fun Express Train, bounce houses, vendors, food and more. The carnival runs from 11 a.m. to 3 p.m. at Main Street Square in Rapid City. Sky Dancing Aerial Studios will perform twice during the carnival. For information, go to mainstreetsquare.org.
The West Boulevard Neighborhood Association's Summer Festival is back. This festival will be from 8 a.m.-6 p.m. June 19 and 10 a.m.-4 p.m. June 20 at Wilson Park in Rapid City. This year's vendors include a wide array of local businesses and artisans offering jewelry, art, pottery, metalworks, vintage clothing, plants and more, plus food booths. Live music and entertainment for the whole family will be available all day Saturday and Sunday.
Black Hills Community Theatre opens its outdoor summer series with Jane Austen's classic "Sense and Sensibility." Set in late 18th-century England, the story follows Elinor and Marianne Dashwood, whose lives are upended when their father abruptly dies, leaving them penniless and with reputations at stake. The show is recommended for 12 and older. Performances will be on the lawn west of the Performing Arts in Rapid City; admission is free. Bring your own lawn chairs or blankets for seating. Masks are strongly encouraged. Showtimes and dates are 6:30 p.m. June 11, 12, 18 and 19, 4 p.m. June 13 and 20. For information, go to bhct.org.
Black Hills Playhouse in Custer State Park opens its 75th season with "The Marvelettes," which takes audiences back to the 1958 Springfield High School prom and classic '50s and '60s hits such as "Dream Lover," "Stupid Cupid," "It's My Party," "The Shoop Shoop Song" and more. Shows will be in Black Hills Playhouse's outdoor performance space, the New Frontier Theatre. The Playhouse will follow CDC guidelines for mask recommendations. For tickets and information, go to blackhillsplayhouse.com.
Treat your family to a double feature from the Froelich Young Actors Guild. They'll present "Once Upon A Shoe (or Rhymes and Mimes of Mother Goose and Her Traveling Troubadours)" and "All I Really Need to Know I Learned By Being in a Bad Play" at 2 p.m. at Matthews Opera House and Arts Center in Spearfish. Separate performances of "Once Upon A Shoe" and "Bad Play" will be June 25 and 26. For tickets and information, go to matthewsopera.com/event/once-upon-a-shoe-and-bad-play/.