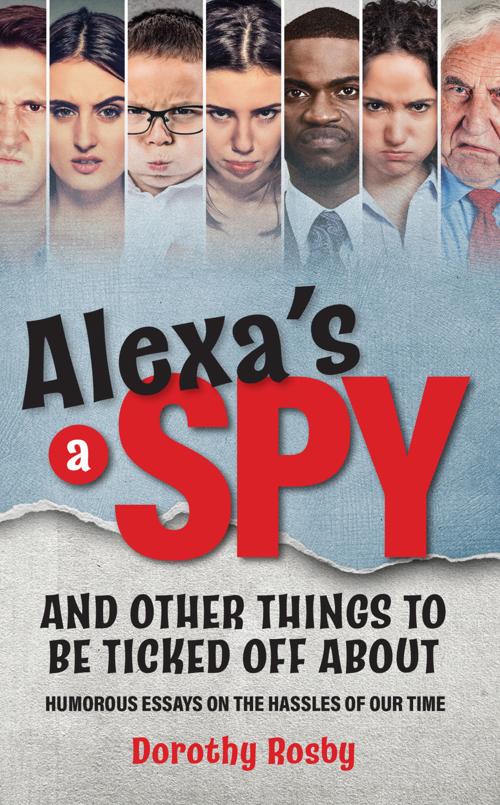 Remember January? That was a halcyon time before widespread COVID-19, when life's daily stresses came from things like tangled computer cords, persistent telemarketers, too many PINS and passwords, and political rants on social media.
Humor writer Dorothy Rosby takes readers back to less perilous times with her new book, "Alexa's A Spy and Other Things to be Ticked Off About." She chuckles — and grimaces — when talking about its recent release.
"If there were an award for bad timing, I'd nominate me," Rosby said. "After three years of work, my latest book is out — in the middle of a global pandemic."
"I'm kicking it out the door whether this is a good time to release a book or not. Laughter is the best medicine after all, though its effectiveness on COVID-19 hasn't been tested yet … but it makes life more fun," she said.
Rosby, of Rapid City, is a syndicated columnist whose work appears in 37 publications in nine states and in an online national publication, Exceptional People. A year ago, she retired from her job as community relations director for the Black Hills Works Foundation. Since then, Rosby has been writing full-time, and completing and marketing her new book.
"It's been grand," she said.
"Alexa's A Spy" is a good-natured rant, Rosby said. Her topics are "common irritants in modern life" that she believes everyone is bothered by.
Humor can ease stress and offer a fresh perspective on the things that bug us, Rosby said.
"People are really struggling and suffering, and I'm worrying about how I look in a mask? It can be really helpful to look on the funny side," Rosby said.
"This book is filled with a lot of things that really bugged me. Things that bug you can be very funny in the hands of a humor writer," she said. "They were bugging me back when I could still buy toilet paper whenever I wanted to. Now, they're not as big a deal. It's all a matter of perspective."
As the threat of COVID-19 closed businesses and upended life as usual, the deadly virus also stalled Rosby's book release.
"Originally, it had a shockingly unsuitable title for this moment: 'Alexa's a Spy and Other Things to Worry About: Humorous Essays on the Hazards of Our Time.' Yes, I may have been a tad overdramatic. It's about the nuisances of modern life: intrusive technology, clutter, spammers, scammers, uncivil discourse and so on. No mention of Zoom meeting hackers and toilet paper shortages because somehow I didn't see those coming when I was writing the book — a giant failure of imagination on my part!" Rosby said.
Before COVID-19, Rosby said people laughed when she told them her new book's title.
"After COVID-19, several people actually said, 'Ewww.' That's not the reaction you want when you reveal the title of your new book. … I didn't anticipate that anything would ever be so bad it make someone say 'ewww,'" Rosby said.
Her book was on the verge of being released, but Rosby had a new cover designed and chose a new title.
"I renamed the book 'Alexa's a Spy and Other Things to Be Ticked Off About: Humorous Essays on the Hassles of Our Time,' which is more accurate if less interesting," Rosby said. "It's a little problem compared to what a lot of people are dealing with."
Because of COVID-19, Rosby does not have in-person book signings or appearances planned. She may consider some sort of online reading from "Alexa's A Spy" in the future, noting that the COVID-19 pandemic has pushed her to expand her technology skills.
"You have to stay up to date. I've had a lot of Zoom meetings. I'm quite impressed I've managed to be where I'm supposed to be in cyberspace," Rosby said.
Despite the hazards of COVID-19 and the continued irritants of modern living, Rosby is hopeful Americans will come through the pandemic "stronger and smarter and wiser and kinder." Meanwhile, Rosby is working on her fourth book, "Tis the Season to Feel Inadequate," about holidays and special occasions.
"Alexa's A Spy" is available locally at Mitzi's Books in downtown Rapid City, on Amazon and from major booksellers. For more information, go to dorothyrosby.com.
Concerned about COVID-19?
Sign up now to get the most recent coronavirus headlines and other important local and national news sent to your email inbox daily.