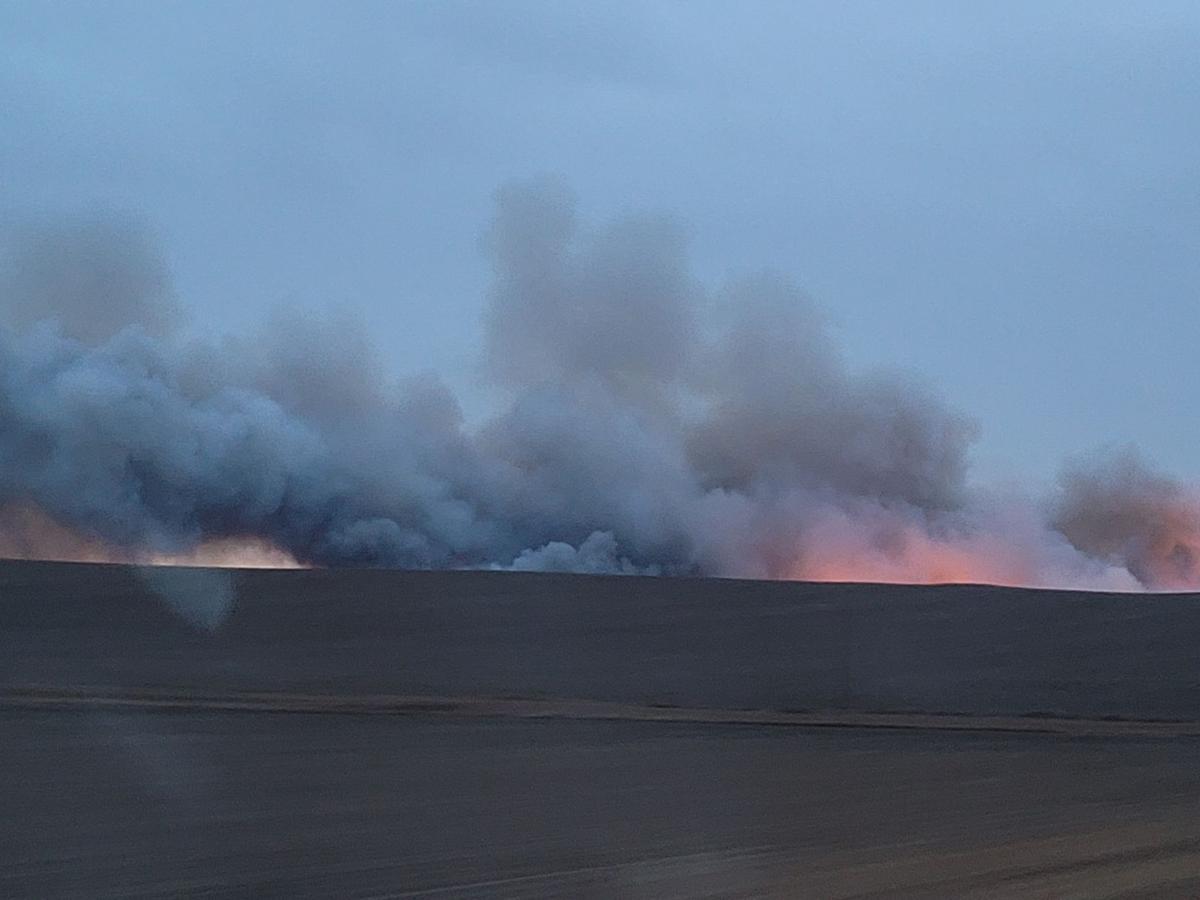 LEMMON | A massive wind-fueled fire in Adams County, N.D., that crossed the state line into Perkins County near Lemmon is at least 80% contained Friday after burning 20,000 acres in North Dakota and South Dakota.
Shane Penfield, public information officer for the Lemmon Fire Department, said the blaze was 80% contained late Friday morning with hot spots within the perimeter of the fire, but no active spread.
The fire broke out at approximately 4:30 p.m. Thursday in Adams County.
"At the time of the call, sustained winds at the Lemmon Municipal Airport were in excess of 30 to 40 mph, with high gusts of 56 mph," Penfield said. "Lemmon Fire immediately requested mutual aid from Hettinger, N.D., and an initial attack was made."
Penfield said when the volunteer fire department arrived, flames were as high as 20 to 30 feet and contained extreme heated gas and smoke. With the strong northwest winds, the flames quickly moved to the southeast into South Dakota.
"Several farms and ranches were evacuated and structure protection was initiated," he said.
As the flames crept closer to farms and ranches, Penfield said 19 occupied parcels of land were burned, but no residential structures were lost.
"Unfortunately, a ranch headquarters experienced extensive damage," he said.
Penfield could not say if there were any livestock lost in the fire.
Two firefighters received minor injuries and were transported to West River Medical Center in Hettinger, he said.
Fire crews from more than 20 agencies from both states responded to the blaze. Penfield said the southern progression of the fire was stopped at 11:04 p.m. Thursday near the Grand River, 12 miles south of Lemmon. However, at 1:38 a.m. Friday, strong winds and dry conditions caused the western flank of the fire to reignite.
Penfield said crews continue to monitor and extinguish the fire and expect to be on the scene through Friday, with hopes of full control by Saturday.