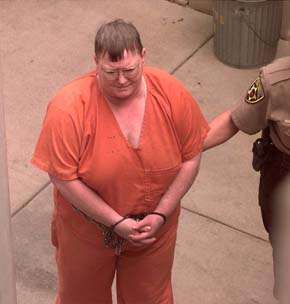 RAPID CITY - Janice Stevenson told a 7th Circuit Court judge Wednesday that she never expected a dropped match to result in the largest fire ever recorded in the Black Hills National Forest.
Judge Merton B. Tice Jr. ordered Stevenson, 47, of Newcastle, Wyo., to serve 25 years in prison on a state charge of second-degree arson in connection with the loss of a summer home during last year's 83,503-acre Jasper Fire.
"I didn't think it (the fire) would go that far," she told Tice during Wednesday's sentencing hearing.
Tice said Stevenson knew that a fire would result from her action.
"You're saying you're sorry, but I think deep in your heart, you're patting yourself on the back for the grand job you did with that fire," he told her.
Tice also ordered the state sentence to be served concurrently with a 10-year sentence handed down last month on federal charges of destruction of U.S. government property.
Whether the state and federal sentences would be served at the same time or back to back was a major contention during Wednesday's 90-minute hearing, originally scheduled for 15 minutes.
As part of a plea agreement reached in May, Stevenson agreed to plead guilty to setting the fire and to answer truthfully questions involving other unsolved Black Hills fires, including the 1998 Westberry Fire.
In exchange for the guilty plea, Assistant Attorney General Paul Bachand was expected to ask for a 17-1/2 year prison term to be served concurrently with the federal sentence.
Instead, Bachand told Tice the state would seek the maximum 25-year sentence and push for the sentences to be served consecutively.
Bachand argued that Stevenson violated the plea agreement when she failed a polygraph test concerning her possible role in the Westberry Fire, which destroyed 15 homes on the western outskirts of Rapid City.
The fire was ruled to be arson-caused, but no charges were ever filed.
A Division of Criminal Investigations polygraph expert testified that Stevenson admitted setting three other fires near Osage and Newcastle prior to 1993.
He said the polygraph test showed that Stevenson was not truthful when she denied starting the 1988 Westberry Fire.
Stevenson's attorney, Randal Connelly of Rapid City, vigorously objected to the state's aim to stray from the plea agreement, arguing that other factors, including political pressure to solve the Westberry Fire, were behind the push for a longer sentence.
"They experienced buyer's remorse," Connelly said. "They decided to up the ante and turn this into a lynch mob."
He said a litany of Stevenson's mental-health problems stemmed from abuse and incest she suffered during childhood.
He said Stevenson had made 20 to 30 attempts to kill herself, and self-mutilation had caused a leg to have to be amputated.
Bachand argued that Stevenson's "callous disregard" had resulted in the loss of 7 percent of the national forest.
The state arson charge related to the destruction of the summer home owned by Jon and Sharon Kayser, who were selling their home in Dell Rapids to move to the Black Hills.
Sharon Kayser testified that she and her husband are rebuilding but that the pristine setting on their 23-acre tract 14 miles northwest of Custer is lost for decades.
"We'll never see those trees again in our lifetime," she said.
Everett and Lynn Akam, neighbors of the Kaysers, also lost a cabin, a tractor and a tool shed to the fire. Their summer home, adjacent to the cabin, sustained heavy exterior damage but was spared.
"We can replace the cabin … but this area will never have the beauty that it had," Lynn Akam said.
Tice ruled that Stevenson had violated the plea agreement by not being truthful.
Stevenson told Tice she was sorry for what she had done.
"There's nothing I can do about that now," she said. "I hope some day I can be forgiven."
She admitted to being drunk when she deliberately set three Wyoming fires that destroyed a barn, lodge and pasture. She also told Tice she had been drinking the day she stopped to urinate along Jasper Cave Road near Custer. She said she lit a cigarette, dropped the lighted match and watched a small fire grow.
Tice said Stevenson would be ordered to pay restitution as part of her sentence but added, "I doubt very much that you would be able to come up with $42 million."