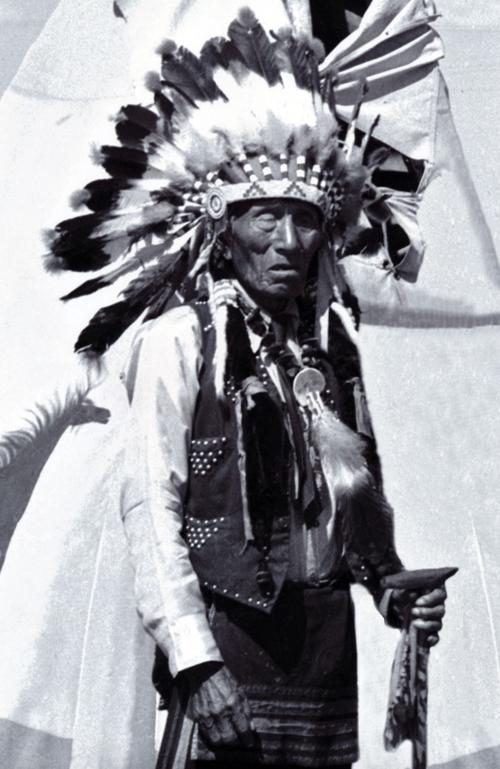 The Catholic Diocese of Rapid City is celebrating another step toward the potential sainthood of the late Native American holy man Nicholas Black Elk.
At 4 p.m. today, Bishop Robert Gruss will lead a mass at Holy Rosary Church near Pine Ridge to mark the opening of a cause for canonization.
The opening of the cause follows the submission of a petition calling for Black Elk's canonization last March by George Looks Twice, Black Elk's oldest living grandson. The petition bore 1,600 signatures.
The opening of a cause is the next step in a process that could take years, has an uncertain outcome and requires ultimate approval from the pope. Among other things, Black Elk's life must be studied in great detail, and evidence must be presented of his participation in miracles. 
Gruss has appointed Bill White, of Pocupine, to be the diocesan postulator of the cause. White, an enrolled member of the Oglala Sioux Tribe, will lead an investigation into Black Elk's life to establish support for the canonization effort.
"From everything I've read about him, I believe he was a saint," White was quoted as saying in this month's edition of West River Catholic, a publication of the diocese. "I want to be a part of the cause. I've heard a lot of stories about Nicholas. I just have to gather information to prove those stories."
Black Elk ("Hehaka Sapa" in Lakota) was born in the 1860s in what would become Wyoming. In roughly 1874, when Black Elk was between 8 and 10 years old, he became gravely ill. He later described a spiritual vision that he experienced during the illness, in which he saw himself being transported to the top of a mountain that white people called Harney Peak (the mountain was renamed Black Elk Peak last year by the U.S. Board on Geographic Names). 
Beginning in 1931, Black Elk related the details of his vision to the white author and poet John Neihardt, of Nebraska, who parlayed their talks into the book "Black Elk Speaks," first published in 1932 and reprinted several times since.
Black Elk also witnessed the Battle of the Little Bighorn and the aftermath of the Wounded Knee Massacre, and traveled abroad with Buffalo Bill's Wild West Show. He converted to Catholicism after settling on the Pine Ridge Reservation and became a catechist who was credited with converting 400 people.
In his later years, Black Elk became known to tourists and Rapid City residents through his participation in the Duhamel family's Sioux Indian Pageant at Sitting Bull Crystal Caverns. Black Elk died in 1950.
Black Elk would not be the first Native American to be declared a saint by the Catholic Church. That distinction belongs to Kateri Tekakwitha, an Algonquin-Mohawk woman who lived during the 1600s and was canonized in 2012.
Be the first to know
Get local news delivered to your inbox!