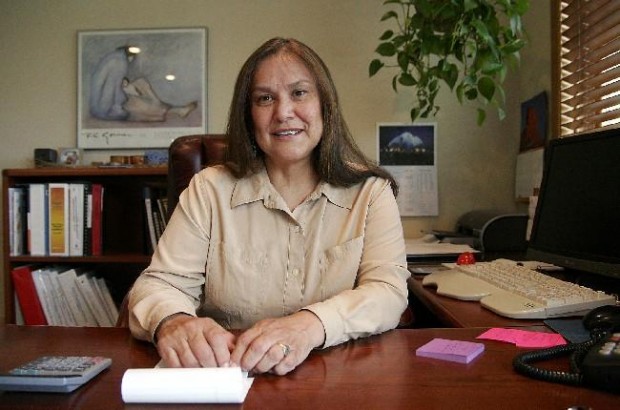 RAPID CITY - A local Lakota woman has been elected to lead the National Spiritual Assembly of the Baha'is of the United States.
Jacqueline Left Hand Bull of Rapid City is the first American Indian and just the third woman to hold that national position in nearly a century. As chairman of the assembly, she heads a nine-member board that oversees some 150,000 Baha'is in the U.S.
"Spiritually, it's really an honor and very humbling, at the same time," said Left Hand Bull. "No one feels adequate to do this work, but we all feel confident that we'll rise to the occasion."
As a member of the Rosebud Sioux Tribe (Sicangu Lakota), Left Hand Bull, 63, was baptized in the Catholic faith and attended parochial schools. She joined the Baha'i faith in 1981 partly because it complements so well the traditional Lakota spirituality she grew up around on the Rosebud reservation.
"I gave my heart to it," she said. "I was really taken with the principles of the faith, especially the idea of progressive revelation." The Baha'is believe that the teachings of all God's messengers to humankind are true, and speak of each with respect. They say the prophet Baha'u'llah is the lateset manifestation of God's word in this time. "From a Lakota perspective, I thought, this makes sense to me," Left Hand Bull said.
Her election speaks more to the faith's emphasis on equality of all races than it does to her own gender or race, she said. Central teachings of the faith include the oneness of humanity and the elimination of prejudice.
"Our faith believes in equality of all people and I think the electors looked to my qualities rather to my race," Left Hand Bull said.
The Baha'i faith is an independent world religion with more than five million adherents. It is found in more than 180 nations with adherents from more than 2,100 ethnic groups. In the U.S., Baha'is are found in every state and on more than 100 Indian reservations.
Left Hand Bull was elected at the 98th annual Baha'i
National Convention April 26-29. Having served as vice chairman of the governing body for five years, she was
re-elected by the 170 delegates representing the entire U.S. community to the governing board, and then chosen on the first secret ballot for chairman by her fellow board members.
She replaces William Davis, who held the chairmanship for the past 17 years.
Other distinguished American Indians who have served on the Baha'i governing board include South Dakotans Patricia Locke, a MacArthur Fellow, and Kevin Locke, a Lakota hoop dancer.
Left Hand Bull has spent much of her life working to meet the health, educational and legal rights of American Indian women and children. She is the author of a book for children, "Lakota Hoop Dancer."
Her service to the Baha'i faith included 13 years of international travel to countries with indigenous populations, including Central and South America, Canada and the former Soviet Union. She has served on numerous local and national boards that advocate for Indian rights, women's concerns and justice.
Professionally, her new leadership role will present challenges of time and travel for Left Hand Bull, who works as an administrative officer for the Aberdeen Area Tribal Chairmen's Health Board in Rapid City.
She will chair 18 annual board meetings at national headquarters in Illinois, lead weekly teleconference calls with the other eight board members and check in daily with the secretary general of the Baha'i assembly.
"Profesionally, it challenges my workload. It means a lot of travel in the coming year," she said.
The Baha'i spiritual assembly is "absolutely non-partisan," Left Hand Bull said, but it does issue public statements on issues of concern to it. As chairman, she will help formulate official assembly reaction to world events, including the ongoing religious persecution of Baha'i adherents in Iran.