The cheeseburger is an all-American summertime classic, perfect for the height of grilling season. Typically, the cheese in said burger is melted on top, but have you ever had a burger with the cheese stuffed inside? It's a completely different experience, with hot, gooey cheese encased in a big, thick patty. It's pretty amazing and worth the relatively minimal effort.
This riff on the classic Juicy Lucy makes the most of blue cheese's deep flavor, lending a melty, savory element to each bite. I start with straight-up ground chuck and mix in a good dose of pepper along with some of my favorite steak sauce. When you're mixing, be gentle. You want to keep the beef, for lack of a better term, fluffy. If you smush the beef while you're mixing, you'll end up with dense, tough burgers, so just mix until the ingredients are blended.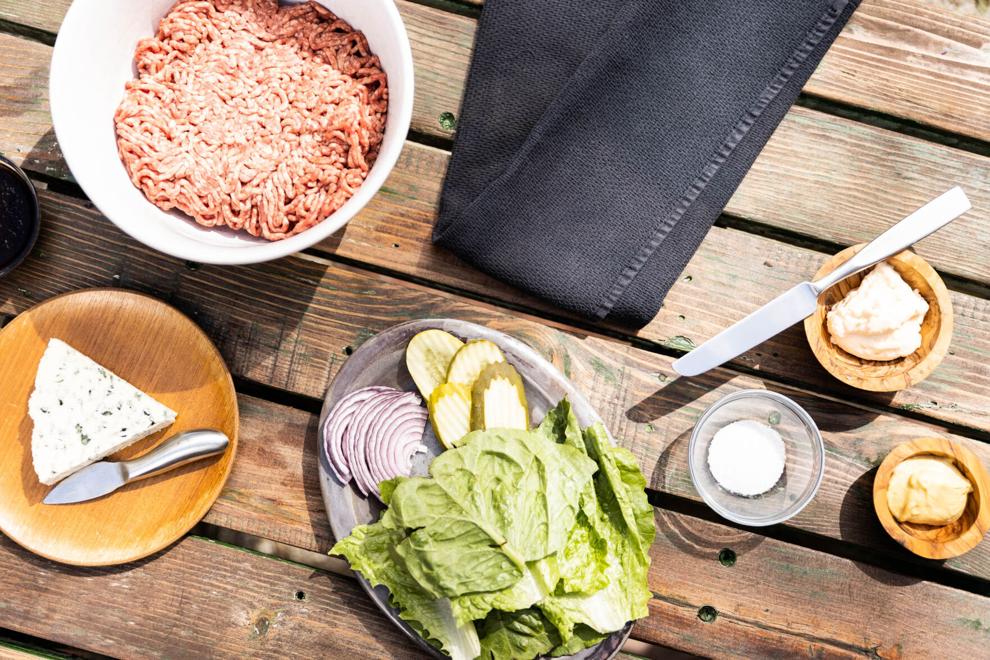 To stuff the patties, all you have to do is take a quarter of the beef and form it into a ball, then flatten a bit into a disc. Place about an ounce of the cheese into the center and gather the edges up and around, fully encasing the cheesy nugget inside. Just season with salt and grill — you'll want to cook the burgers to medium so the cheese gets nice and hot and melty. This is not the technique for people who insist on their burgers being on the rare side.
I serve these burgers pretty simply with mayo, mustard, onion, pickles and lettuce. There's a lot of flavor in the blue cheese, so I picked accompaniments that don't compete. But make your burger however you prefer — pile it with caramelized onions or top it with bacon and a fried egg. Or leave it plain and let the blue cheese be the star. And, if you're not a fan of blue, just substitute whatever cheese you love. Cheddar works well, as does mozzarella. Swiss would be a brilliant choice. But if you ask me, pimiento cheese is the best swap for blue. It's creamy and decadent when melted inside a perfectly charred burger.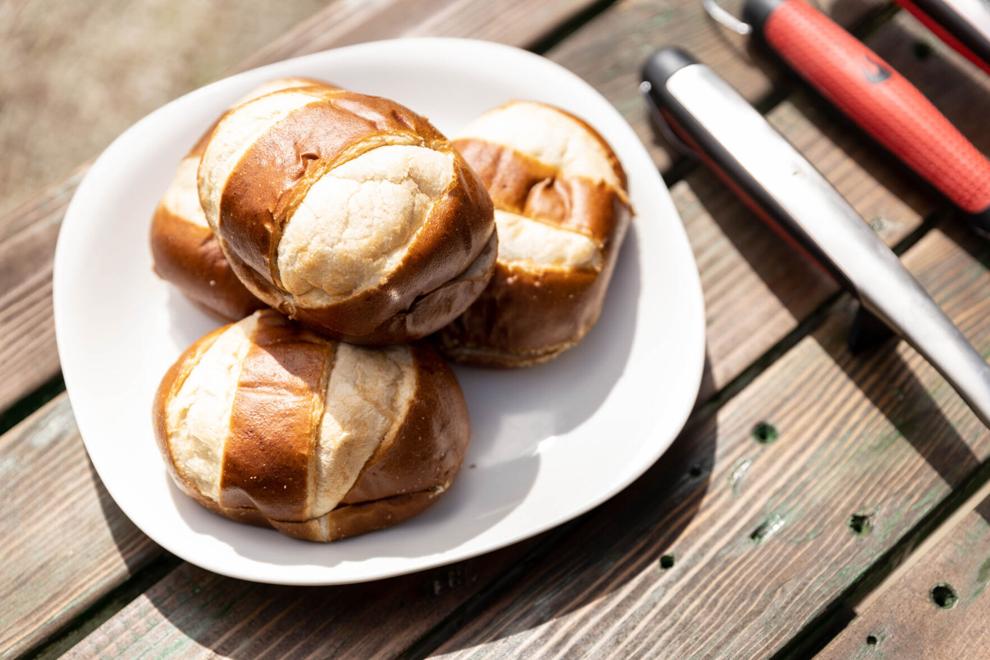 Blue Cheese-Stuffed Burgers
Recipe by Catherine Neville
1 lb ground chuck
2 Tbsp bottled steak sauce
2 tsp freshly ground black pepper
4 oz creamy-style (not crumbly) blue cheese, cut into 4 chunks
salt
softened butter
4 pretzel buns, split
mayonnaise, Dijon mustard, thinly sliced red onion, sliced pickles and lettuce leaves
| Preparation | Prepare outdoor grill for direct grilling over medium heat. Meanwhile, In medium bowl, mix ground beef with steak sauce and pepper; shape mixture evenly into 4 large, flat round patties. Place 1-ounce chunk blue cheese in center of each patty; wrap patties up and around blue cheese, sealing sides to ensure cheese will not leak out. Sprinkle patties with salt.
Grill burgers to at least medium doneness (145°F) to ensure cheese melts, about 8 to 10 minutes, turning once halfway through cooking. Spread butter on cut sides on buns; place buns, cut sides down, on grill and cooked until toasted. Place burgers on bottom halves of buns; top with a slick of mayo, mustard, red onion, pickles and lettuce to serve.