"I wanted to create a deconstructed lasagne. Something very southern Italian, with ricotta and sausage, instead of a Florentine version with béchamel sauce," says Franco Rua, the chef and owner of Albany, New York's Cafe Capriccio. Rua used Sfoglini's reginetti pasta, which resembles short lasagne noodles.
In this ragù, the sausage gets browned and crumbled before being enveloped by bright, acidic tomato sauce. To finish, Rua adds a generous dollop of sweet ricotta and finishes with a garnish of fresh basil leaves. Swirl the ricotta into your pasta as you eat it to add depth and creaminess.
---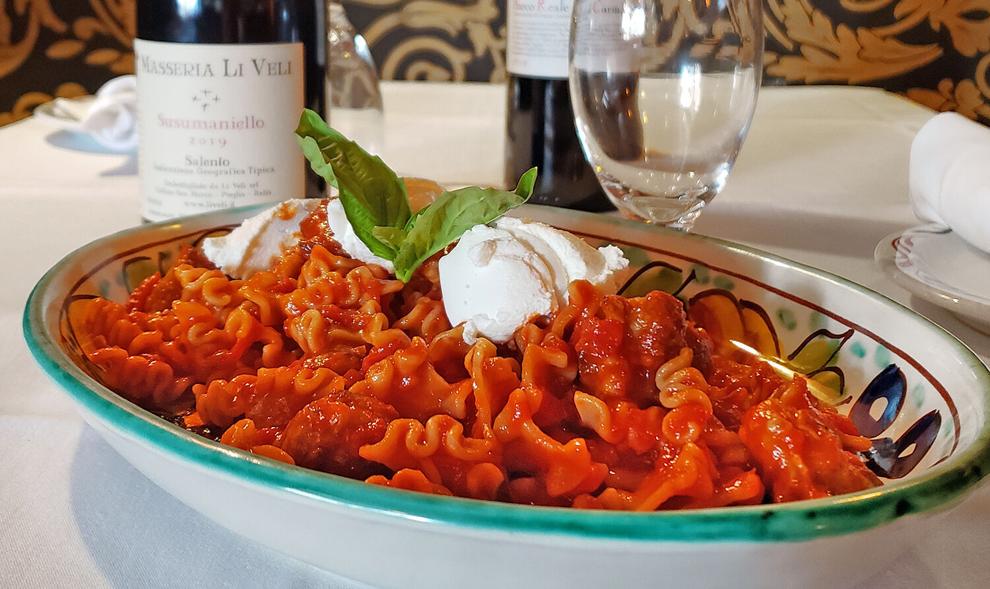 ---
Reginetti with Sausage Ragù
1 lb Sfoglini reginetti, rigatoni or penne pasta
3 Tbsp extra virgin olive oil
1 lb bulk sweet or hot Italian sausage (salsiccia)
6 garlic cloves, chopped
splash dry Italian white wine such as Pinot Grigio
1 can (28 oz) whole peeled plum tomatoes, crushed by hand
¼ cup fresh oregano leaves, coarsely chopped (about 2 Tbsp)
pinch crushed red pepper flakes
salt and freshly ground black pepper, to taste
1 cup fresh basil leaves, torn, plus more leaves for garnish
8 oz fresh ricotta cheese
freshly grated pecorino Romano cheese
Meanwhile, in 12-inch skillet, heat oil over medium heat. Add sausage and cook until lightly browned, breaking up sausage with side of wooden spoon until crumbled. Add garlic and cook 1 to 2 minutes or until fragrant. Add wine and cook 1 to 2 minutes or until liquid evaporates, stirring to loosen any browned bits from bottom of pan. Add tomatoes with their juices, oregano, crushed red pepper flakes and salt and black pepper to taste. Heat to boiling over medium-high heat. Reduce heat to low and simmer 20 to 30 minutes or until sauce thickens slightly, stirring occasionally.
Drain pasta, then return to saucepot. Add sauce and half of torn basil; toss until pasta is coated in sauce. Divide pasta between plates; top evenly with ricotta. Sprinkle with remaining torn basil and grated pecorino Romano; garnish with basil leaves to serve.
Suggested wine pairing: "Super Tuscan" such as the Capezzana Barco Reale di Carmignano
Joe Armstrong, wine consultant for Cafe Capriccio, recommends Capezzana Barco Reale, a blend from mostly Italian Sangiovese grapes and Cabernet Sauvignon. He describes the wine as rugged and rustic.
"It has some hair on it," he says, "With dark, broody tannic flavors and notes of cassis and violet that can hold up to the heaviest pasta preparations."