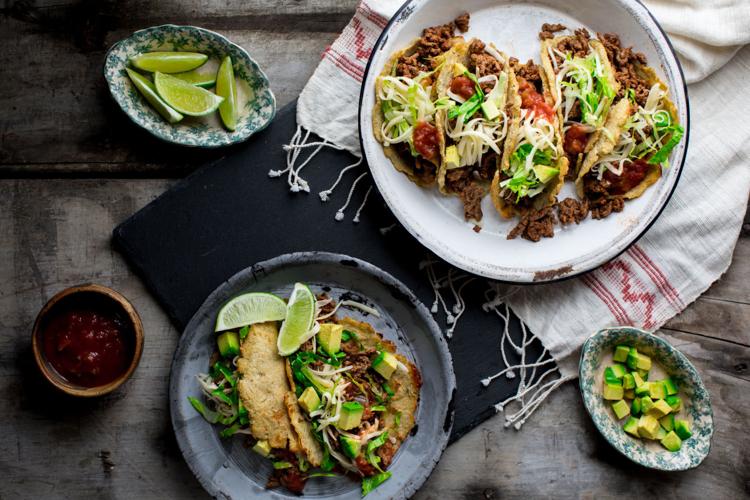 These full-flavor tacos are wrapped up in sneaky lower-carb "tortillas" made from cauliflower. The trick is getting as much moisture out of the cauliflower before mixing it with the cheese and eggs.
Cauliflower Tortilla Beef Tacos
Total Time: 1 hour, 20 minutes
For the cauliflower tortillas:
1 head cauliflower
3 tablespoons water
1 large egg
1/2 teaspoon ground cumin or cumin seeds
1/4 teaspoon ground pepper
1/8 teaspoon salt
2 ounces shredded Monterey Jack cheese
2 teaspoons avocado oil or organic canola oil
1 pound lean ground beef
1 tablespoon chili powder
1 tablespoon ground cumin
1/2 teaspoon garlic powder
1/4 teaspoon ground chipotle powder, or to taste
1/8 teaspoon salt
1/4 cup water
2 tablespoons tomato paste
1/2 cup fresh salsa
1 cup shredded lettuce
1 avocado, diced
Shredded Monterey Jack cheese (optional)
Lime wedges
1. Core cauliflower and cut into florets. Process in a food processor, in two batches, until the cauliflower looks like fine rice. Place 3 tablespoons water in a large saucepan and add the cauliflower. Cover and steam over medium heat, stirring occasionally, until the cauliflower is very soft, 8 to 10 minutes.
2. Line a colander with a clean kitchen towel. Scrape the cauliflower into the towel and let sit until cool, about 15 minutes. Wrap it up into a bundle and squeeze from the top down to remove excess moisture from the cauliflower. Continue squeezing for several minutes until the ball of cauliflower is about half its original size and you have squeezed out about 1 cup of liquid.
3. Whisk egg, cumin, pepper and salt in a large bowl. Add the cauliflower and stir to combine. Add cheese and stir to combine.
4. Arrange racks in upper and lower thirds of oven; preheat to 350 F. Line 2 baking sheets with parchment and lightly coat with cooking spray.
5. Shape the cauliflower mixture on the parchment into 8 disks about 5 inches across, using about 1/4 cup each. Bake until dried, about 12 minutes. Flip over with a thin metal spatula and continue baking until browned in spots, 6 to 8 minutes more.
6. Meanwhile, heat oil in a large skillet over medium-high heat. Add beef and cook, breaking it up into small pieces with a wooden spoon, until browned and no longer pink, 3 to 5 minutes. Sprinkle with chili powder, cumin, chipotle powder and salt, and stir to coat; cook until fragrant, about 1 minute. Add water and tomato paste, and stir until the tomato paste has dissolved into the water and forms a sauce to coat the beef mixture.
7. Serve the beef in the warm tortillas, about 1/4 cup each. Top with salsa, lettuce, avocado and cheese, if desired. Serve with lime wedges.
Make-ahead tips: Cool tortillas completely, place between layers of wax paper or parchment paper in an airtight container and refrigerate for up to two days. To serve, warm on a griddle or cast-iron skillet until starting to brown, if desired.
Recipe nutrition per serving: 440 Calories, Total Fat: 28 g, Saturated Fat: 9 g, Cholesterol: 133 mg, Carbohydrates: 19 g, Fiber: 8 g, Total Sugars: 7 g, Added Sugars: 0 g, Protein: 33 g, Sodium: 635 mg, Potassium: 1233 mg, Folate: 157 mcg, Calcium: 192 mg
Carbohydrate Servings: 1 1/2
(EatingWell is a magazine and website devoted to healthy eating as a way of life. Online at www.eatingwell.com.)