For more than 30 years, Mallory Polk has been an avid gift-giver and gift-wrapper. Polk had the privilege of studying alongside professional gift-wrap designer and founder of Shiho Masuda Gift Wrapping, Shiho Masuda, and has taught national paper goods store Paper Source's gift-wrap workshop since 2015.
Polk says, although there are many styles and personalities to be reflected in each gift, the perfect wrap always starts the same way: crisp corners.
Polk suggests using a tool such as a bone folder — a bookmaker's tool used frequently in crafting that is widely available at craft stores — to crisply mark every fold of your wrap. Alternatively, a butter knife or the handle of your scissors will similarly suffice. Once finished wrapping, Polk suggests "slide-pinching" every edge around the package for a precise appearance.
This season, Polk is noticing a major trend of metallic accents on paper, so she encourages stocking up on metallic ribbons to complement the paper you'll undoubtedly see predominantly in stores this year. Polk isn't just an expert in the wrap of the gift; she also teaches her students in the art of the bow.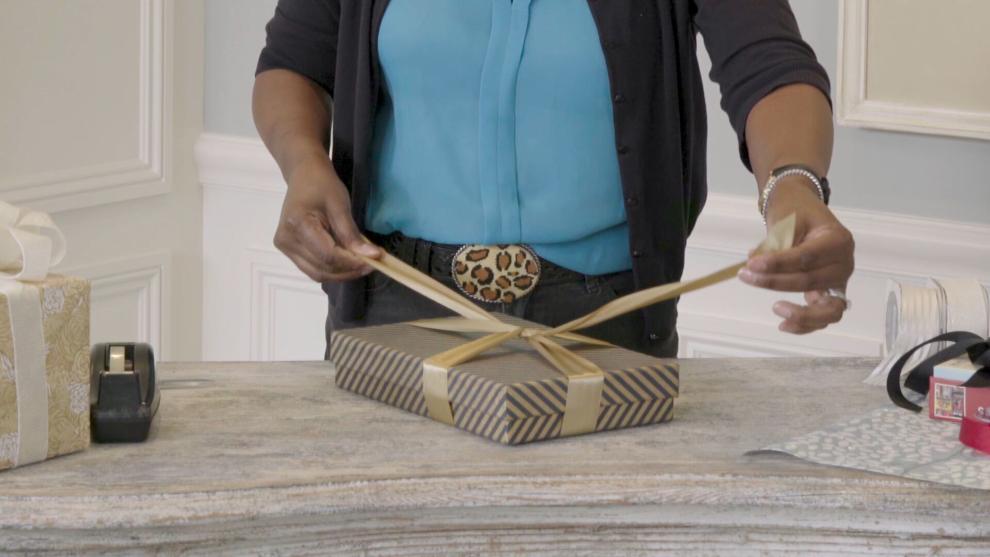 For a traditional, gorgeous bow, Polk says:
Step 1: Begin vertically on top of the package, allowing yourself enough extra ribbon for a loop and a tail. Secure the ribbon at center and wrap the ribbon down, all the way around the package, catching it with your thumb where you began at the top center.
Step 2: Then, wrap horizontally around the package, which essentially makes your ribbon intersection point flat on the package's bottom. Draw your ribbon through, and make a loop with your right hand, securing with one finger.
Wrap your loose tail around the knot and feed it through the front of the knot, pulling until a bow forms. Adjust the loops (by pulling on the front of the loops) until they are your desired size. Tighten the bow by pulling on the underside of the loops.
Step 3: Finally, cut the tails at the desired length with a notch or a slant.
Polk also says adding a small token to the exterior of the box is a stunning way to set your gift apart, such as a petite box of candy, a live bloom or piece of greenery, a ringing bell or even a small ornament. Simply secure them to the bow using baker's twine or taping under the bow.
However you choose to wrap your gift and whatever you choose to give, Polk emphasizes that it's the perfect – and simplest – way to go the extra mile to show your loved one how much you care.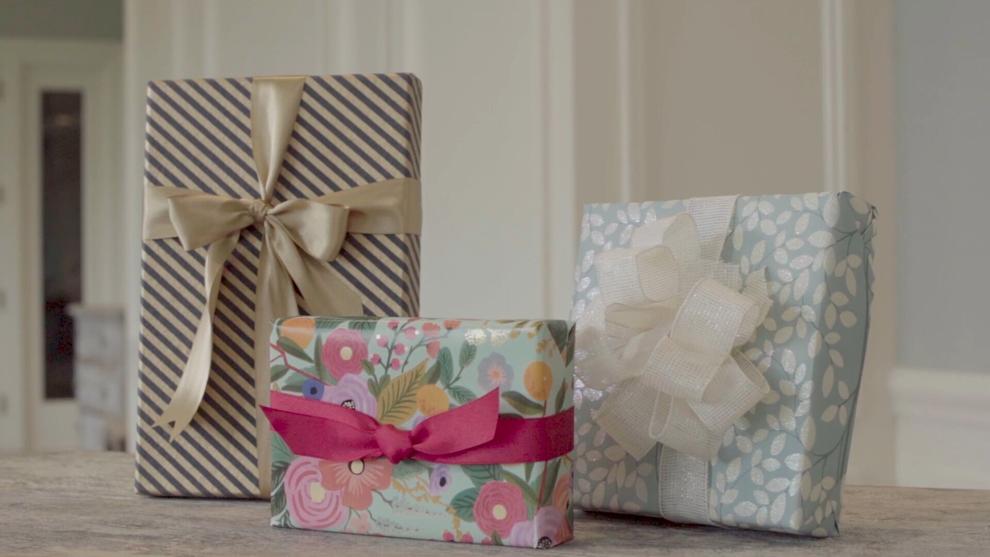 This content was produced by Brand Ave. Studios in collaboration with the sponsor. The news and editorial departments had no role in its creation or display. For more information about Brand Ave. Studios, contact tgriffin@brandavestudios.com.