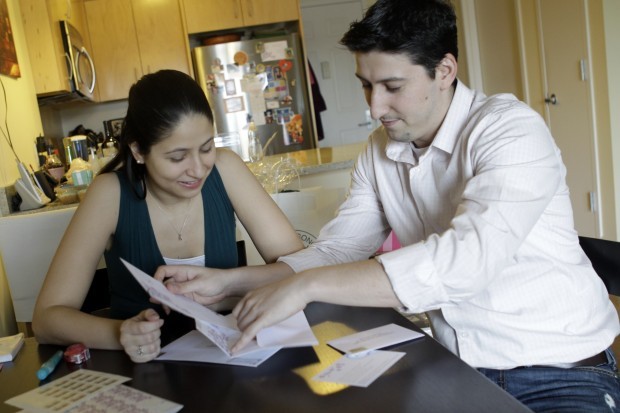 Catherine Coppari and Max Lipkin's wedding will include elements of both of their faiths.
In keeping with Coppari's Roman Catholic background, the minister will bless the rings. Lipkin will break a glass at the end of the ceremony, as is customary at Jewish weddings.
Coppari, 26, and Lipkin, 27, hope their married life also will be a blending of both religions. It's a topic the Brooklyn, N.Y., couple have spent hours discussing.
"It's always better to have the conversation" before the wedding, said Lipkin. "If we didn't have these conversations, down the road, it could cause problems."
More and more Americans are marrying outside their faith. Twenty-five percent of U.S. households were mixed-faith in 2006, up from 15 percent in 1988, according to the General Social Survey released last year by the University of Chicago's National Opinion Research Center. In 2008, the Pew Research Center released a survey saying 27 percent of Americans who were married or living with a partner were in religiously mixed relationships.
David and Laura Scott of Rapid City celebrated their first wedding anniversary in April. He is a member of the Baha'i faith, and she was raised Catholic.
David Scott said both religions share a common origin to Abraham, so there are a lot of similar roots as well as differences. One theological difference is the two religions' concepts of heaven and hell, he said. Both faiths believe in Jesus, but his faith believes there were manifestations after Jesus.
"One binding point is that Baha'i believes that all the major world religions are from the same divine source, so that increases the similarities between her faith and my faith," he said.
In his faith, interfaith marriage is very much encouraged, he said.
Scott said the two took their religious differences into consideration when they were dating.
 "The Baha'i faith is a minority in the country, so it's something I've always had to consider," he said.
Scott said he and his wife have talked about their future children and have decided that when they reach a certain age, they can make their own choice. The couple will not have their children baptized until they've made that choice.
"If our child asks my wife about her beliefs, she will answer. If the child asks me a religious question, I will answer from my point of view," he said.
He said his mother-in-law had some concerns before the marriage because it would not be recognized by the Catholic faith. From the Baha'i faith, he said, there's really no issue because the other person does not have to convert.
He said out of respect for their parents' religious views, they held back-to-back wedding ceremonies: a Baha'i ceremony and a nondenominational Christian ceremony.
His advice to other couples entering an interfaith marriage is to keep an open mind about others' beliefs and be respectful of their partner's beliefs.
"You don't have to believe it to accept it," he said.
Interfaith couples need to talk seriously before getting married about how they will practice their faiths, what religion they will teach their children and which holidays they will celebrate, according to religious advisers who counsel them.
"You have to be fearless, and really talk about your religion and your view of God," said the Rev. Susanna Stefanachi Macomb, an interfaith minister and counselor in New York City.
Couples should develop a plan for pursuing their religions, said Rabbi Stuart E. Davis of Overland Park, Kan.
They must answer the question: "How will we household together?" he said. Each should think hard about what is important to them in their own religion.
Other questions that someone entering into an interfaith marriage should ponder and discuss:
Are you comfortable following your religion on your own, or do you want your partner to attend services with you?
Are you OK with religious symbols in your home?
What will you do when invited to religious ceremonies for friends and family? Are you comfortable attending a Catholic Mass or a bris or other religious rite?
Once both partners have shared their thoughts, they may have to work to find middle ground, said Ed Case, chief executive officer of InterfaithFamily.com, which aims to help couples of mixed religious backgrounds exploring Jewish life.
The next question, then, is what they will do when they have children?
Too often couples focus on getting through the wedding rather than looking to the future, said Macomb, the New York minister. "They say, 'We'll talk about the children afterward.' No, no, no," she said.
Questions about whether a child will have a baptism, confirmation, bar or bat mitzvah, and attend religious school must be talked about ahead of time, the experts said.
"Who wins this argument — because it will be an argument," needs to be resolved, added Steve
McSwain, an interfaith activist and former minister in Louisville, Ky. "You've got to iron these things out."
Often, those marrying into another faith are willing to participate in religious celebrations that are important to their partner, Case added.
But sometimes, they find insurmountable differences in faith and observance, and break up.
"Breaking up is not a bad resolution if in this guided process" you've discovered you cannot work through such issues, Case said.
Interfaith marriage is not for everyone, McSwain agreed.
"It takes a very mature couple that can be freely open and have a willingness to believe and respect that no religion is more right than any other," he said.
Also important is talking honestly and respectfully with parents and other family members about potentially difficult religious issues. Macomb offers these tips:
Introduce your partner to your family when you recognize that the relationship is serious.
Approach your parents as a team. Use "we" rather than "I'' when discussing wedding or life plans.
Always back up your partner.
Listen respectfully to your parents' concerns.
Make it clear what your plans are regarding holidays, children and religious pursuits.
Pastor Charles "Chuck" Taylor of Rapid City Church of Christ on West Boulevard North said his recommendation  is don't do it. He said an interfaith marriage will divide the home right down the middle.
"A lot of people aren't going to like this, but I try to discourage that. I truly do," Taylor said. "If they are serious about their faith, each is going to have different points of view."
He believes that people who do marry outside of their faith are generally not serious about their faith, but that will change.
"I'm convinced somewhere in their life they will become serious, and when they do, what happens to the fact that they are going to different places?"
He said he has watched people suffer tremendously because their spouses held different religious beliefs.
"And that has to be taken into consideration," he said.
He said the children of mixed-faith marriages also can become confused about what their faith ought to be.
"And they won't make a commitment to faith either way because their parents are going different directions," he said.
Taylor said when it comes to marrying outside of your faith, use the Scriptures as your guide.
"Now how can you do that if your marriage is involved in two different religions? If you get serious about the Scriptures, you must either convince the partner of the authority of Scripture or you must go alone."