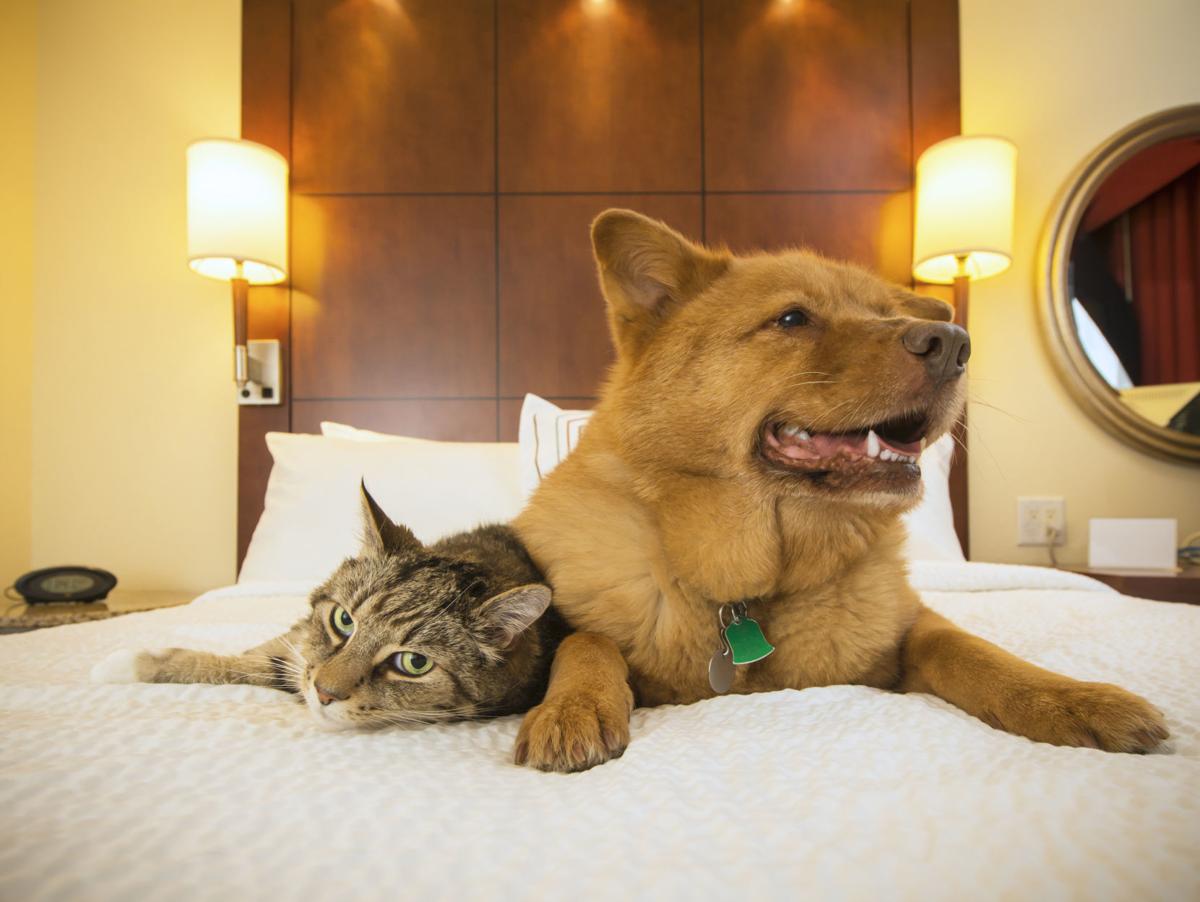 Where's the "pet friendliest" place to stay when it comes to traveling with a pet?  The verdict is still out on this highly debated topic, but all of us at TripsWithPets put Kimpton Hotels at the top of our lists - and for many good reasons!  Kimpton's boutique-style hotels go above and beyond to ensure that people AND their pets have a great experience.  Their main goal is to exceed guests' expectations every time, to create a getaway experience that two- and four-legged guests will treasure!
So much love for pets!
Kimpton loves pets, and they go out of their way to make sure that their four-legged guests receive the red-carpet treatment.  With Kimpton's Pet Program, which is in place at all 70 of their locations, there are no pet fees or pet deposits.  YES - pets stay FREE at all of the Kimpton properties!  Additionally, Kimpton claims that, "If your pet fits through the door, we'll welcome them in!".  They welcome all furry, scaly and feathered family members, regardless of size, kind, weight or breed.  Plus, any number of pets can visit at once!
So many amenities, so little time!
Kimpton's true love for pets is evident in their multiple pet amenities.  From the start, the staff is ready to greet pet guests with yummy treats at check-in.  Some properties even have a four-legged "Director of Pet Relations" to greet pet guests upon arrival!  Then, when guests reach their rooms, pets find pet bowls and a mat for eating, along with a snuggly bed for sleeping. 
Next up is the pet concierge list, which gives pet parents a detailed account of nearby pet-friendly restaurants and activities.  Kimpton provides lists of the best parks, pet boutiques and local eateries that allow pets, so guests don't have to guess where they can go with their pets.  Some locations even offer nightly wine receptions, where pets are welcome to join in on the fun. People and their furkids can simply stay at the hotel to socialize with other guests and their pets!
Additional perks offered at Kimpton Hotels include a special door hanger that lets hotel staff and other guests know there's a pet guest in the room; courtesy poop bags for taking pets out for walks; and pet sitting and massage services at select locations.
So, what about pet parents?
Pet guests aren't the only ones who get "treats" when staying at a Kimpton Hotel, because they aim to pamper people, too!  They offer a whole host of amenities, including award-winning dining options on-site. The list goes on and on, but some of their other top amenities include full service spas, workout centers, on-site bars, yoga mats and accessories to borrow, coffee and tea services, bikes to use, and deluxe concierge services.
TripsWithPets is the premier online pet friendly travel guide -- featuring online reservations at over 30,000 pet friendly hotels & accommodations across the U.S. and Canada.  Visit our site to explore pet friendly destinations like Daytona Beach, FL, Concord, NC, and thousands more!  When planning a trip, pet parents go to TripsWithPets for detailed, up-to-date information on hotel pet policies and pet amenities.  TripsWithPets also features airline & car rental pet policies, pet friendly activities, a user-friendly search-by-route option, as well as pet travel tips.
Be the first to know
Get local news delivered to your inbox!