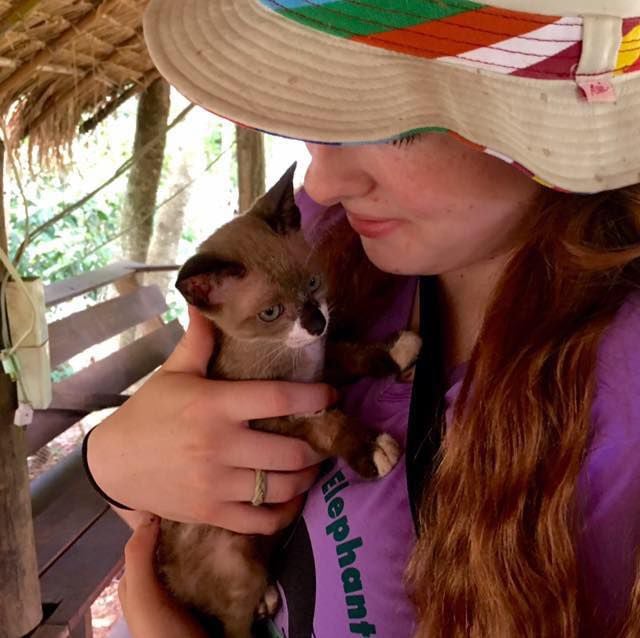 It might have been while Claire Hilton was applying salve to a wound on the skin of an elephant that the 16-year-old realized she found her life's calling.
"When I was little, I wanted to be a veterinarian," Hilton said. "This brought my mind back to that."
Hilton spent two weeks in Thailand this summer, learning the work of a veterinarian through hands-on training. The trip, led by Boston-based Loop Abroad, included travel with a small team of high school and college students who volunteered at a dog shelter and then spent a week working with rescued elephants at an elephant sanctuary.
Loop's Veterinary Service Program brings students to Thailand for two weeks to volunteer alongside a staff veterinarian. For one week, students volunteer at the Animal Rescue Kingdom dog shelter in Chiang Mai, Thailand. The shelter is home to more than 100 dogs that have been rescued after being abandoned, beaten, or abused.
The students provided checkups, diagnosed and treated ear and eye problems, took blood, administered vaccines, cleaned wounds and assisted during surgeries.
But the most eye-opening experience of the trip, Hilton said, was the work with the elephants at the Elephant Nature Park in northern Thailand. The park is home to more than 40 elephants that have been rescued from trekking, logging, or forced breeding programs. Many of them have been abused and suffer from chronic injuries.
The students fed, bathed, and cared for the animals, and worked alongside an elephant vet to learn more. The park is also home to more than 400 dogs and 100 cats, as well as rabbits and water buffalo.
Hilton said not all elephants that are seen in live animal shows or circuses are abused, but it made her more aware that many are.
"It's definitely not something elephants do naturally," she said of the circus acts and riding. "This raises awareness for animal rights and things we don't think about. I had no idea."
Some of the wounds the students cleaned on the elephants were caused by chains, ropes or beatings. "It was pretty intense," she said. "They had all been through trauma."
Working with locals informed her of the cultural and traditional reasons for using elephants in ceremonies or for riding. "It made me more open-minded to the different cultures and the way they view animals," she said. "It's hard to tell them it's wrong when it's part of their ceremony."
The students stayed in lodging in the jungle and walked to work in the morning, oftentimes to the sounds of elephants trumpeting. It's one of Hilton's favorite memories.
"It seemed so surreal at the time," she said.
Claire is a junior at Sturgis Brown High School and she is the daughter of Steve and Lisa Hilton. She applied for the trip after seeing it advertised on Facebook. "I didn't think I'd get in," she said. She was able to raise funds for part of the expenses, which exceeded $7,000.
It's not the end of travel for Hilton, who has dreams of going abroad after she graduates from college. "I want to go to different countries and work with different wildlife," she said.
"I've been planning that since eighth grade," she said.