As a child, Vanessa Plume refused to play the bad guy during games of "cops and robbers" with her siblings and cousins.
Now 35, Plume is making history as the first female sheriff of Oglala Lakota County — a Lakota woman in a profession dominated by men.
At her swearing-in on May 1, Plume became the only state law enforcement officer in a county of 13,500 people and spanning 2,100 square miles.
Born in Gordon, Nebraska, the second-oldest of five children, Plume spent her early years surrounded by family. Her parents met in Martin, South Dakota, when they were young. Plume's strong family ties to the area make her a recognizable face to many in the community. 
She attended school in Gordon until junior year, before dropping out and eventually getting her GED and becoming a certified nursing assistant. Plume worked full-time at the hospital in Gordon while taking nursing classes at Oglala Lakota College, saying she always wanted to be a "baby nurse and a cop."
But life had other plans. Plume had her first child at 18.
"I wanted to go into the military, but then I was like, you can't be single and have kids. You've got to basically give them up, and I wasn't about to do that."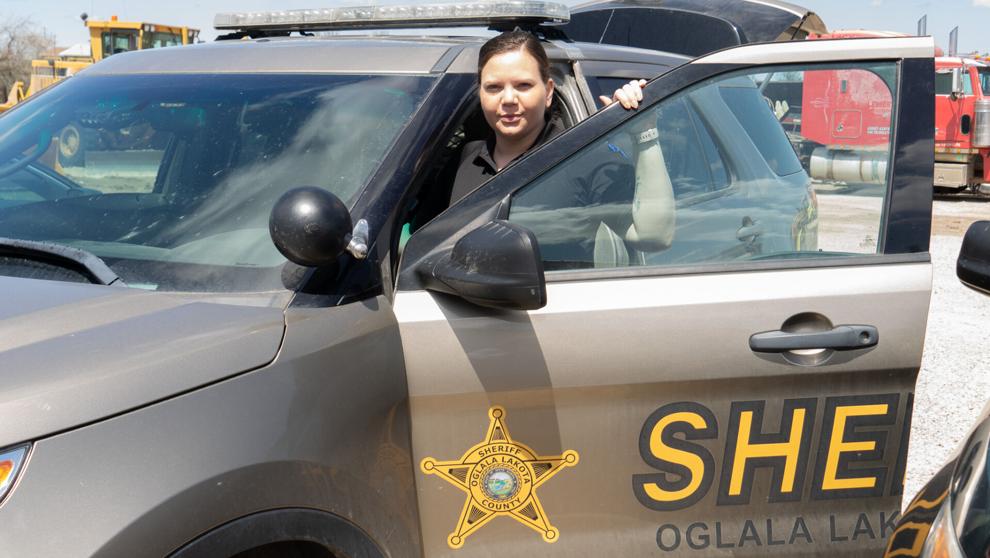 'That looks more fun'
A chance encounter during her time at the hospital irrevocably changed the course of her life.
"We had an active shooter in the hospital one night and there's no protocol," Plume recounted. "One of the cops worked midnights too, so he would come and hang out with us. He called me and he said there was an active shooter on the roof and to come to the side door and let him in like usual."
Plume recalled how normal she acted to avoid tipping the shooter off, going to notify the charge nurse and waiting for law enforcement to handle the situation. Afterwards, the hospital questioned staff. Plume said she was questioned the most, their attitude disillusioning her.
"I was just like, okay, I don't want to work here anymore. I was just like, that looks more fun," she chuckled.
The Oglala Sioux Tribe Department of Public Safety was hiring, and after finding out she didn't need previous schooling or credentials, the deal was sealed.
"I jumped ship. I put in my application. Two weeks later, they hired me. Two weeks after that, they said you're going to the academy," Plume said.
That was 2011, and she's been in law enforcement ever since. Plume spent some time working in New Town, North Dakota, on the Fort Berthold Reservation before moving back to Oglala Lakota County in 2016. She was one of a few officers selected to attend federal training to become a criminal investigator in 2019, which she did until taking six months off at the beginning of last year.
"I had no expectation of law enforcement whatsoever. I just wanted to do it," Plume said. "I was working on the reservation and I just loved it. Just high adrenaline, you know? Go go go go."
Being in law enforcement is a 24/7 gig, and with five children of her own plus a step-daughter, Plume said her biggest challenge is balancing being sheriff, a wife and a mother.
"I've missed out on a lot of things. You're always missing out on this or that. They've gotten used to me showing up in uniform," she said. "At least I'm there, right?"
One of her daughters is graduating this week and Plume beamed while talking about the family gathering planned to celebrate.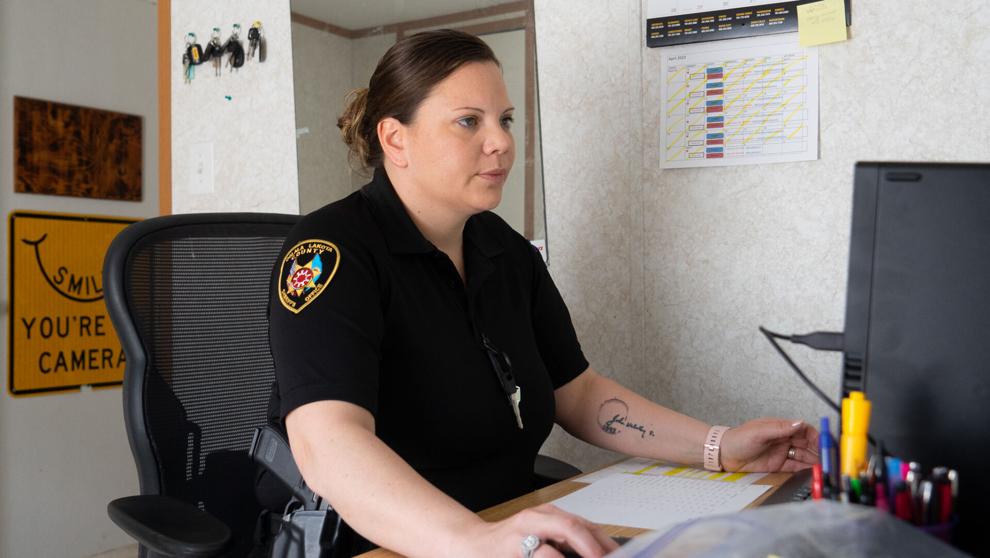 Her husband is a subcontractor for the Centers for Disease Control and Prevention, a rancher and a co-founder of Alpha One, a rural firefighting group. During her six-month break between criminal investigating and the sheriff's office, Plume and her husband established Alpha One to provide fire safety to the people of the Pine Ridge Reservation. Their centralized location in the Wounded Knee District allows them to respond to incidents reservation-wide and cut down significantly on the response time from neighboring volunteer fire departments.
"We had a house in Manderson that started on fire; [it] started the cars on fire [and] started the trees on fire, and those houses are not too far apart. There was just random explosions...could be canned food, could be small propane tanks, like the ones for the grill," Plume said. "I remember being on that one and we had to wait for Bennett County. There was nothing to save when they got there."
They worked to get a pump truck to assist during structure fires and have since added a brush truck and converted an emergency response vehicle to transport the jaws of life to help during car accidents. Fire vehicle donations from Weston County, Wyoming, and as far away as New York keep Alpha One continually expanding. Their next expansion is a new vehicle for search and rescue, since the Reservation often relies on Rapid City and local volunteers during missing persons incidents.
'So, how can I be better?'
When Plume first applied to be in law enforcement, a man in human resources told her it wouldn't be the right fit.
"He said, 'Well, I don't think this job is for you. I think you should be a jailer and not a cop.' I'm like, 'Well, that's not what I'm applying for. I want to be a cop,'" she recalled. "Day one. You know? I'm like, 'Okay, this is how it's gonna go.'"
Plume said gender never plays a role in how she does her job. If she had support from coworkers, great, and if not, it never stood in the way of doing what she wanted. Over the years, she noticed it was mostly older men who had an issue with her position.
"They're like, 'You don't belong here,' so they don't take me seriously," Plume said. "Over the years, I would have to deal with that, but I just kept doing what I do and I enjoyed doing it." 
More often than not, her male coworkers were protective and not judgmental.  
"I've always held my own, and I think that scared a lot of people, because I didn't act like a frail girl," Plume said. "I just did what I was capable of doing, but because of my size, they were like 'we gotta go check on her, go help her out.' Then they realized they didn't have to always baby me."
But Plume said it was never about proving herself. 
"Growing up, my dad would always say 'there's no such thing as can't. It's just what you won't do.' So there is no such thing as can't. I've always held on to that."
"I've always compared myself to myself; I never compared myself to other people and their accomplishments," Plume said. "What could I do better? How can I be a better mom? How can I be a better wife? How can I be a better friend? How can I be better at my job? Because at the end of the day, I need to come home to all of these people. So, how can I be better?"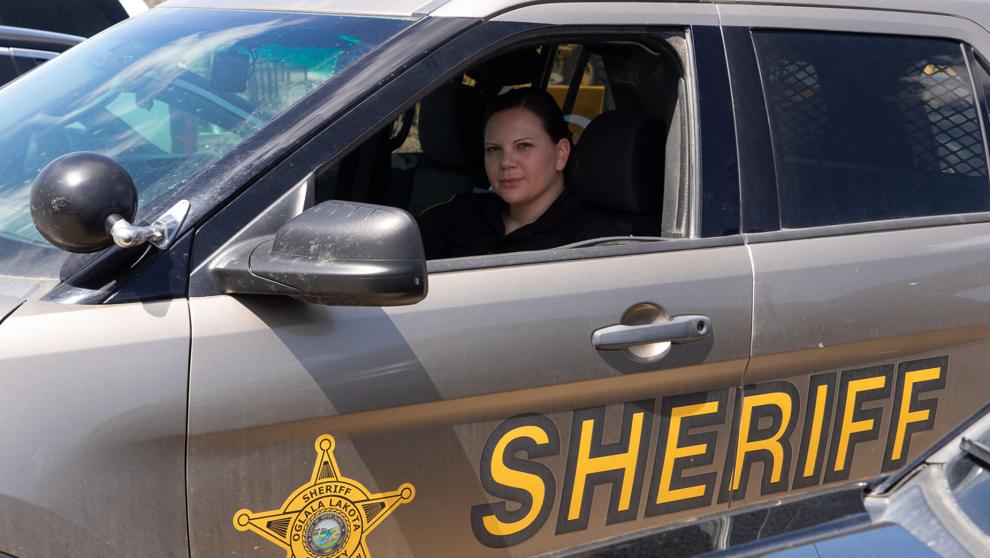 Improve cooperation
Currently, Plume is a department of one. With no deputies, she relies on the Oglala Sioux Tribe Department of Public Safety for backup.
"Most of my calls are generated from public safety that come across a non-member, or if I'm initiating something then I let dispatch know for public safety, because they have officers all over," she explained. "That is my resource. That is my survival, right? There is a lot that can happen in one or two minutes."
She wants to improve cooperation between law enforcement agencies, with written memorandums of understanding to better clarify the roles and jurisdictions.
"Dealing with tribal members on state land, but the tribe still has jurisdiction, but I have jurisdiction on the land, but I can't arrest them. You know what I mean," she said. "So, because I'm very restricted on tribal members; that's where working together works best."
Addressing funding to get bodies on the road is a priority, but it'll require more equipment than she has. Plume has been with the sheriff's office since August without even a bulletproof vest.
"A lot of it is outdated, and I can't bring people on and then be sitting like I have been for awhile with very limited equipment," she said. "I'm trying to get all of that together so that we can look at bringing other people in so that we have more deputies available for more calls."
Part of her goal is to go after grants to fund more deputies and build up the department. She took a grant-writing class as part of her business administration degree at Oglala Lakota College, skills that will help her secure the funding that's so desperately needed. They'll have to compete for applicants with places like tribal DPS, with a fairly significant gap in wages between tribal and state positions. Even hiring someone and getting them ready for the academy is a monumental task without having another certified law enforcement officer to help with field training.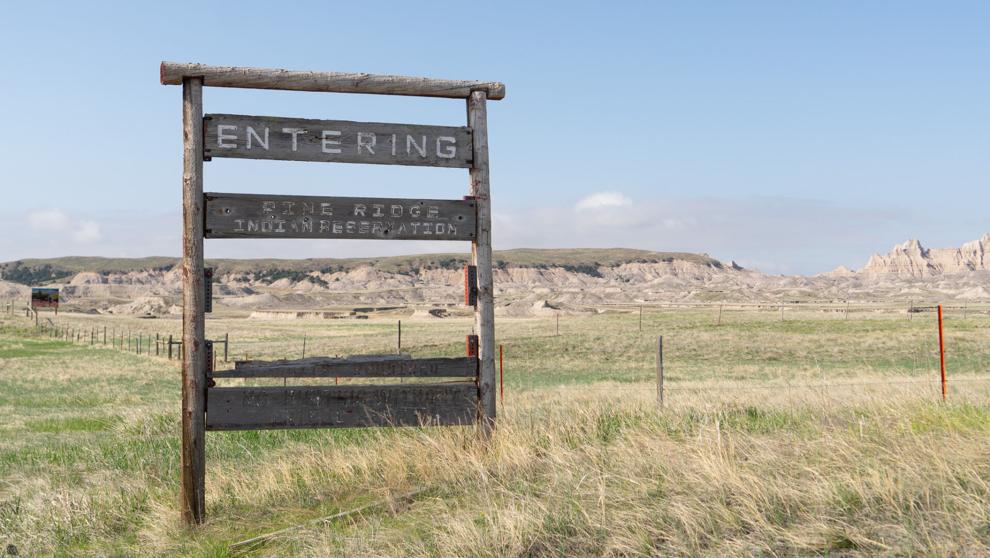 Training is an integral part of working in any law enforcement capacity, with Plume's years in the field turning into autopilot and muscle memory in high-stress situations.
"One time, I don't even remember pulling my gun. My body just knew we needed to pull my gun," she said. "The gun came out and I don't remember pulling it out. My [pepper spray] somehow ended up back in my pouch. Everything happened so fast."
Agencies try to train similarly so when there's crossover, the response is coordinated. Plume responded to a high-speed chase alongside officers from Rapid City where the training locked in, allowing them to successfully detain suspects without injury and without even needing to talk. 
More than the physical, it's mental preparedness, and having experience to teach officers to slow down and process what's going on around them. It's hard to prepare officers for the mental side of police work, Plume said, so they take time in the field to walk them through the what and why and gauging where they're at in that training. She relies on her gut, which hasn't steered her wrong in 12 years. 
She credits Justin Hooper and Tucker Amiotte with helping her learn the ins and outs of interrogation, allowing her to sit in on interviews when she took a proactive approach to improving her career.
"I figured out it wasn't what they were asking, it was how they were asking it. That's how I did self-improvement. I just learned from other people," Plume said.
Outside the office she shares with the highway department in Batesland sit several patrol vehicles, some not running and others missing things like ticket books, evidence kits or cages for the backseat. Plume is working locally to put basic medical kits together to help future deputies on the road. She chuckled as she talked about starting from scratch, and said she told the commission it would be "an expensive first year."
Plume is excited for the possibilities — with plenty of room for improvement and her unwavering dedication to it.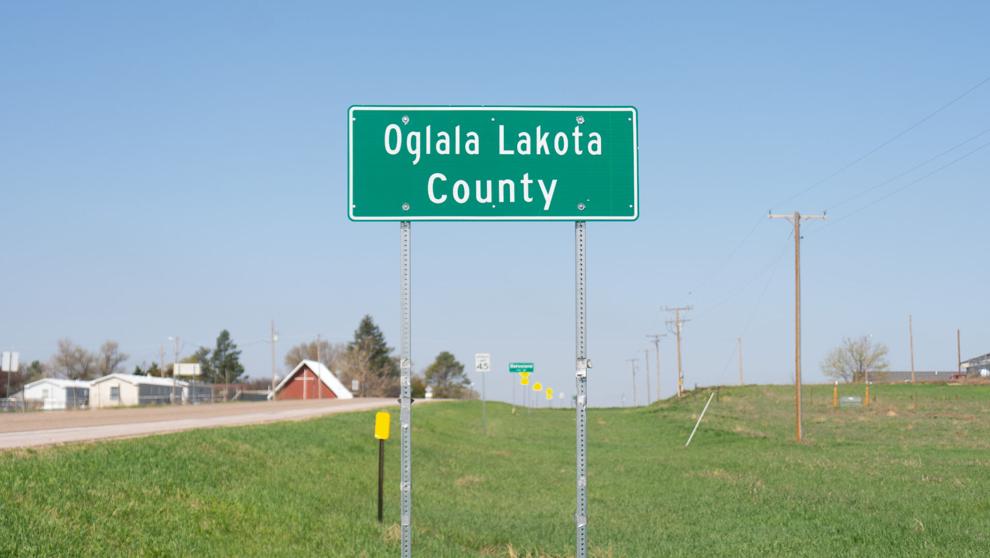 'Everybody's living day-to-day'
Limited resources across the reservation contribute to runaway calls and drug-related issues, Plume said. CPS doesn't have enough places to put children who are removed, there's a breakdown in the court system and domestic violence shelters are effectively non-existent, all things she's seen first-hand during her time in law enforcement. There's a lack of jobs, an abundance of poverty and few places children can go to safely express themselves. 
"Everybody's living day-to-day on the reservation," Plume said. 
There are 11 schools in Oglala Lakota County, and with children getting involved with drugs younger and younger, putting resources into drug interdiction is part of Plume's plan going forward. Beyond drugs, it's education on domestic violence; she said they're like secondhand parents.
"The kids are the hardest. We feel so obligated to take care of these kids. I can't even tell you how many times I have wanted to just take the kids and take them home, but I wouldn't have enough room," she said.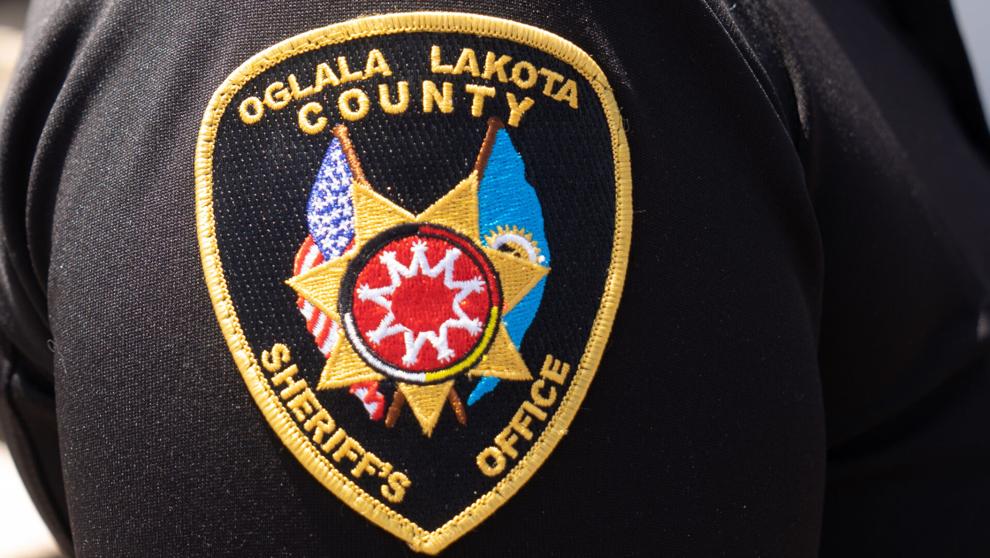 Students that deal with drugs, abuse, alcohol or poverty at home often enjoy going to school, Plume said, with calls increasing in the summertime because people are out and about and kids have nowhere to go. Plume plans to spend the summer working on presentations and using some grant money to order items like pamphlets to hand out at schools. She wants to pursue Narcan training for teachers who may come across an overdose.
The 2020 Census report shows nearly 45% of Oglala Lakota County residents live in poverty, with an average per capita income of just $10,842.
Her passion for service keeps work a priority every single day. It's a thankless job. You can't force someone to like law enforcement, Plume said, believing that the only thing that can change the perception of the job is how people are treated.
An interaction she had with a woman during a service call resulted in one of the few times she's been thanked in 12 years.
"I stood my ground with her and got her the help she needed. Two weeks later, I was minding my own business getting some stuff in Pine Ridge, and she came running out and hugged me and she said, 'Thank you so much for fighting with me that day, I wouldn't be here,'" Plume said. "Things like that don't happen."
"You cannot force people to like you. You're not a robot. You are a person, and you choose how you're going to treat people — whether you're in a uniform or not," she said. "That's what's going to give people their perception of law enforcement or even individual cops. It's not going to matter until they actually have a good experience with an officer, whether it's on a traffic stop, whether it is a life-altering situation."
Plume will serve out the rest of Joe Herman's two-year term as sheriff and plans to run for election in 2024. She said even with people telling her she deserves this appointment, she wants to see what the people think. 
"Exhaustion and tiredness and needing a break? Yeah," she said. "But I've never once said I don't want to do this anymore."