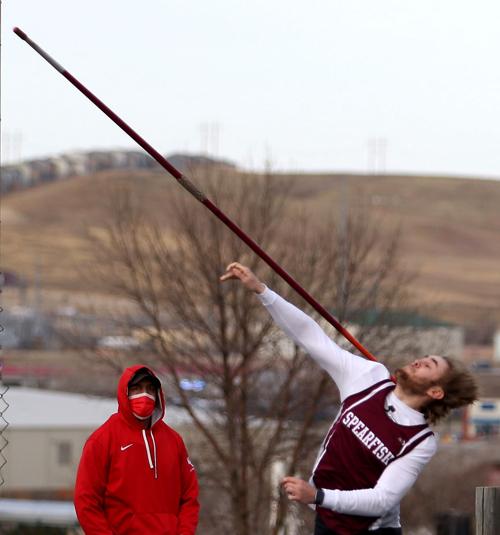 The first step in learning to throw the javelin, Spearfish coach Rick Sperry said, was figuring out how to hold it.
Such is likely the case for most of the javelin throwers this season in South Dakota Class AA track and field, as the sport is being introduced as an exhibition, with the 2022 season becoming a scoring event.
A large group of prospective throwers from Rapid City Central, Rapid City Stevens and Spearfish competed for the first time Thursday at the South Dakota Mines throwing field.
"It's been a learning experience for all of them," Sperry said. "But they are making strides. It was good today to get out and get some competition in."
Sperry competed in the javelin in high school in Montana and for four years and beyond at Black Hills State University in the late 1970s and early 1980s.
He said to learn how to throw the javelin, you have to know the basics: Holding it, moving on to throwing it five or 10 feet and working through steps.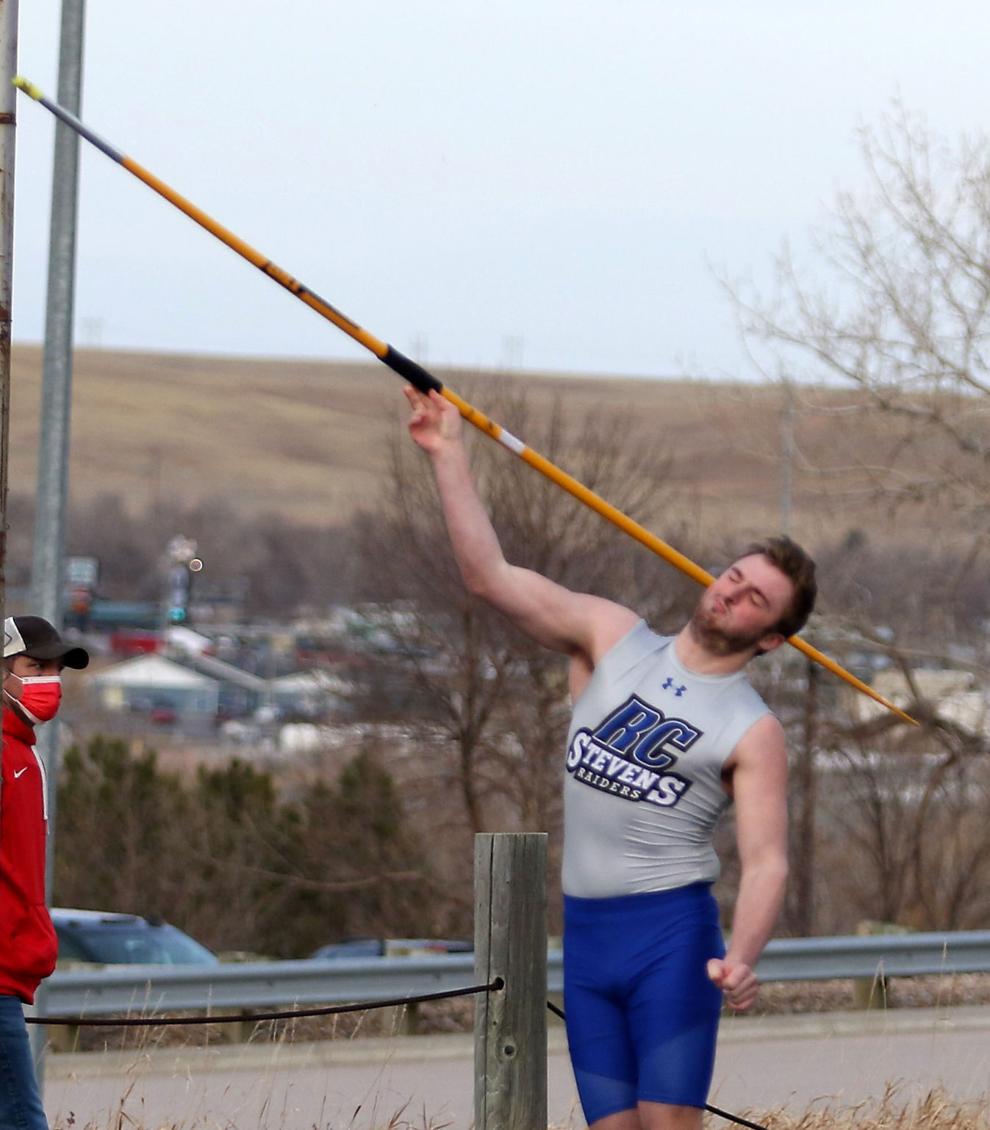 "It is still an ongoing process," he said. "You don't want to give them too much, too soon, and overwhelm them sometimes. It's just working on technique, steps and release points. It is starting to gel and it is going to get better."
The Spartans had a pretty good beginning, winning the boys' competition and placing the top four girl throwers.
Sophey Spatz of Spearfish won the girls' event at 89-feet, 4 inches, followed by teammates Jadyn Hamman at 81-9, Lily McCarty at 75-5 and Anna Engen at 75-0. Ella Peterson of Stevens was fifth at 74-2. There were 16 throwers in the girls' division.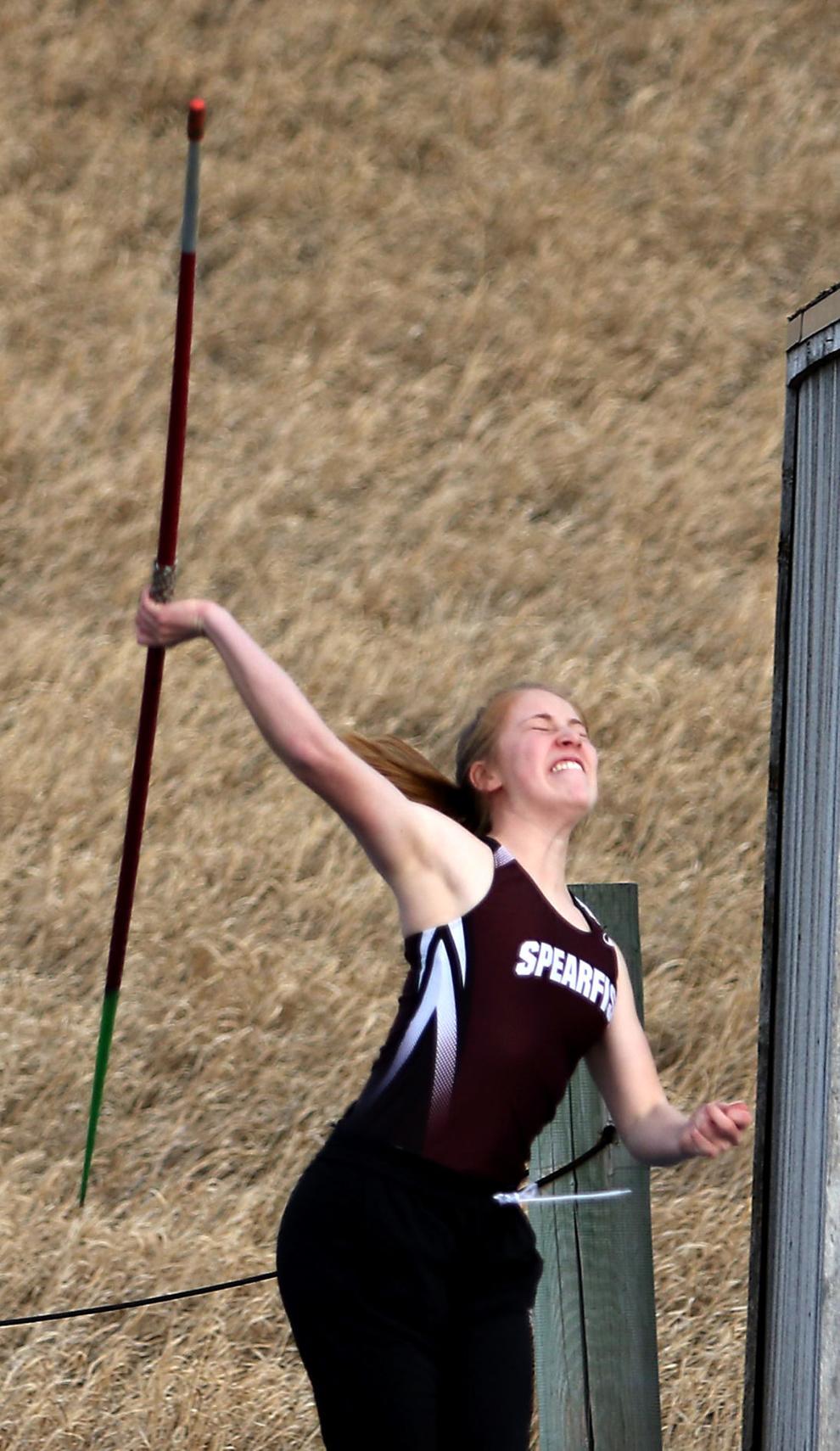 Spearfish senior Gabe Knudson had the top toss in the boys' division at 139-1. Isaac Perkins of Rapid City Stevens was second at 126-5, followed by Liam Porter of Central at 122-8. Trevor Rutan of Stevens was fourth at 112-2 and Noah Williams of Stevens placed fifth at 107-7. There were 31 throwers in the boys' division.
"It was pretty fun. I am mostly out here for fun," said Knudson, who also throws the shot and discus.
Like all of the throwers, Knudson said he just started throwing the javelin about three weeks ago.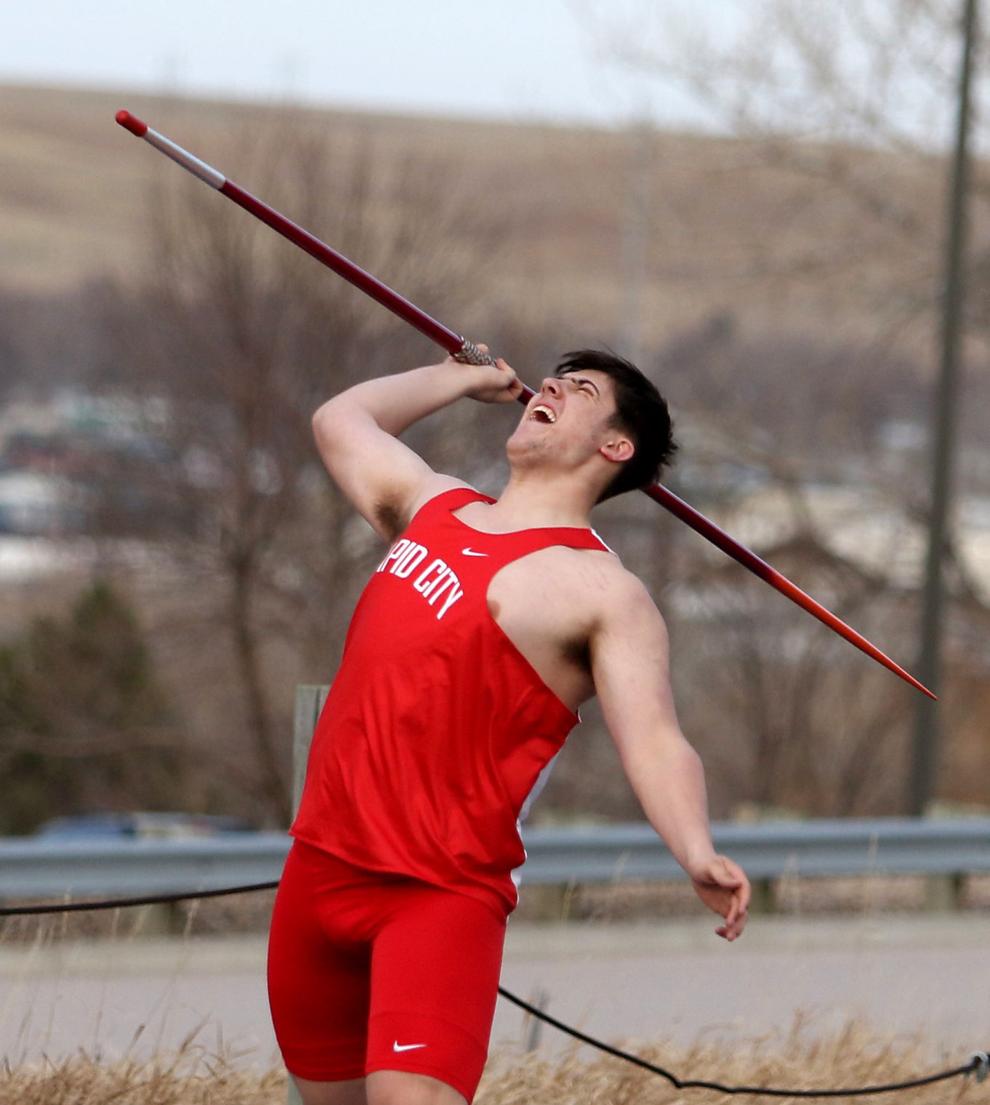 "Javelin is a lot more speed, sprinting at the start, while the shot and discus are more spinning and form," he said. "I thought I did pretty well. I didn't exactly know what distance I was going for, but I was pretty happy with it."
Porter was one of the few participants Thursday who actually had competed in the javelin before, as he did so two years ago in the Howard Wood Relays in Sioux Falls.
Then Central head coach David Dolan asked Porter if he wanted to try it, so he practiced with some of the South Dakota Mines throwers a couple of times to get ready.
He threw about 117-feet then and competed against one of the nation's top javelin throwers, Sam Hankins, who is now at Texas A&M.
"It was fun to watch him, but it was also a little discouraging. But it was super fun to go out and compete," he said.
Although it is an exhibition this season, Porter said he was glad it is being added to South Dakota high school track and field.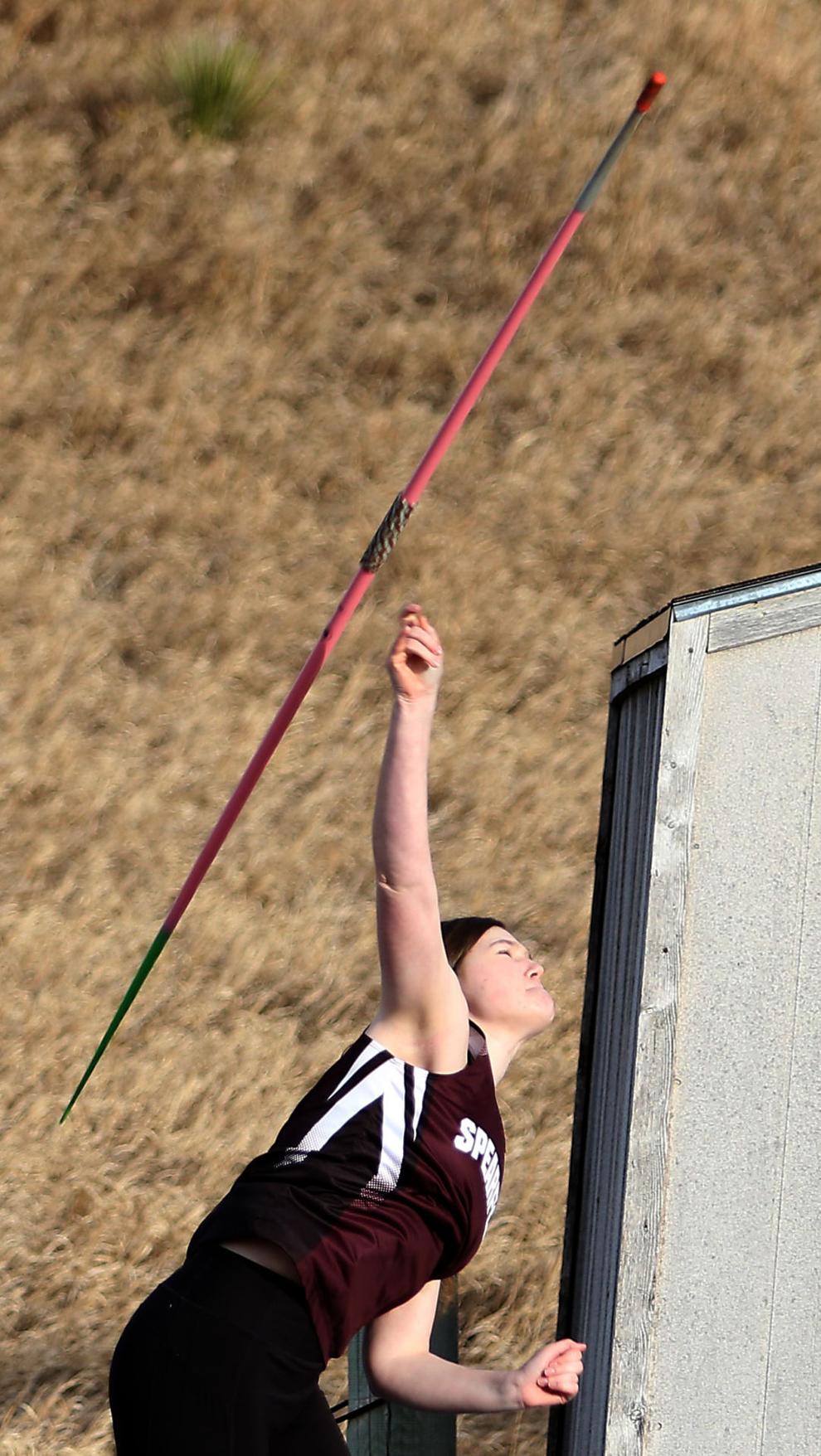 "Two years ago I wished I could have done this in more meets. It is a great event," he said. "It's in the Olympic stage in other states, so why can't we do it? It is one of the things I love about track, it gets everyone out and there is an event for everyone. Adding javelin is another way for kids to get out and do something."
Central assistant coach Logan McGough is a former Cobbler weight man, and he also competed at South Dakota Mines and Black Hills State. He threw the javelin a few times in practice in college, but not in competition.
"Obviously this is the first day, and for us, we haven't had very many practices with the actual javelin in our hands," he said. "We need to build our foundation, we need to build slowly. We don't need skip-step stuff up here trying to catch up to everyone else. We just need to build, build build.
"We had a few great performances today. I'm very pleased with what our kids did. They got out and competed without much preparation. This is a new event for everybody. This is a great opportunity for kids to get out and compete,  have a little fun and go from there."
For McGough and many of the other coaches across the state, it's pretty new to them as well. He said the University of South Dakota put a Zoom clinic to jump-start them as coaches.
"It just gave us some drills and gave us some fundamentals, and we're just building from there," he said.
Stevens coach Paul Ferdinand said it is exciting to see the young athletes learning a new sport.
He said because it is a metal spear, most athletes probably think they can throw it a long way. But as he tells them, they are going to learn by throwing it in a circle and they need to learn what angle they need for their amount of strength.
"If your javelin doesn't go the right speed through that circle, you have wind from either the top, the side or underneath that will affect its ability to fly," he said. "You'll see some kids throw it higher than other kids, and the higher your angle, the greater amount of force you have to apply to get it to fly."
There's also the approach, as some only take two or three steps and some take a full run to the line. Ferdinand said one key there is keeping the javelin stable.
Ferdinand added that a lot of people think the javelin, because it is a field event, it is a power event. But he said that is not necessarily the case — you don't have to be the strongest thrower and you don't have to be the biggest thrower.
He said it is actually much more complicated and you just don't hop on it. It takes time.
"If you have flexibility and good form, you can control the momentum. You don't have to be this huge physical guy if you can be flexible and get torque off," he said. "It is exciting. It gets a different type of kid, maybe one who isn't the strongest kid and the kid who isn't the fastest, but he has coordination. It gives another athletic to show his stuff."
For the first time out, Ferdinand likes what he sees.
"Our goal is to get better every time we get out here," he said. "The biggest thing is our seniors are a little stronger, so they are throwing it farther. But hopefully our young kids will stay with it because it is a process."