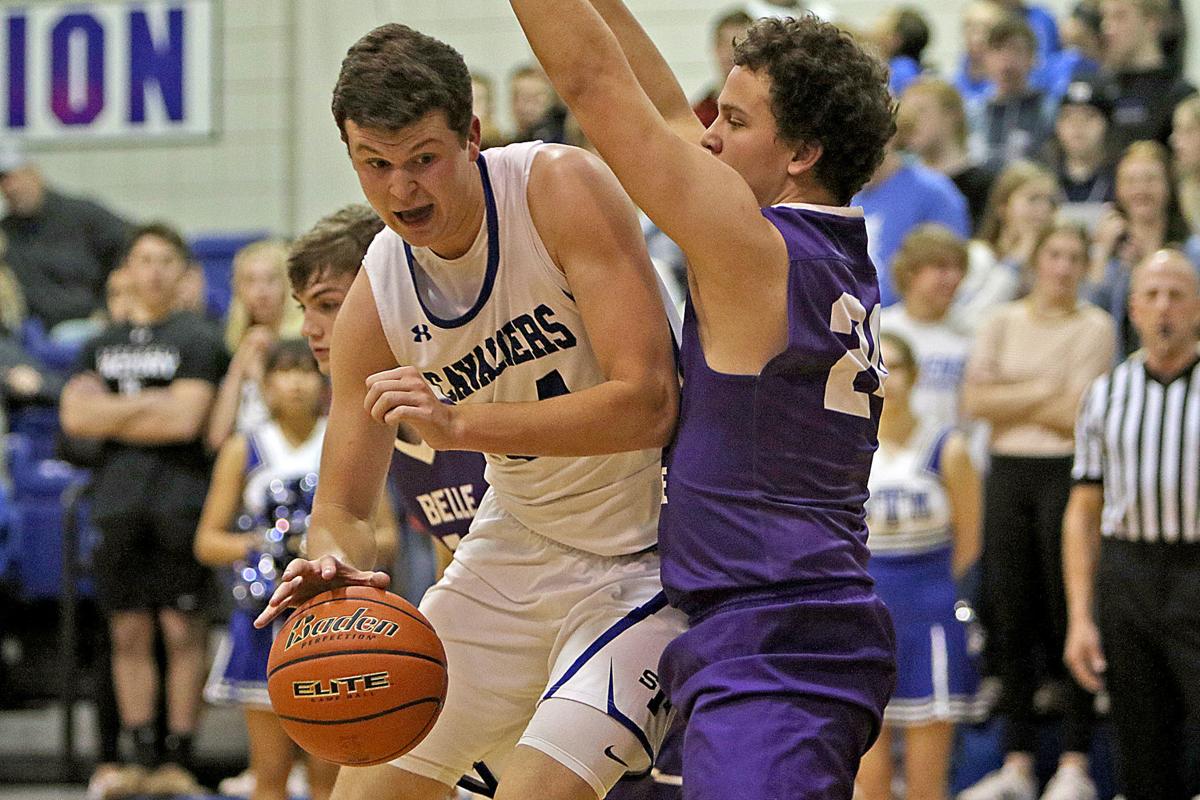 One cannot help but drift a little bit to the end of the high school basketball regular season, even if we still have a month and a half remaining.
Naturally, the regular season turns into the postseason in March, culminating with the Class AA state boys' and girls' tournaments in Sioux Falls and the A boys and girls in Rapid City, both March 19-21, and the Class B tournaments March 12-14 with the girls in Spearfish and the boys in Aberdeen.
But that final weekend of the regular season in Class A — Feb. 28-29 — could end with a bang for both the St. Thomas More boys' and girls' basketball teams, as they host Class AA Yankton and Brandon Valley.
Both STM teams are currently unbeaten — the boys are 7-0 and ranked No. 1 in Class A, while the girls are 8-0 and ranked third. Yes, there's a lot of basketball to be played before then for the Cavaliers, Bucks, Gazelles and Lynx.
But let's look ahead anyway. Hopefully it is warmer by then.
The Yankton boys will come in led by arguably the top player in the state, Division I prospect, 6-foot-7 Matthew Mors. The Bucks are 7-2 as of Wednesday and ranked first in seeding points, second in the media poll.
STM counters with 6-6 Ryder Kirsch, who has already signed to compete at Black Hills State University next season.
The Brandon Valley boys come in as the defending AA champs and are currently 7-1 and are off to another outstanding start, ranked first in the media poll and right behind Yankton in seeding points.
On the girls' side, Brandon Valley comes into town as the defending Class AA state champions as well, although it has struggled some so far this season at 3-4. Yankton is competitive at 3-5 overall.
Although the St. Thomas More girls are "only" ranked third behind Winner and Lennox  in the media poll, they lead the Class A ranks in seeding points at 46.875. The Cavs are led by junior Haleigh Timmer, who has been nothing short of spectacular this season, unofficially averaging about 26 points a game this season.
For your information, the games were originally scheduled for the STM gymnasium ... yes, tiny STM gym. Looking ahead, while it might give St. Thomas More its homecourt advantage, the guess here is that there won't be enough seats for the cheeks, and that would be a shame. These are games area basketball fans will want to see.
But don't fret just yet. The teams could and are likely to play at the Rushmore Plaza Civic Center. The only thing scheduled there is the state soft tip dart tournament, which (don't laugh) has yours truly playing in it.
They certainty have my vote for the Civic Center, although my vote never counts. If it did, there would never be an 8 p.m. game in any sport.
Although nothing is official as of this writing, it's looking more and more like the Civic Center will be the destination, at least for Friday's games, and possibly for Saturday's games. Stay tuned.
If so, it will be a fun way to close the regular season.
In the meantime, as previously mentioned, there's still a lot of basketball to be played before we get to the end of the regular season and the postseason.
Looking around, there's also some pretty good basketball being played, although every coach and player will tell you they are still just building for March.
Along with STM in the Class A boys' ranks, Rapid City Christian is off to another nice start under head coach Kyle Courtney, at 6-0.
Custer is also playing well in Region 8A at 7-2. In Region 7A, it's going to be a barn burner heading to the postseason between Pine Ridge (6-3), Red Cloud (5-4) and Winner (6-2).
In Class A girls, along with STM, Hill City if off to an 8-2 start, while Lead-Deadwood is 7-2. Again, it's been lights out in 7A with Red Cloud (8-1) and defending state champion Winner (9-0) leading the way.
In Class AA, it's been a rally nice beginning for Rapid City Stevens and first-year head coach Travis Swartz, whose 9-0 Raiders are ranked second in the state in the media poll and in seeding points.
Rapid City Central is beginning to come along, winners of three of its last four games. The Cobbler girls stand 4-5 overall.
On the AA boys' side, Stevens and Central are building to a couple of interesting showdowns later in the season. Both teams are 6-3 with the Raiders winning six straight after opening with three losses, while the Cobblers have won four straight and five of six.
For your information, the two teams meet Feb. 7 at Stevens and Feb. 20 at Central.
In Class B, the White River boys are once again playing well under Eldon Marshall at 6-0, ranked third in the state. The Lakota Nation Invitational champion Tigers, however, aren't looking past 6-1 Lyman in Region 7B, as the two teams could meet in this weekend's Jones County Invitational title game, as well as Feb. 28 in Presho to close the regular season.
Region 8B looks strong as well with Timber Lake (5-2), Faith (6-1) and Harding County (7-2) leading the way.
On the Class B girls' side, Faith and Newell are both off to nice starts in Region 8 at 7-1 each, while fourth-ranked White River is 7-1 to lead the way in Region 7. New Underwood (6-3) has played well under Dallas Richter, who previously was head coach at Stevens and then a women's assistant coach at South Dakota School of Mines.
Look for area teams battling out this week in a couple of West River Tournaments — the aforementioned 52nd Annual Jones County Invitational (boys) in Murdo, along with the annual West River Invitational that will have the boys' and girls' title games Saturday night at the Rushmore Plaza Civic Center.
Yes, it is cold outside, and so is my darts game, but we're just getting warmed up on the hoops court.