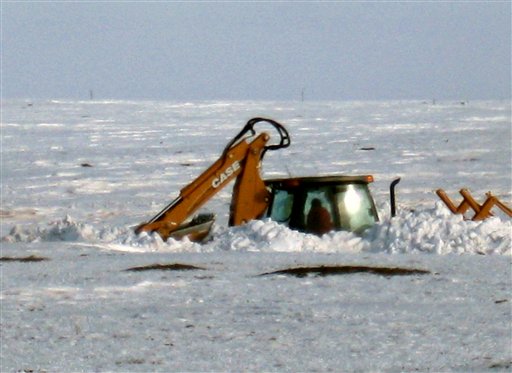 EAGLE BUTTE -- Parts of a sprawling South Dakota reservation still were without water and electricity Monday, nearly two weeks after winter storms toppled thousands of power lines, caused water pipes to freeze and burst, and forced more than a dozen residents on kidney dialysis to seek treatment at another reservation.
A fierce ice storm hit the Cheyenne River Sioux Reservation overnight Jan. 20, coating roads and electrical lines and forcing shops and schools to close. Before residents could recover from the ice, a blizzard tore through the Dakotas, bringing a few inches of snow and wind gusts between 25 and 50 mph.
Several shelters and distribution centers were set up around the reservation, and an 8 p.m. curfew was imposed after some looting took place last week. At the height of the outages, about 14,000 people in the region were without water -- most of them on the impoverished reservation that covers an area larger than Rhode Island and Delaware combined.
About 8,000 people live on the reservation, among the rolling, grass-covered prairies of north central South Dakota that includes Dewey and Ziebach counties. The tribe says unemployment on the reservation is at 80 percent.
More than half of Ziebach County and 38 percent of Dewey County lived in poverty in 2005, according to the U.S. Census Bureau.
Tribal Chairman Joseph Brings Plenty said Monday that no deaths had been reported, though a few people reported becoming ill because of fumes from gas-powered heaters.
"I thank the Creator for that, because we could have had quite a few people perish in this," he said.
Seventeen kidney dialysis patients from the reservation were moved to a hotel at the Prairie Winds Casino in southwest South Dakota, said Rick Shangreaux, the casino's acting general manager. Indian Health Services nurses are monitoring the patients, who will get treatment at a facility on the Pine Ridge Reservation in southwest South Dakota.
Curtis Chasing Hawk, 56, was getting his thrice-weekly dialysis treatments at Pine Ridge after leaving the Cheyenne River reservation last week.
"The roads were all icy and the power was out," Chasing Hawk said. "We formed a five-car caravan and got out."
Mona Longbrake said she and her husband, Dilbert, have not had electricity or running water at their ranch about 12 miles southeast of Eagle Butte since Jan. 22. They have been drinking bottled water, cracking ice on a pond to get water to flush their toilet, using an oven range for heat, and using candles and flashlights for light.
"It's getting tired," Mona Longbrake said. "You get by as best you can."
Sonny Brave Eagle said he, his wife and their two young daughters have split time between an emergency shelter and a relative's house in Eagle Butte where four other families have crowded in.
He said he and his family were stranded about six days in the dark at their home 12 miles north of Eagle Butte until law officers came out to check on them.
"We didn't have a vehicle ... We had no phone, no batteries for the radio," he said. "We didn't know what was going on."
Water and power outages struck all of the reservation's residents, tribal spokeswoman Natalie Stites said. Water outages for many lasted about four days, and power outages for some are into their second week. Residents couldn't even get gas for their vehicles because service station pumps weren't working without electricity.
By Monday, outages were no longer considered a crisis, but the tribe was still in an "immediate response" mode, Stites said. The tribe has spent "enormous amounts" of money on such needs as fuel and water and an emergency fund that had $175,000 a few months ago has been drained.
The South Dakota National Guard helped bring in generators supplied by the state during the crisis. The tribe distributed fuels such as propane, delivered donated bottled water and send bulk water tanks around the reservation. Stites said the water deliveries were enough to meet everyone's needs.
Electricity had been restored to most of the reservation's population centers, including Eagle Butte, where the tribal offices are located, but hundreds of people in rural areas remained without power, said South Dakota Rural Electric Association spokeswoman Brenda Kleinjan.
Brings Plenty said some of the estimated 1,700 homes that remained without electricity might not have power restored for another three weeks. He said crews need to use jackhammers to break through the frozen ground so they can drill holes for power poles, and snow drifts as high as 30 feet also are hampering the work.
The number of water outages had declined Monday, with about 100 people still affected in the town of La Plant and some scattered rural areas, said Tri County Mni Waste Water System general manager Leo Fischer. Power failures led to equipment malfunctions in the water system's treatment plant, causing flooding a week ago, that took more than a day to clean and repair. Many pipes on the reservation also froze and burst, adding to the outage problems.
"Our days have run together out here since the 21st," Fisher said.
Stites said schools remained closed throughout the reservation Monday and the tribe was continuing to distribute water until it could be determined that the tap water was safe.