In a 3-1 deficit Friday, Rapid City Stevens' Michael Tang held serve before tracking down a drop shot and tapping the return barely over the net to earn the point and break Mitchell's serve to level the first set at 3-3.
After a few more bumps, Tang and partner Thomas Postma grabbed the first set and rode the momentum through the second, taking it with little resistance en route to a 7-5, 6-2 victory over Macon Larson and Tyler Loecker in the championship match of the first doubles flight at the Rapid City Invitational at Sioux Park.
Tang double-faulted in the opening service game, then the Kernels staved off a break point on their first service game and won the game for a 2-0 advantage. Postma then held to get the Raiders on the board, and after the pair evened the first set at 3-apiece, held again at deuce for 4-3 lead.
A service return by Tang that bounded over the net player side converted a break point for a 5-3 advantage, but Tang was broken again and Mitchell held to make it 5-5. Postman held again at deuce, however, before Stevens broke at love, aided by three straight double-faults, to grab a one-set-to-none advantage.
A volley from Tang down the middle propelled the Raiders to a 3-0 lead in the second set, and the distance was too large for the Kernels, as Tang and Postma won three of the next five games to pull off the victory.
The duo also topped Aberdeen Roncalli 6-3, 6-1 in the first round and Brandon Valley 6-1, 6-1 in the semifinals.
Sam Mortimer and Asa Hood picked up a 6-0, 6-1 win over Rapid City Central and a 6-4, 6-2 victory over Aberdeen Central in the first two rounds of the second flight before falling to Brandon Valley in the championship, 4-6, 6-4, 8-10. 
The pair held a 4-3 lead in the first set before the Lynx moved out in front and took the opening set. Mortimer and Hood then rode out to a 3-0 advantage in the second and went on to force a 10-point third set tiebreaker, where they narrowly fell by two points.
Also for Stevens, Tristan Eizinger and Nolan Rehorst won their first-round match in the third flight 3-6, 6-4, 10-6 over Spearfish before dropping their semifinal match 6-3, 6-3 to Brandon Valley.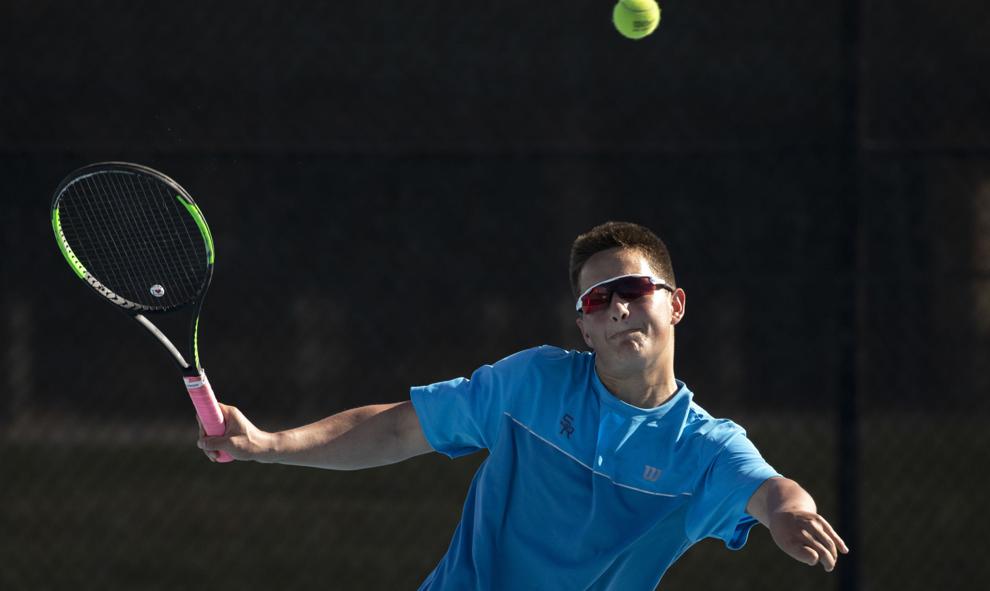 After dropping their first-round match to Mitchell, Rapid City Christisn's Noah Greni and Joe Schneller won two consolation matches 10-0 and 10-8 to claim fifth place in flight No. 1, and the Comets' Jack Hancock and Henry Beckloff took fifth place in the flight No. 3 with 10-1 and 10-2 wins in two consolation rounds.
Spearfish's Jensen Damberg and Leo Isburg also recovered from a first-round loss in the flight No. 2 and earned fifth place.
Earlier Friday, the Raiders downed Aberdeen Central 9-0 to move to 14-2 in duals this season.
Also in dual action Friday, Spearfish defeated Rapid City Central 5-4, Mitchell toppled Aberdeen Roncalli 8-1 and Brandon Valley blanked Rapid City Christian 9-0
The singles tournament of the Rapid City Invitational is slated for Saturday at Sioux Park.