The Rapid City Rush's poor start to the season was held intact by an Allen Americans squad that took four of their first five meetings and erupted for 18 goals during that stretch.
That's all in the past now, and don't the Rush know it.
Aided by four different goal-scorers and a two-assist night for Eric Israel, the Rush's high-octane offense gave themselves a cushion before their defense held off a late push by the Americans to close the door on a 4-2 victory and earn their third straight win Wednesday night at Rushmore Plaza Civic Center.
"We're buying in as a group here, and it's by committee," Rapid City head coach Daniel Tetrault said. "It's always nice to see spread-out scoring throughout the lineup, and everyone's getting involved. We know, looking at the standings, that every shift matters and every game matters. This is playoff hockey, starting right away, and it's playoff intensity."
It was a spread-the-wealth kind of night for the Rush (23-21-4), as Garrett Klotz, Hunter Garlent, Mike Hedden and Peter Quenneville all tallied goals, while seven different players collected assists. Adam Carlson made 28 saves in net to improve to 13-8-3 on the season.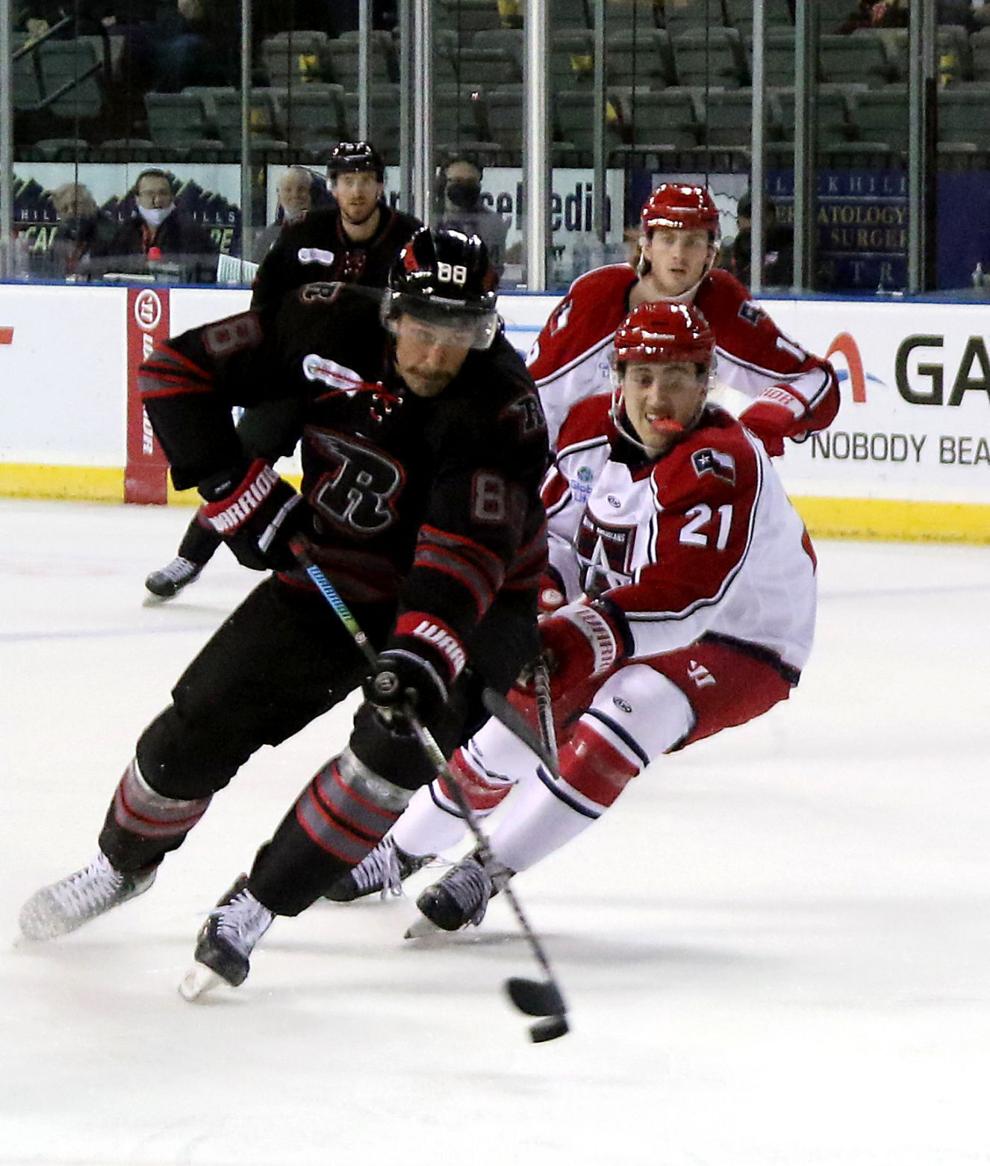 "I think we've really matured over the last 25 games as a group, in terms of managing teams and playing better late in games," Quenneville said. "I think we'll continue to do that but the key tonight was a fast start. When we go up we're pretty dangerous. Our record's fantastic when we score first, so I think if we do that and continue to play hard, we'll be fine."  
Rapid City's quick-strike ability was in full effect in the first period. Just days after the birth of his daughter Violet, Garrett Klotz cradled a rebound around Allen (28-14-3) goalie Francis Marotte and stuffed in a goal, just his second of the year, to get his team on the board, and just 46 seconds later, Mike Hedden hauled in a near-perfect cross-ice pass from Hunter Garlent and finished at the net to suddenly make it 2-0.
"We were really to play right off the get-go," Tetrault said. "We got the first goal, and who else but Garrett Klotz; just had a baby and he's a daddy now, and I know the guys on the bench were really pumped up about it."
The Americans notched their first goal when Carlson turned away a flurry of shots before eventually letting one slide past him with 49.1 seconds to play in the opening frame, scored by Zane Franklin.
In a game played among bitter conference rivals, the first period was surprisingly free of penalties, but completely clean hockey lasted all of 1:34 of the middle frame when Allen's Spencer Asuchak was called for interference after getting wrapped up Carlson in the crease. The Rush were unable to take advantage of the power play, and did so on three other opportunities as their season-long struggle to score on the Americans with an extra man continued, as they're now 1-for-33 in nine games.
Israel helped Rapid City retake a two-goal advantage when he skated up through the neutral with possession and dished the puck to Tyson Empey, who unleashed a backdoor pass to a wide open Johnny Coughlin, who fired in the goal at 16:51 of the second period.
A red hot Quenneville made it 4-1 when he snapped in a backhander that deflected off the crossbar and went in at 8:50 of the final frame. Quenneville now has five goals during the Rush's three-game winning streak and eight in his last 12 games.
"We've had a little bit more puck luck and found a way to get a few shots on net, and they finally started to go in," Quenneville said. "The odds just weren't in our favor early in the year and now they're starting to go, so it's a good feeling that we can contribute consistently."
A tripping penalty called on Avery Peterson gave Allen a sliver of an opening, and Asuchak took advantage by tapping in a sharp-angle pass from Steven Owre on the power play at 15:36 to get the Americans back within striking distance.
Pulling Marotte with 3:06 remaining in regulation, Allen spent the majority of the closing minutes in Rapid City's zone but failed to pot a late goal as the Rush defense was an impenetrable blockade, led by Carlson, who was seen by a trainer on the ice during stoppage for an unknown reason.
Carlson finished the contest, as a boarding call on the Americans following a hard hit on Kevin Spinozzi resulted in the only skirmish of the evening. The Rush picked up a power play for the last 48.3 seconds, which helped salt away the victory.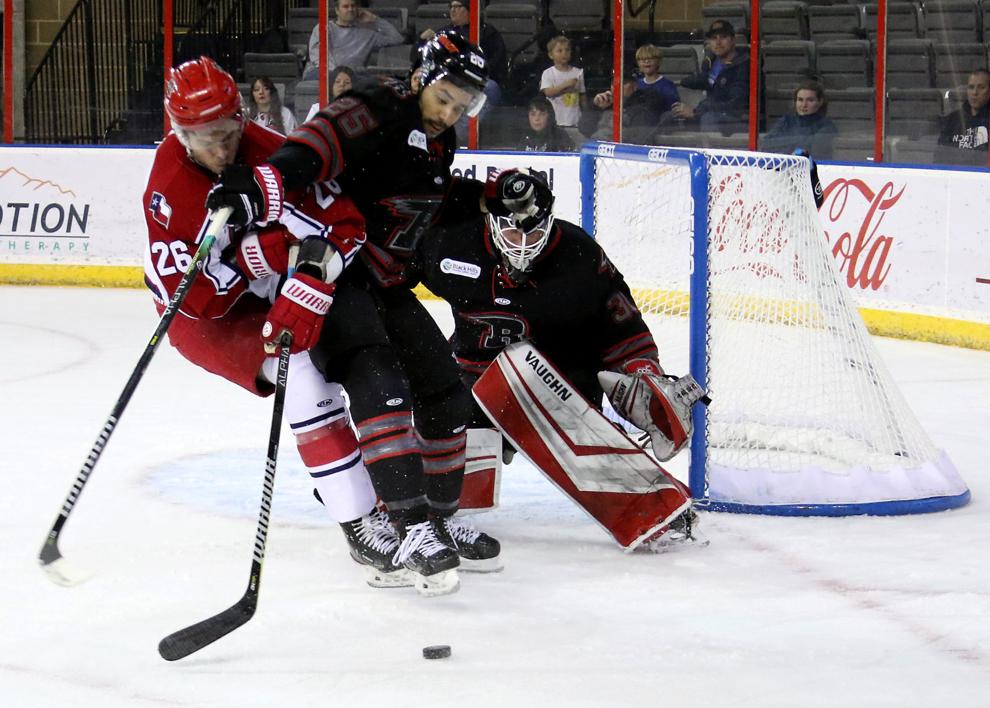 "I thought we played great defensively there in that last three minutes. We stayed tight, we blocked shots," Tetrault said. "It would've been nice to score an empty-net goal, we had a couple chances at it and just couldn't put it in, but we stood tall and it was a good win."
Rapid City returns to Rushmore Plaza Civic Center on Friday for the second of three bouts with Allen. Puckdrop is scheduled for 7:05 p.m.  
"We know, looking at the standings, that every shift matters and every game matters," Rush head coach Daniel Tetrault said. "This is playoff hockey, starting right away, and it's playoff intensity."