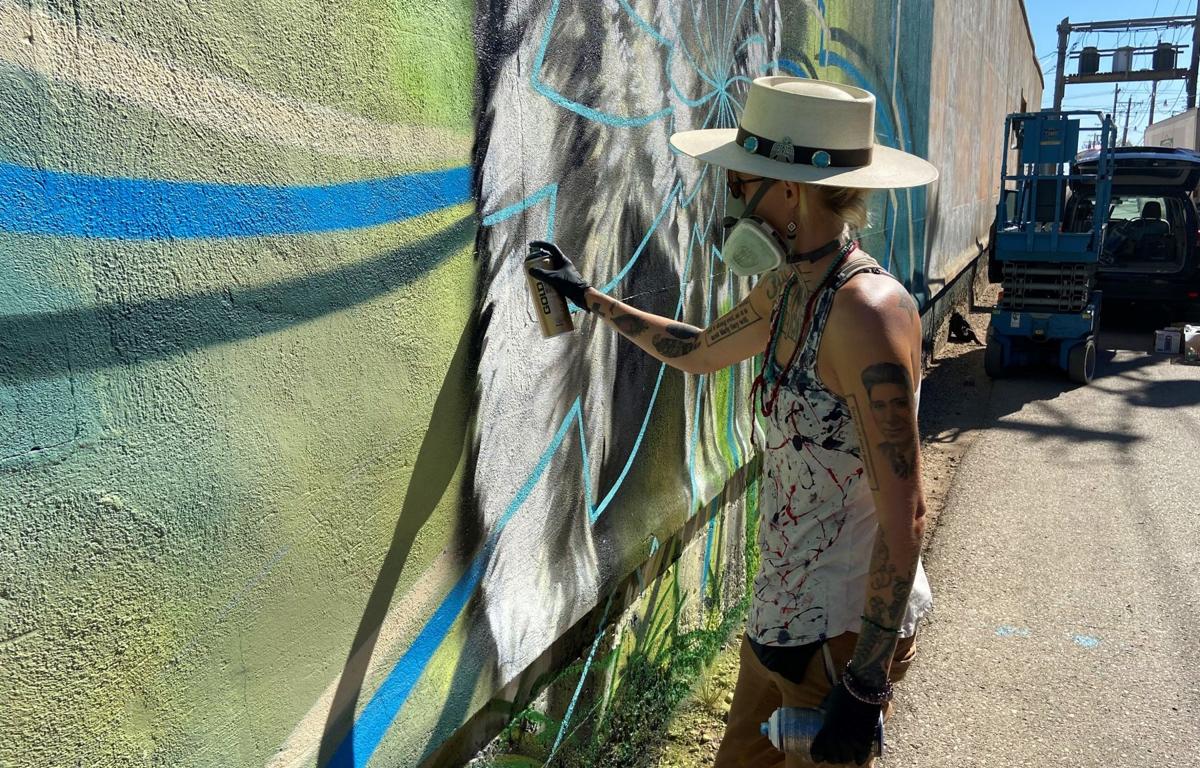 Muralist and graffiti artist Derek "Focus" Smith calls the streets of Rapid City his art gallery. Fresh off a gun safety mural project in Art Alley, Smith invites the public to watch him create a new installation at 406 5th Street.
This mural is self-funded art that Smith hopes will generate good feelings, spark questions and help unify Rapid City.
"The theme is celebrating indigenous culture and highlighting the creative side of it. I wanted to do it to help to add more variety to the culture around Raid City, and introduce it because as of now, there's not much of a muralist culture. I wanted to refresh the culture of Rapid City a bit," he said.
Smith invited muralist Robyn Frances of Denver, who is known as "Grow Love" of growlovewalls.org, to join him. Grow Love is installing another mural on the side of a historic building at 412 5th Street.
The wall for the murals is provided by Native arts organization Racing Magpie, co-owner/director Peter Strong said. Smith's and Grow Love's murals will join one created in 2018 by Micheal Two Bulls, an Oglala Lakota musician and artist, and Bryan Parker, a Muscogee/Choctaw/Apache artist.
Smith estimates his mural will be up to 25 feet wide and nearly 40 feet tall. The murals will be completed on Friday. Smith hopes people will watch the work in progress while safely social distancing, ask questions and be inspired. People also can follow the murals' progress at facebook.com/focus.smith/503 or on Instagram @focicurrent.
"I wanted to put this out there because I teach at schools and do workshops and classes. People who are pursuing art can see … it is possible to use those skills that they cultivate in a manner that's helpful to themselves and the community," Smith said.
Smith said his work has taken him to more than 15 locations in the city, other states, and overseas. In October, Smith was invited to paint a mural installation in Taize, France.
"(Murals are) a budding opportunity that continues to grow and always surprises," Smith said.