The Black Hills State University women's volleyball team earned a split with Chadron State College Saturday at the Donald E. Young Center in Spearfish.
Chadron State won the first match, which was a Rocky Mountain Athletic Conference bout, in five sets, 25-21, 17-25, 22-25, 25-14 and 19-17, while the Yellow Jackets bounced back to take the non-conference match in five, 25-15, 17-25, 25-20, 20-25 and 15-11,
Leading the way offensively for the Jackets in the first match were Kindra Cerrone, Sierra Ward, and Mariah Robinson, who each recorded kills in the double digits with 16, 14, and 13, respectively.
Haedyn Rhoades led the team in digs recording 29 with Cerrone close behind with 25
For Chadron State, Rylee Greiman had 13 kills and Rapid City Central graduate Rhiannon Nez had 10 kills and five blocks. Karli Noble had 27 digs and Kincaid Strain had 26 set assists.
Leading the way offensively for the Jackets for the second match were Cerrone with 16 kills and 19 digs and Ward with 14. Rhoades led the team in digs with 35 with Cerrone recording 19 of her own. Karli Marx had 28 assists.
Chandler Hageman had eight kills to lead the Eagles and Nez added six kills and six blocks.
The Jackets, 2-2 in the RMAC and 3-2 overall, will be at home again next weekend against Colorado Colorado Springs and Colorado Mines. Chadron State, 1-1 and 2-2, hosts Western Colorado in a pair of matches Friday and Colorado Mesa for one match Sunday.
Beagle repeats as NSIC Swimmer of The Year
WEST FARGO, N.D. -- Augustana senior Taylor Beagle repeated as the NSIC Swimmer of the Year and Swimmer of The Meet Saturday.
Beagle improved from last year's 75 points, scoring 76 points this year as Augustana finished in fifth place in the team standings.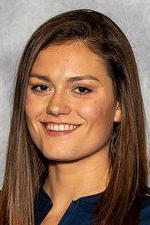 Beagle, a native of Lead, won three events; the 1000-freestyle in a NSIC record time, the 400 IM and the 1650-free. She also placed third in the 500-free and was part of the Augustana 'B' 400-free relay that placed 11th.
Minnesota State won the conference championships with 1,033.5 points, Augustana placed fifth with 358 points.
Panoam leads North Dakota past USD 85-76
GRAND FORKS, N.D. — Bentiu Panoam had a career-high 25 points as North Dakota topped South Dakota 85-76 on Saturday.
Ethan Igbanugo had 15 points for North Dakota (7-15, 7-9 Summit League). Filip Rebraca added 13 points and 11 rebounds. Seybian Sims had 11 points.
A.J. Plitzuweit had 27 points for the Coyotes (11-8, 10-4). Stanley Umude added 26 points and 13 rebounds. Kruz Perrott-Hunt had 11 points.
Abmas lifts Oral Roberts past S. Dakota St. 103-86
TULSA, Okla. (AP) — Max Abmas had a career-high 42 points as Oral Roberts beat South Dakota State 103-86 on Saturday.
Abmas shot 5 of 8 from 3-point range and 9 of 10 from the line for the second biggest output in the nation this season. D'Moi Hodge of Cleveland State scored 46 points.
Kevin Obanor had 18 points and 11 rebounds for Oral Roberts (11-8, 8-3 Summit League). Sheldon Stevens added 16 points. Carlos Jurgens had 13 points.
Oral Roberts scored 56 points in the second half, a season best for the team.
Matt Dentlinger had 16 points for the Jackrabbits (11-5, 7-3). Douglas Wilson added 15 points. Baylor Scheierman had 15 points and 10 rebounds.
Women's College Basketball
No. 23 Jackrabbit women roll by ORU
TULSA, Okla. — Myah Selland scored 18 points, Sydney Stapleton had all nine of her points in a stunning second quarter and No. 23 South Dakota State rolled to an 82-60 win over Oral Roberts on Saturday.
The Jackrabbits (16-2, 9-10 Summit Conference) bolted to their 13th straight win by hitting all 11 of their field-goal attempts, seven from 3-point range, to outscore the Golden Eagles 32-13 in the second quarter. They were 3 of 4 from the foul line.
Tierney Coleman and Keni Jo Lippe scored 16 each for Oral Roberts (16-11, 4-5), which went 7 of 12 from the field in the first quarter to SDSU's 3-of-19 and led 14-11.
The teams square off again on Sunday.
USD holds off North Dakota
NORTH DAKOTA, N.D.—Freshman Maddie Krull's forced turnover and ensuing flying made layup with two minutes to go were key plays in the Coyotes holding off North Dakota 72-63 inside the Betty Engelstad Sioux Center on Saturday afternoon.
Senior Liv Korngable led the group with 16 points, seven assists and seven rebounds. Senior Chloe Lamb added 15 points, five rebounds, five steals and a pair of assists. Senior center Hannah Sjerven added 14 points and nine rebounds in 22 minutes. Krull was the fourth Coyote to reach double-digits with 15 points.
 North Dakota was led by forward Megan Zander's 17 points on 6-of-9 shooting. Teammates Jaclyn Jarnot and Claire Orth joined her in double-figures with 13 points each.