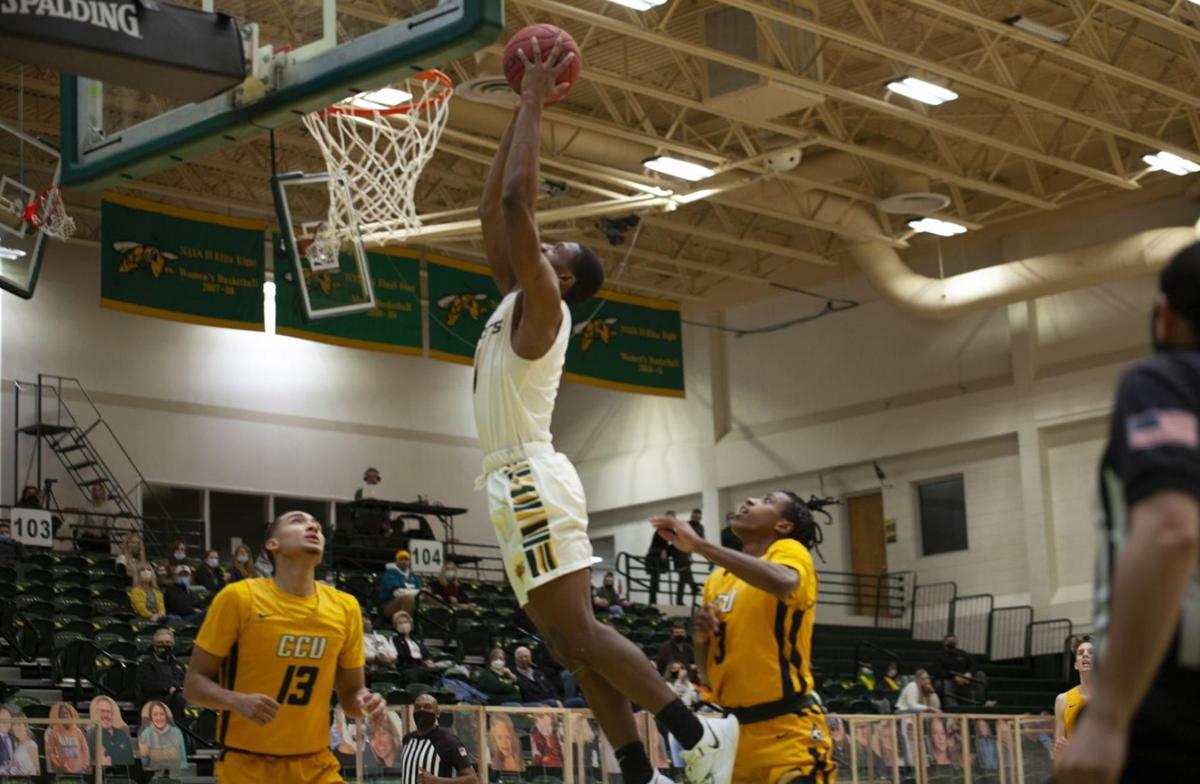 The Black Hills State University men's basketball used a big second half to run past Chadron State College 74-53 Tuesday night at the Donald E. Young Center in Spearfish.
The Yellow Jackets (7-5, 7-5 RMAC) held the Eagles to only 35.7 percent shooting from the field in picking up their fourth straight victory.
Sindou Cisse, Joel Scott and Trey Whitley each totaled 15 points to lead the team. Whitley grabbed a team-best seven boards, while Cisse and Scott each grabbed six.
Adam Moussa tallied two steals and a block to go along with eight points, four rebounds and a team-leading three assists.
Kevin Senghore-Peterson totaled five rebounds, and Tommy Donovan and Ryder Kirsch each recorded four.
Both teams got off to a slow start as the game saw a 2-2 tie nearly five minutes into the game. The two offenses would pick up from there, but the game remained close, going back and forth in a half that saw seven ties and five lead changes.
Senghore-Peterson answered an Eagle layup with a layup of his own midway through the first to even the score at 13-all. A few minutes later, back-to-back layups from Snjolfur Stefansson and Cisse would put BHSU ahead 24-21. The Yellow Jackets would go up by as many as six points down the stretch, and eventually take a 31-27 lead into the half.
The Yellow Jackets turned it on out of the break, outscoring the Eagles 19-2 over the opening eight minutes of the second half. That run, highlighted by threes from Cisse and Whitley, two blocked shots and three forced turnovers, put BHSU ahead 50-29 at the under-12 media break.
BHSU would continue to play add-on, extending its lead to as much as 29 on another Whitley 3-pointer to move ahead 70-41 with just over three minutes left to play. Coach Thompson cleared the bench as the final minutes expired, seeing two points each from Taylor Edwards and John Shanklin.
No Eaghe scored in double figures, with Deundra Roberson and Andre Sepa leading the way with eight points each.
The Yellow Jackets will host its final home game of the regular season, taking on South Dakota Mines at the Donald E. Young Center. Chadron State, 4-5, 4-5, host South Dakota Mines Saturday.
BHSU women run past Chadron State
The Black Hills State University women's basketball team rolled early and ran past Chadron state College 59-39 Tuesday night at the Donald E. Young Center Tuesday night in Spearfish.
Black Hills State ran out to a 28-point halftime lead and never looked back to move to 12-5 on the season in Rocky Mountain  athletic Conference play and 12-5 overall. Chadron Satte fell to 0-10 and 0-10.
The Yellow Jackets came out hot in the first quarter and outscored the Eagles 22-6.
BHSU would not let up on defense in the second quarter and built a 39-11 halftime lead,  led by sophomore Niki Van Wyk's 11 first-half points.
Coming out of the break the Yellow Jackets offense would cool off slightly as they were outscored 12-10 in the third quarter but still holding a comfortable lead.
The Eagles had their best offensive quarter of the night in the fourth quarter with a 16-10 advantage to cut the final margin to 20 points.
Leading the Yellow Jackets in scoring were senior Racquel Wientjes and an Wyk who had 11 points apiece. Close behind were Morgan Ham with eight and Kassie Hoyer with six points each. Defensively BHSU was led in steals by Wientjes with three and Megan Engesser with two. Katie Messler led the team in rebounds with seven while Ashley Davis was close behind with six.
As a team the Yellow Jackets were just 19-of-59 from the field (32.2%) and 11-of-36 (30.6%) from beyond the arc. At the charity stripe BHSU shot 71.4% making 10 out of 14 free throws.
Jori Peters led Chadron State with 10 points, while Tatum Peterson added nine points. The Eagles shot just 29% from the field (16-of-54) and hit just 2-of-14 3-pointers.
The Yellow Jackets will be back in action Thursday night as they take on the South Dakota Mines at the Donald E Young Center at 5:30 p.m. Chadron State also hosts South Dakota Mines Saturday.