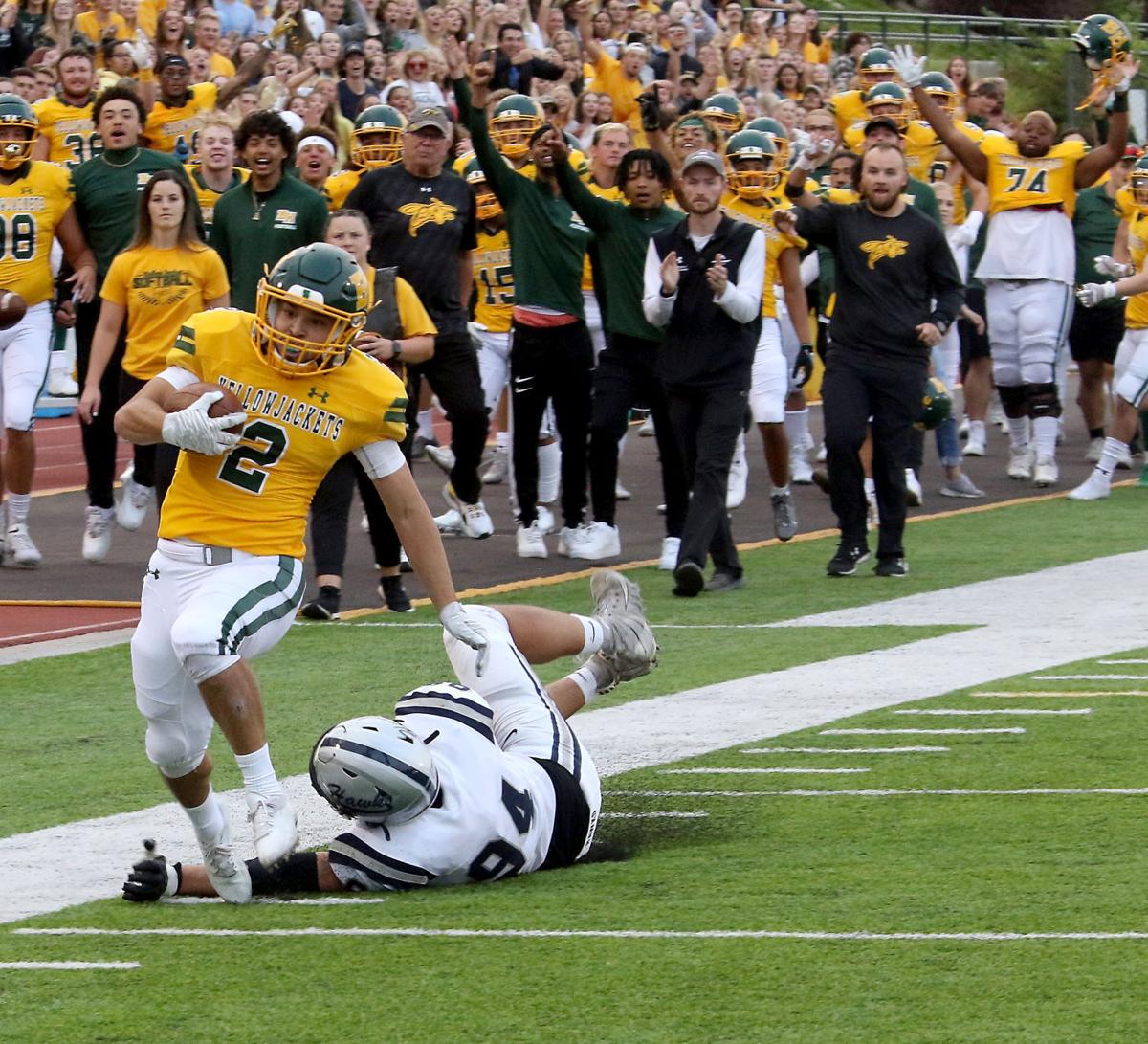 SPEARFISH — Josh Breske grabbed his coaching staff after Thursday night's game was over and told them to be proud of what they accomplished.
"I said, 'hey, we have to put a smile on our face and recognize that there's never a bad win. A win is a win,'" he said. "Can we learn from it? Absolutely we can learn from it, but right now we need to put a smile on our face and celebrate with our players."  
The Black Hills State football team loosened up after taking a 30-10 lead early in the fourth quarter, only to see it shrink as Dickinson State battled back and scored twice to make it a one-possession game late. 
The Yellow Jackets safely recovered an onside kick in the final two minutes, however, with just enough time to run out the clock and hold on for a 30-24 victory at Lyle Hare Stadium to give Breske his first win as head coach.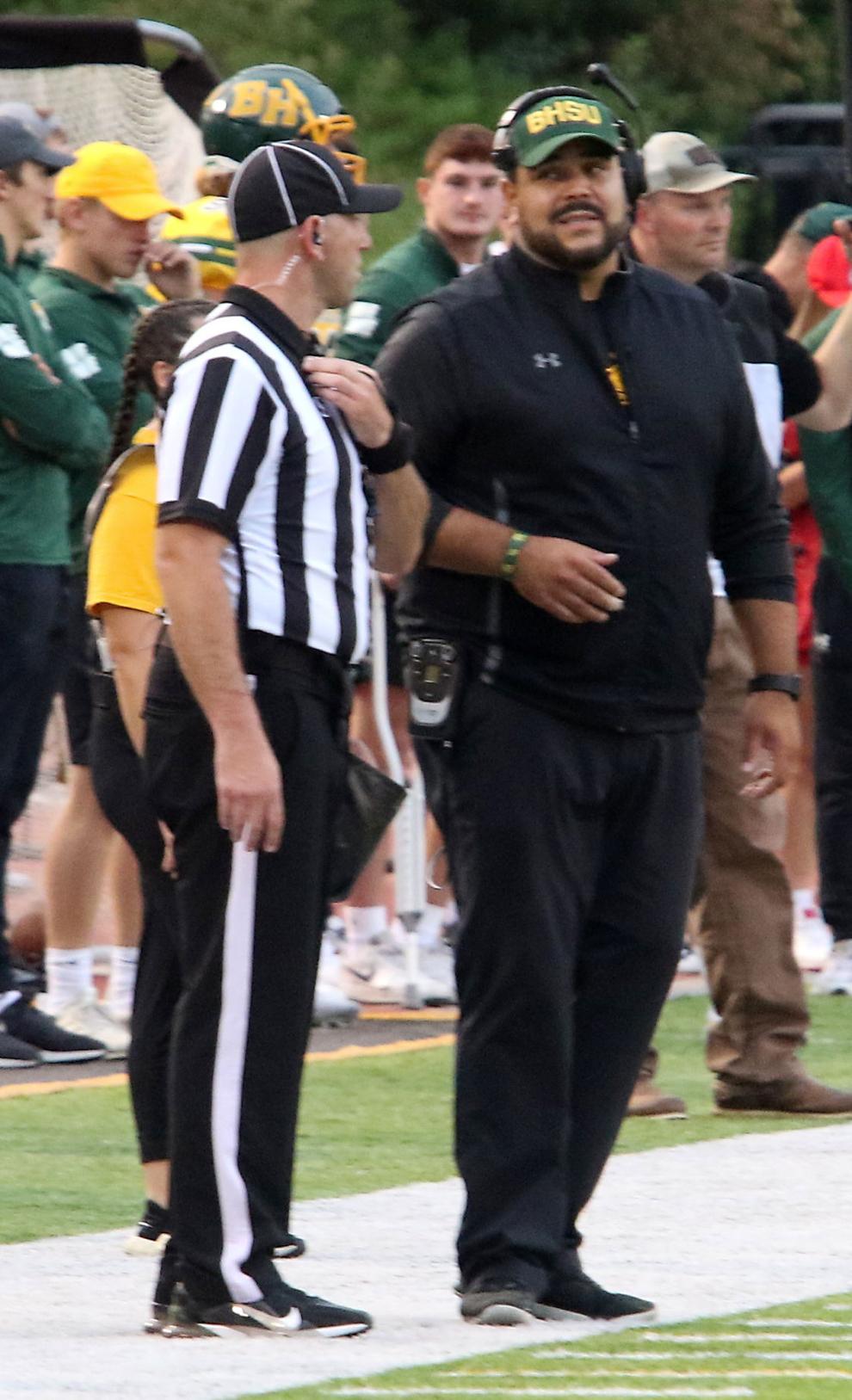 "It was a case of our coaches doing it as well, and myself," Breske said of the security his team felt in the fourth quarter. "Organizationally, we had never been there before as a group of coaches and players. Playing with the lead in the fourth quarter is something new for us."
Chance Eben went 24 of 35 for 240 yards with a touchdown and an interception for Black Hills State, while Matthew Collier rushed for 127 yards on just nine carries with a touchdown. He also caught a touchdown pass, one of four on the evening for 40 yards, and Rapid City native Jamin Wurtz picked up seven catches for 82 yards.
Jarrell Ganaway tallied two sacks, one of five from BHSU, while Aaron Thiele added a sack and a forced fumble. Keyshawn Farmer collected seven tackles, six of which were solo.
The Yellow Jackets opened the season with a well-executed 16-play drive that included three third-down conversions on 7, 7 and 8-yard completions from Eben. The drive stalled at the 18-yard line after Eben's pass on third-and-seven fell short, but Jacob Parks put BHSU on the board with a 35-yard field goal.
Dickinson State (0-1) answered with a 12-play scoring drive and moved ahead 7-3 on a 23-yard touchdown. After forcing a Yellow Jackets punt they drove down the field and set up inside the red zone before Dickinson State's Drew Boedecker fumbled on a QB run and Blacks Hills State recovered the ball.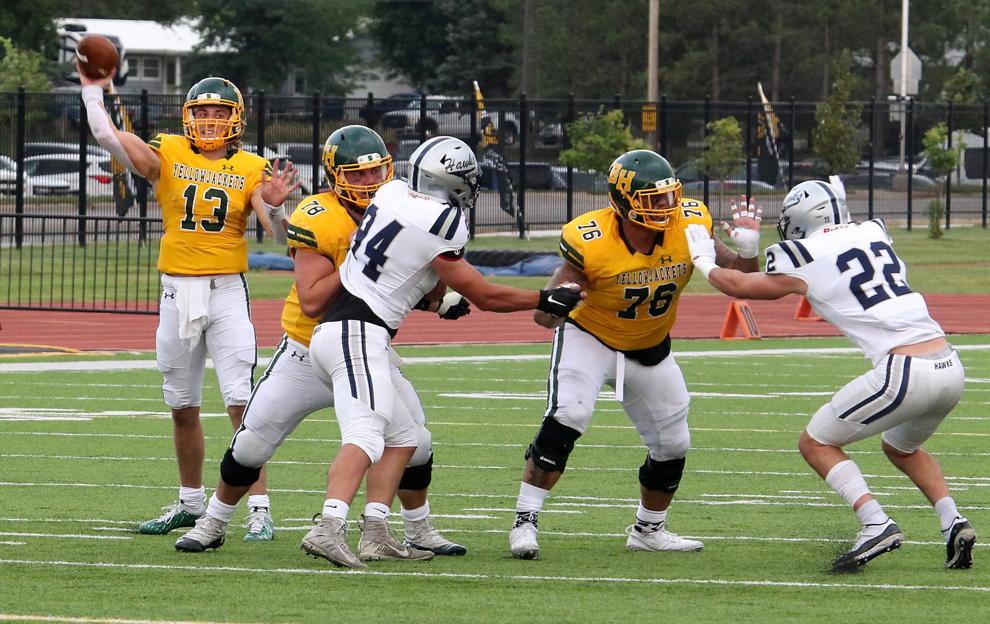 Collier burst up the middle later on the drive for a 28-yard gain, then came right back on the next play and, aided by two downfield blockers, sprinted 49 yards along the sideline for the touchdown to put BHSU up 10-7 early in the second quarter.
"Matt Collier was going crazy tonight," Eben said. "I know this opportunity was big for him and he really took it and set the tone for the whole team."
The Blue Hawks earned a first-and-goal opportunity at the opposing 4 on their next drive but failed to punch it in thanks to a combined sack from two Yellow Jacket defenders, and settled for a 27-yard field goal to even the contest at 10-10. 
Eben took a shot downfield on BHSU's following possession and was intercepted. Dickinson State moved the ball down to the 7 but was pushed back to the 13 on a sack by Ganaway. A potential go-ahead 30-yard field goal was blocked by Lovenski Simon to keep the game tied.
The Yellow Jackets brought out its two-minute offense to try and take a lead before halftime and steadily moved downfield thanks to a 4-for-5 effort by Eben on the drive for 61 yards. The final completion was a 29-yard heave to Hassan Williams, who hauled in the pass in the back of the end zone for the touchdown with only seconds remaining in the half.
Dickinson State had a chance to level the contest to open the second half but a Cody Hooker sack on third down quelled the effort.
"It was great to see those guys let off the leash, per se, and get to the quarterback, and eventually he put the ball in the ground," Breske said of his defense.
The passing game opened up for Eben in the second half as the offensive line began holding their position. He converted a third-and-one situation with a 17-yard pass to Kielar Harpham before hitting him again on a wide open slant for a 4-yard touchdown to give Black Hills State a two-possession advantage.
A Blue Hawks fumble in their own territory, recovered by Brock Jones, turned the ball back over to the Yellow Jackets, who made quick work when backup QB Aidan Ward found Collier down the sideline for an 18-yard score four plays later to make it 30-14 and swing all momentum in BHSU's favor.
"We all just started clicking as a team. Wide receivers were getting open, O-line was doing their job, which made my job easier," Eben said. "We made some halftime adjustments. We changed the scheme a little bit."
Dickinson State was forced to punt on its next drive but got the ball back and picked up 30 free yards courtesy of back-to-back unsportsmanlike conduct penalties. They turned that opening into a 15-yard touchdown pass to make it 30-17 with 5:27 remaining in regulation.
Black Hills State jumped on the ensuing onside but couldn't drain much clock and punted it back to Dickinson State, which executed a 12-play drive that was capped off by a 3-yard touchdown pass to make things interesting, 30-24, with 1:21 to play.
The game was put on the line with another onside, but the Yellow Jackets recovered it easily to secure the win and move to 1-0 on the season.
"We have a lot of things to clean up," Breske said. "A mistake would be to turn the page without fixing the things that went awry and the end of the game."
Black Hills State travels to Liberty, Missouri, next week to face William Jewell College (0-1) on Sept. 11.